The Successful Ride of Cars24 Startup Story: 100+ Indian Branches
Cars have become a vital part of private transportation. But since everyone cannot purchase a new car, second-hand cars become a viable option. But the market for second-hand cars is unorganized. This makes it difficult to get the best value of your used car if you are a seller and at an affordable price if you are a buyer.
So to solve this problem, we have specific startups in this sector. One of the prominent startup that has achieved many milestones within a short period is cars24. This article will look into the startup story of Cars24 and what lessons we can learn from the startup.
Cars24: Idea Introduction
Cars24 is a wonderful app that brings together the buyers and sellers of the used cars. It specifically focuses on the supply of used cars. Headquartered in Gurgaon, the startup was founded in the year 2015. It works on a unique C2B (customer to business model). It works both as an online and offline used car selling platform.
This technology platform is known for quick delivery along with efficient paperwork handling.
Founders & Second Hand Market Idea
If you wonder why this startup focused explicitly on second-hand cars, then these statistics might help you. According to a report, over 30 to 35 lakh used cars are sold every year in our country. Besides this, the operated car business presently stands at $20 Billion, is growing by almost 25% every year. So it can be inferred that the market of second-hand cars has a lot of untapped potentials, which the makers acknowledged.
Founders Biography
Vikram Chopra, Mehul Agrawal, Gajendra Jangid and Ruchit Aggarwal are behind the establishment of this unique Startup, Cars24.
Vikram Chopra CEO of Cars24, Mr Vikram Chopra, is a BTech and Mtech graduate in engineering from IIT Bombay. He had been the co-founder of FabFurnish and worked with sequoia capital and McKinsey and company.
Mehul Agrawal COO, Mehul Agrawal is a former student of IIM Calcutta and had worked with BCG.
Gajendra Jangid Co-founder and CMO of Cars24 Gajendra Jangid hold a B.Tech and M.tech degree in engineering from IIT Bombay. He had worked with Schlumberger in the past.
Ruchit Agrawal Chief financial officer (CFO) and the co-founder of Cars24, Mr Ruchit Agrawal, is a graduate from Cornell University. He has worked as the vice president of Bank of America.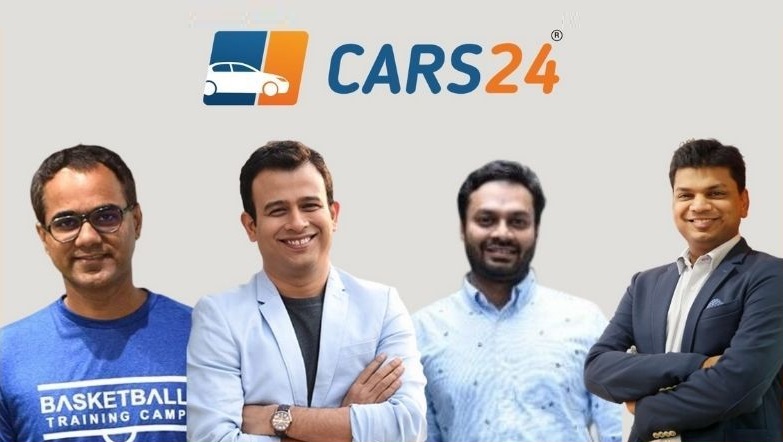 Vikram Chopra, Mehul Agrawal, Gajendra Jangid and Ruchit Agarwal
The four noticed the chaotic nature of the used cars' market. The absence of standard procedure and efficient technology for determining the right price, buying and selling persuaded the four to come up with a startup for making this process easy.
Cars24 Funding
Cars24 has received series D funding of approximately $100Million in 2019 from prominent investors, like:
Sequoia India,
Exor Seeds,
Dst Global,
KCK Investment Firm
Kingsway Capital.
Its total funding in the last four years has added to $200 million. Besides this, Cars24 also charges a nominal service fee from the customer based on the car's value.
Challenges:
As the startup is focused more on the supply of used cars, the adequate supply in future remains a constant challenge.
Competitors:
Competition is an unavoidable part of any business. Similarly, Cars24 also faces stiff competition from:
Droom
Quicker
Carwale
OLX
Cars24: Strengths & USP
According to the founders, it is different because it tries to overcome the biggest challenge of using used cars. The demand for used cars is fortunately good, but the supply is majorly lacking. This is the area that Cars24 focuses explicitly on.
Another point that makes it different from its competitors is that, unlike its competitors who lead generation websites and don't help in transactions, Cars24 facilitates the transaction.
The company boasts of offering the best prices to both buyers and sellers and that too within minimum time and expert assistance.
Achievements:
The founders of the startup, Agrawal and Vikram Chopra, have also entered into the Hindu Business Line.
According to company reports, more than 150,000 cars are sold by the company annually.
Cars24 is one of the four prominent startups in the used car market.
Cars24 is proud to have a stronghold in almost 134 major Indian cities.
It has established itself as India's largest platform for selling and buying used cars.
Cars24 is a family of more than 700 employees.
Cars24 is known for a quick, easy and hassle-free customer experience.
Cars24 claims about 13500 monthly transactions with an average order value of 3.5 lakh rupees. It also claims an annual 1.5 lakh cars transaction.
Owing to its huge success, Cars24 has successfully received an NBFC license from RBI for its new entity 'Cars24 financial services.
Cars24 is also the first auto sector startup to achieve unicorn valuation.
Future Goals
Innovation and improvement is the key to achieve constant success. Dwelling along the same lines, some of the significant future goals of Cars24 are:
The founders have revealed that they have been investing in more robust technology to provide their customers with a more hassle-free and convenient experience.
The startup endeavors to network more than 20000 partners in the coming two years.
The company has set a target to achieve almost 1 million annual transactions by 2022.
Cars24: Lessons
The success of the startup teaches us many lessons.
Identification of Market Gaps Almost all successful startups are successful because they understood the market needs and then devised a technology for tackling the same.
Teamwork The four have placed this startup to new heights. This would not be possible without the cooperation and hard work.
Different from the Crowd As the founders revealed many points that distinguish them from their competitors, one finds an apparent reason to choose them over their competitors.
So we can say that Cars24 emerges as one of the most influential startups for any other startup.