Story of Indian Udanpari PT Usha: Small Town Girl with Big Dreams
With the recent success of track star Hima Das in the field of athletics, the sport in question is once again generating a lot of interest from the public. The early 80s to the 90s were pretty similar in this regard, and people all over the country were talking about the rising star in track and field, P.T. Usha. Her successful streak in athletics earned her the nickname 'Golden Girl'.
P.T. Usha: Personal Life
Pilavullakandi Thekkeparambil Usha was born on June 27, 1964, to parents E.P.M. Paithal and T.V. Lakshmi, in Kozhikode, Kerala. She later studied and trained in Payyoli and spent a good chunk of her life there. That's where another one of her nicknames, 'Payyoli Express,' comes from. At school, she would often beat her seniors in races, and in one such annual function, she caught the attention of her future coach O.M. Nambiar.
Early Days
Most of her childhood was spent in poverty, but her living situation improved after joining sports school. Owing to government efforts in women's sport, P.T. Usha started training in Kannur under Coach O.M. Nambiar. She knew little inside that her coach would become an important, almost parental figure in her life.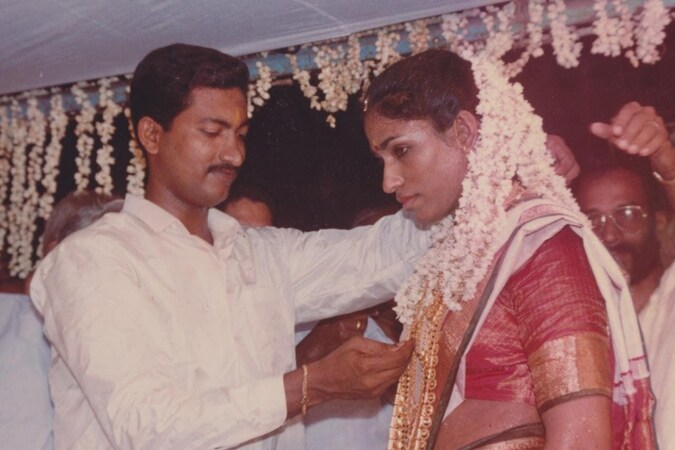 PT Usha with her husband (Photo Credit: PT Usha Twitter)
P.T. Usha Career Timeline
In 1981, in the senior inter-state meet in Bangalore, P.T. Usha set a national record, finishing the 100 meters race in 11.8 seconds and the 200 meters in 24.6 seconds.
In the 1982 New Delhi Asian Games, she won silver medals in 100 meters and 200 meters category.
In 1983, she set another national record for 200 meters by finishing in 23.9 s and 400 meters in 53.6 s.
In 1983, she won gold in 400 meters category in Asian Championships held in Kuwait City.
In the 1984 Los Angeles Olympics, she came in 4th place, missing out on the bronze by 1/100th of a second.
In the 1985 Jakarta Asian Championships, she won six medals, five gold medals and one bronze. She won 100 meters in 11.64, 200 meters in 23.05, 400 meters in 52.62 (she set an Asian Record with this), and 400 meters hurdles in 56.64.
In 1986, Seoul Asian Games, she bagged the silver in 100 meters and gold in 200 meters, 400 meters and 4x400 meters relay.
In the 1987 Asian Championships in Singapore, she won three gold medals and two silver medals.
In the 1988 Seoul Summer Olympics, she came in seventh place.
In the 1989 Asian Championships in New Delhi, she won four gold medals and two silver medals.
In the 1998 Asian Championships in Athletics held in Fukuoka, Japan, P.T. Usha along with her team members Tanay Manya, E. B. Shyla, and Saraswati Saha won the 4x400 meters relay; they set the current national record of 44.43 seconds
P.T. Usha & Coach O.M. Nambiar
As P.T. Usha's popularity grew, so did her coach's, both of them were popular household names in the 80s. Due to lack of support, O.M. Nambiar had to fill in the shoes of a nutritionist for her. He made sure she was sticking to her diet.
When P.T. Usha became part of the national athletics team, she was supposed to start training under the coach in the academy, but she insisted on working with Nambiar. She even went to Prime Minister Indira Gandhi's office to request him as her coach.
He was imperative to her becoming the first Indian sportswoman to enter the Olympics final. When P.T. Usha came fourth in the Olympics, O.M. Nambiar said he was inconsolable, "It is true that I wept when we knew that Usha missed the bronze by one-hundredth of a second in 400m hurdles in 1984 Olympics. I was inconsolable...I cannot forget that moment. An Olympic medal for Usha was my biggest lifetime dream."
Padma Shree to Coach
His dedication towards his pupil and her exemplary performance under his tutelage earned him the Dronacharya Award in 1985 and Padma Shree in 2021.
P.T. Usha took to her Twitter handle to congratulate him for the Padma Shree:
Such a wonderful moment for all of us students of Nambiar Sir. The 1st Dronacharya Awardee in Indian athletics history now also the 1st athletic coach to be conferred the PadmaShri. It is a proud moment for all coaches in our country. I'm immensely grateful for all his teachings. pic.twitter.com/dvEHiShXpv

— P.T. USHA (@PTUshaOfficial) January 27, 2021
Awards and Honors
In 1983, P.T. Usha won the Arjuna Award.
In 1985, she was awarded the Padma Shri.
In the 1986 Seoul Asian games, she was awarded the Adidas Golden Shoe Award.
In 2000, she was awarded an honorary doctorate (D. Litt) from Kannur University.
In 2017, she received another honorary doctorate (D.Sc) from IIT Kanpur.
In 2018, the University of Calicut too bestowed her with an honorary doctorate (D.Litt).
In 2019, she was given the IAAF (International Association of Athletics Federations) or World Athletics, Veteran Pin.
In her competitive career, she has won 101 medals.
PT Usha: School of Athletics
After her retirement, in 2002, P.T. Usha started the Usha School of Athletics at Koyilandi, near Kozhikode, Kerala. It is a nonprofit organization that trains future athletes intending to win Olympic gold for India in athletics. Athlete Tintu Lukka, who had qualified for the 2012 London Olympics, was trained in the Usha School of Athletics. Usha takes her trainees to prepare on the Payyoli beach, where she used to train.
PT Usha: Dream for India
As of now, P.T. Usha is not fully satisfied with the performance of either her own trainees or Indian athletics in General. She spoke to Times of India and expressed that "Crores (of rupees) are being spent, but no one is closer to that medal (Olympic medal in athletics for India). Maybe something is missing. Maybe all the facilities provided for athletes may be diluted? Or facilities are not given to true athletes?" She hopes that India will have a chance to fulfill this dream in the years 2024 or 2028.