The Indian Master of Tennis Doubles: Story of Leander Paes
Leander Paes' legacy in tennis is something that will go down in the history of the country. He is one of the most successful doubles players, with an Olympic medal in singles as well. Coming from a well-established family of sportspersons, Paes himself has managed to carve out an exciting career full of high and lows; let's take a look:
Leander Paes: Olympic baby
Leander Paes was born on 17 June 1973, in Calcutta, to father Vece Paes and mother Jennifer Paes. According to Paes, he was conceived during the 1972 Munich Olympics, when both of his parents were in the Olympic village. He is what many call an 'Olympic baby'.
Olympian Parents
His father Vece Paes is an Olympian and was part of the bronze medal-winning Indian Hockey team in the 1972 Olympics. And his mother was the captain of the Indian basketball team and led her team in the 1980 Asian Basketball Championships. He had always been inspired by his parents, especially his father, and wanted to follow his footsteps onto the Olympic podium.
At the age of five, Paes started playing tennis; in 1985 he joined Britannia Amritraj Tennis Academy in Chennai, to train under Coach Dave O'Meara.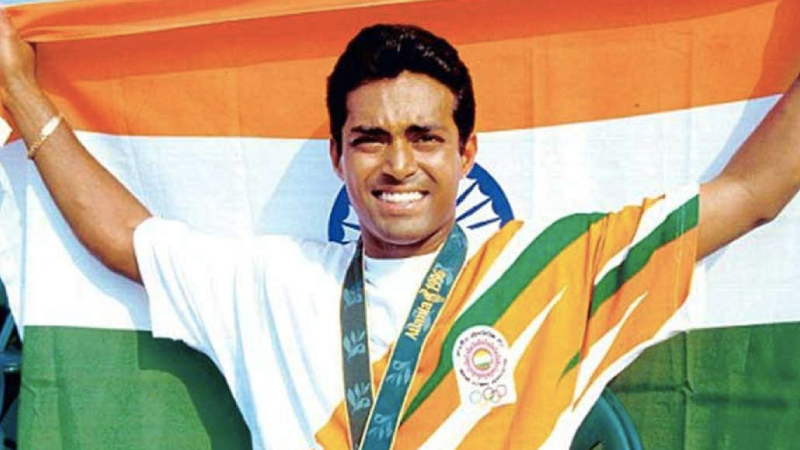 Leander Paes at 1996 Atlanta Olympics
Leander Paes: Junior Years
In 1990, Paes won titles in the Junior US Open and won the junior Wimbledon title. For a brief amount of time, he was the number one ranked junior player in the world.
Leander Paes: Career Highlights
He started playing in senior professional circuits in 1991.
In 1996, he defeated Fernando Meligeni from Brazil to win the Olympic bronze medal.
In 1999, Paes and Mahesh Bhupati became the first Indian duo to win doubles even at a grand slam. They won the French Open and Wimbledon but lost in the US Open and Australian Open.
In 1999, he also won the mixed doubles title in Wimbledon with partner Lisa Raymon from the US.
In 1999, Paes climbed to No. 1 in the doubles ranking.
In 2001, the Paes/Bhupati duo won the French Open again.
In 2002, the Paes/Bhupati won the gold in the Asian Games in Busan.
By this time Leander Paes and Mahesh Bhupati were having personal issues and he split their partnership, only to team up occasionally.
In 2003, Paes won mixed doubles events in the Australian Open and Wimbledon, with Martina Navratilova.
He won the 2008 US Open mixed doubles with Cara Black, in the same year; his duo with Bhupati went to play till the quarter-finals of the 2008 Beijing Olympics.
In 2006, Paes won the US Open with Czech partner Martin Damm.
In 2009, Paes won both the US Open and French Open with another Czech player Lukáš Dlouhý.
In 2010, he won the Australian Open mixed doubles with Cara Black.
In 2012, he won the Australian Open with partner Radek Štěpánek. With this victory he bagged the career Grand Slam, that is, he had a title for all the four major tennis tournaments.
In 2013, he won the US Open with Radek Štěpánek.
In 2015, he won the mixed doubles title in Wimbledon with Martina Hingis.
In 2016, he won the French Open mixed doubles, once again with Martina Hingis, this time bagging a Creer Grand Slam in mixed.
Let go of beliefs that limit yourself, and allow your mind to dream bigger and reach greater heights! #FlyingMan #MondayMotivation pic.twitter.com/NePFViKX3O

— Leander Paes OLY (@Leander) November 9, 2020
Leander Paes: Awards and Titles
In 1990, he was awarded the Arjuna Award.
In 1997, he won the Rajiv Gandhi Khel Ratna award.
In 2001, he won the Padma Shri.
In 2009 and 2011, he was named the Male MVP for World Team Tennis.
In 2014, he won the Padma Bhushan for his contribution to tennis.
He has the most amounts of Davis Cup victories at 43 wins. He is also a former team captain of the national team that represented India in the Davis Cup.
He is also the only Indian to have competed in seven Olympics.
He is the sports ambassador for Haryana.
Leander Paes: Controversies
Split With Bhupati After tagging along with Bhupati in the Asian Games, Paes decided to split. Bhupati had later mentioned that Paes had made several remarks about Bhupati not being up to par, behind his back. Bhupati said in an interview, "I am definitely not as flamboyant as Leander is with the media but am as passionate about playing for India. The million-dollar question was the Olympics in 2008. Leander tells the media that he would love to play with me at the Olympics; five minutes later he mentions to an acquaintance that my career will be over in six months."
Issues with Sania Mirza When Mahesh Bhupati and Rohan Bopanna refused to play with Paes in the 2012 Olympics, the All India Tennis Association (AITA) decided that Sania Mirza would team up with Paes for mixed doubles. Mirza expressed that she would much rather be paired with Bhupati, and was disappointed at AITA's choice. She was convinced that she was used as "bait" by the AITA to pacify the two players.
Girlfriend Rhea Pillai and Custody Battle In 2014, Paes' former girlfriend and the mother of his daughter Rhea Pillai, filed a police complaint stating that Paes was abusive towards her and locked her out of their house. In the same year, Paes filed for the custody of their daughter Aiyana Paes, citing irresponsibility and unfaithfulness as reasons. From the looks of it, Pillai has majority custody as of now, and Paes pays child support.
Leander Paes: Future Plans
Leander Paes wanted to retire by 2020 after playing in the Tokyo Olympics. But like most things, the pandemic put a damper on those plans for him. He now wishes to participate in the Roland-Garros tournament and 2021 Olympics. He also hopes that his daughter Aiyana would carry forward the Olympic legacy of their family and become an Olympian or a medalist herself.