Big Bazaar – How Kishore Biyani Built an Undisputable Empire and Yet Failed?
Big Bazaar is one of India's largest retail stores that sells everything from grocery to electronic on best offers. Big Bazaar retail chain offers various discounts and coupons to its customers almost 365 days a year. This company has become a common name in every household for its top-notch quality and affordable products. The idea of the business suits perfectly well for the Indian market and attracts millions of customers daily. Let's get to know the success story of this company.
Fun Fact – Big Bazaar is expected to grow more than 9% for FY 2021-22.
Big Bazaar Story – Key Points
Startup Name - Big Bazaar
Founded - 2001
Founder - Kishore Biyani
Headquarters - Mumbai, Maharashtra, India
Company Type - Private
Sector - Retail and Customer Service
Owner - Future Retail
Website – www.bigbazaar.com
Big Bazaar Story – Idea behind the business
Kishore Biyani, the founder of the company, belongs from a business background. His grandfather had a clothing business and, his entire family was involved in this. Kishore wanted to do something unique in this field. He then decided to build a retail store where everything could be available under one roof at affordable prices. His initiative took the entire retail industry in shock. He opened his first store in Kolkata and, within a year, he opened more than 50 stores in various parts of the country.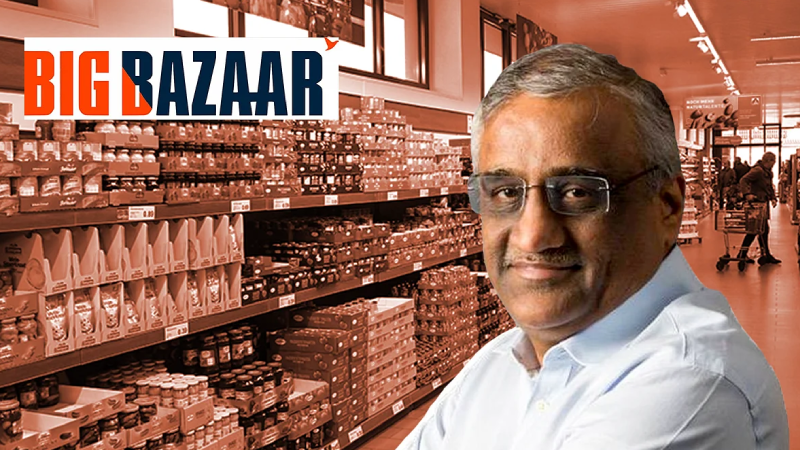 Big Bazaar Founder - Kishore Biyani
Big Bazaar Success – Founders and Team
The company got founded by Kishore Biyani in 2001. Biyani initially wanted to become a filmmaker but, his failure in that profession made him one of the biggest retail owners of India. Big Bazaar now has more than 5,000 people working for it. Some of the important people of the company are as follows:
CEO - Sadashiv Nayak
Director - Umashankar Shukla
Big Bazaar Success Story – Brand Name, Logo and Taglines
Brand Name - The brand name of Big Bazaar signifies their work. They are the bigger version of any market where you can find all kinds of things under one roof.
Logo - The logo of Big Bazaar is in classic orange and blue color that attracts a lot of customers.
Taglines - Big Bazaar has worked on various catchphrases over the year. Some of them are Making India Beautiful, Bazaar of New India, etc.
Financial Fact - Big Bazaar saw a decrease in its growth rate by 14% in the FY 2018-19. But after its acquisition by Reliance Retail in 2020, the company saw an increase in its growth rate.
Big Bazaar Story – Products Sold
Some of the products sold by the company are as follows:
Food Products
Eatables
Grocery
Kitchen Appliances
Home and Furniture
Jewelry
Electronics
Toiletries
Toys and Stationery
Clothing and Footwear
Big Bazaar Success Story – Subsidiaries
Big Bazaar is also the parent company of various organizations. Some of its subsidiaries are as follows:
Food Bazaar
Pantaloons
eZone
Fbb
Big Bazaar – Business Model
Big Bazaar is one of the largest retail stores in India, as they sell almost everything on a single platform. Their USP is that they offer amazing discounts and vouchers to their customers. It attracts a lot of customers to choose Big Bazaar over any other retail store. The company runs on the motive of earning good turnover by keeping the margin low. They always have some offer going on in the stores and, it works well for the company.
Big Bazaar Success – Revenue Model
Big Bazaar started around 250 retail stores across 125 cities in India. Today, they have over 12 million stories in the entire country. Their 7 million stores sell home utilities like clothes, kitchen appliances, toiletries, etc. The rest 5 million outlets sell everything related to food products. Big Bazaar buys the products directly from the manufactures and cancels all the middlemen. It helps them in getting a considerable profit margin on all the items. They also provide discounts to their customers without suffering any loss.
Big Bazaar – Competitors
Big Bazaar is a leading owner in its sector. But it also has a lot of rivals in the market. Some of the strongest competitors of the company are as follows:
Big Basket - It got founded in 2011. They also deal in non-vegetarian items such as fish, meat, seafood, eggs, etc.
DMart - It got incorporated in 2000 and, it works just like Bg Bazaar.
Grofers - It got incorporated in 2014 and, it is considered one of the biggest rivals of Big Bazaar.
Big Bazaar Story – Challenges
Pandemic - Big Bazaar mainly operates through retail shops. But the current pandemic and the prevailing lockdown has shut down all the businesses. Retail stores like Big Bazaar were not performing well and, they suffered a loss. Big Bazaar needs to plan various ways to fight any such pandemic so that it doesn't affect their businesses in any miserable situation.
Competitors - Big Bazaar has a lot of competition in the market and, most of them are performing well. Big Bazaar needs new plans and strategies to keep up with its rivals and become the strongest player in the market.
Big Bazaar Success - Future Plans
Some of the upcoming plans of the company are as follows:
The company plans to focus on its expansion strategy.
They are planning to expand their business and stores in the smaller cities of India.
Big Bazaar will open more stores in the Tier-II cities.
They will acquire a small business.
Big Bazaar – Acquired by Reliance Industries
Big Bazaar got acquired by the retail section of Reliance Industries Ltd in 2020. The sale transaction of the company was INR 24,713 crore of Future Group.
However, the acquisition of Big Bazaar by Reliance Retail is under dispute in Singapore Courts. The legal proceeding is by Amazon that challenges the contract saying it prohibits a restricted list of companies. Big Bazaar is one such company that is working great in its sector. It is one of the favorite and most loved retail stores for millions of people. Big Bazaar provides goods at a reasonable rate, and this attracts a lot of customers.