Experience New Food Menu Daily: Freshmenu Startup Story
Ordering food online seems to be the perfect way to enjoy your favorite dish while watching your favorite show without having to leave the house. However, customers' most prominent issue with online delivery services is the consistency of the food when it arrives. The food is usually old and cold, necessitating rewarming, which degrades the freshness even more. Rashmi Daga, the founder and CEO, saw an opportunity to solve this problem and founded Freshmenu.
Freshmenu Story: Concept
Freshmenu, as an online food delivery service, offers something distinctive to its customers. Currently based in Delhi, Pune, Hyderabad, and Bengaluru, the main idea behind the startup is to deliver hot and fresh food to the customers. Not only does the company offer fresh produce, but it is also known for serving a wide range of cuisines from around the world and changing the menu every day. Freshmenu employs chefs with extensive experience and qualifications.
When it first launched in 2014, the company was praised for bringing an innovative shift to the world of online food deliveries. During the company's first three years, it built 27 kitchens with 500 employees, eventually expanding to 700 delivery workers. Freshmenu has so far managed to hit a daily average of 12,000 orders and 30,000 customers.
Freshmenu Story - Key Points
Company Type - Startup (Public Listed Company)
Industry - Online Food Delivering
Founding Year - 2014
Headquarter - Bengaluru
Founder - Rashmi Daga
Parent organization - FoodVista India
Website - Fresh food online. Order tasty food from FreshMenu.
Founder's Biography - Rashmi Daga
Rashmi worked in a number of industries before discovering her true calling in the food industry, including Ola, Johnson & Johnson, Tutor Vista, Bluestone, and others. She founded afday.com, an online curated art marketplace, in 2011. Following that, she went to work for Freshmenu, a restaurant in Bangalore, where she began delivering food online through their kitchen. She wanted to do something different, so she devised the idea of bringing fresh food to customers. Rashmi earned her bachelor's degree in engineering from Delhi College of Engineering and her MBA from IIM Ahmedabad.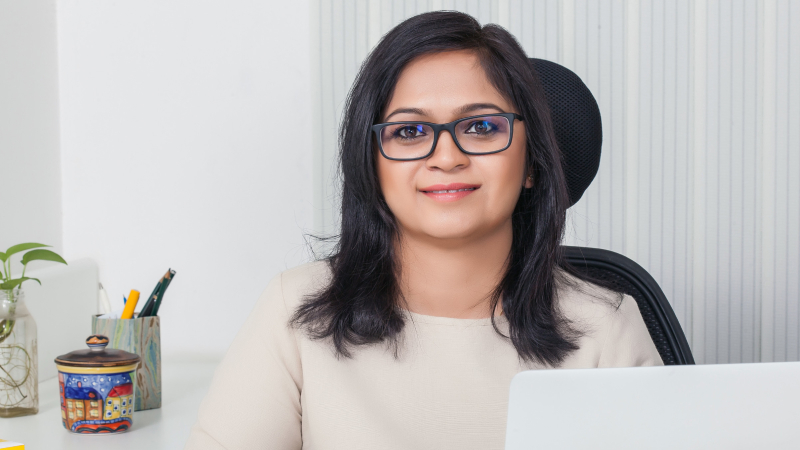 Rashmi Daga - FreshMenu Founder's
Freshmenu Vision and Mission
Freshmenu believes in good. In the company's own words, "When we say well, we just don't mean good food. We also mean the goodness that good food leads to; Good memories, a good temper, a good day, a good burp. And we know that when our food leaves our kitchens, we're creating all that. It's rewarding, this belief in good. Now take a look at how we go about it," says the website.
Brand Name and Logo
The name and logo of the Freshmenu come from the services it offers to customers, which include providing fresh food.
Investors and Funding
Freshmenu has received a total of $25.8 million in support throughout seven rounds of funding. The Freshmenu has enlisted the support of a number of investors, including:
Lightspeed Venture Partners
Zodius Capital
Brand Capital
InnoVen Capital
Lightspeed India Partners
Freshmenu : Competitors
It's almost impossible to launch a business without any rivals. Freshmenu, like many others, faced a difficult environment and managed to succeed. While having a large number of competitions, it is known to hold one for each of them. It is at the top of the list because of its creative menu concepts, fresh food delivery, and use of only qualified chefs. It has managed to thrive because it is a takeaway restaurant and a cloud kitchen in addition to an online delivery business. Freshmenu's main competitors include:
Swiggy
Zomato
Rebel foods
BOX8
InnerChef
Uber Eats
Food Panda
HolaChef
Freshmenu Story: Strengths & USP
Freshmenu offers a variety of offerings that sets it apart from the competition. Farm-fresh produce, a daily changing menu, professional chefs, world cuisines, and 45-minute delivery are all included in these programs.
Farm- Fresh Ingredients Freshmenu is concerned with the preparation of fresh food made from farm-fresh fruits and vegetables. The food supplied by other restaurants via the internet is typically stale and not very fresh, which is not suitable for health. As a result of the update, Freshmenu has become a famous website. It improves the kitchen by instilling freshness and reducing staleness in their delicacies.
Daily Changing Menu Freshmenu is also known for creating some fun by changing the menu of the restaurant daily. This explains why this startup has been able to flourish with flying colors. Not only was the concept of changing the menu regularly great, but it also piqued consumers' interest in Freshmenu's services.
Experienced Chefs Behind the success of a successful startup are the employees working day & night to satisfy their customers. Freshmenu is also renowned for employing talented and seasoned chefs to make the best recipes for their patrons. The chefs get together and brainstorm new ways to prepare dishes in order to impress and delight the customers. Things like sauce making and salad dressing are done with love, skills and passion.
World cuisines Missing travelling? I know, the pandemic has undoubtedly made us cancel all our plans and our trips too. The best thing about international tours is that you can have the amazing food associated with the place. But don't you worry! Freshmenu has made it possible to have cuisines from all over the world sent to your door without leaving your home. If it's a Spanish salad or a Mexican burrito, Japanese Sushi or some other food from around the world, you'll find it here. You'll never need a plane ticket to enjoy your favorite international dishes any more.
45 minutes Delivery The food prepared may have been prepared with fresh ingredients and expert chefs, but if it takes an hour and a half for a delicious fresh meal to reach us, it is neither fresh nor delicious. This is where the expert delivery services of Freshmenu come into the picture. The company commits its customers to deliver the food within 45 minutes of the order, which will make the food remain fresh and awesome.
Rounding Menu
Freshmenu is the best example anyone can think of right now of the fallacy that nothing good comes fast. It gives us the impression that we are in the twenty-first century, where the world has progressed to the point that everything is possible with the simplest tasks. Freshmenu demonstrated the true meaning of being creative and exclusive by reinventing the online food delivery service.