Coolberg: India's First Non-Alcoholic Beer Brand Raises $3.5 Million
Coolberg is India's first zero-alcohol beer, launched in 2016 with a single-minded vision of catering to a new category of drink that is modern, trendy, and aspirational. With curated taste and premium imagery, the brand promises to provide its customers with a pleasant respite. The brand offers the beverage packed in a strong glass bottle with an attractive logo and a total of 6 flavors for consumers all over India.
Coolberg: Key Knows
Company Type - Startup
Industry - Non- Alcoholic Beer Brand
Founding Year - 2016
Headquarter - Mumbai, Maharashtra
Total Funding - $4 Million
MRP: Rs. 69
Co-Founders - Pankaj Aswani and Yashika Keswani
Website - coolberg.in
Coolberg: Founders
Pankaj Aswani- Co-Founder & CEO at Coolberg Pankaj Aswaniis, the co-founder and CEO of Coolberg &, is a graduate of The Institute of Chartered Accountants of India and also served as a management associate at a company called Citi. Aswani developed the concept of Coolberg and debut it in Mumbai in 2016. Aswani stated in an interview, "Basically, wherever you find a cola, we want you to find a Coolberg as well. Increasing this investment will help us strengthen our distribution network and increase brand awareness."
Yashika Keswani- Co-Founder & COO at Coolberg Yashika Keswani is the Co-founder and COO of Coolberg. She graduated from Birla Institute of Technology in Jaipur and then went on to Manipal University in Jaipur for her MBA. She worked at MTLB for a year and a half as a verbal communication expert before joining Coolberg in 2016. She stated in an interview that the Indian beverage market is witnessing an increased demand for new flavors, and all the variants of Coolberg are unique, refreshing, and new to the market. She said, "Our R&D team is strong and keeps a close eye on consumer needs."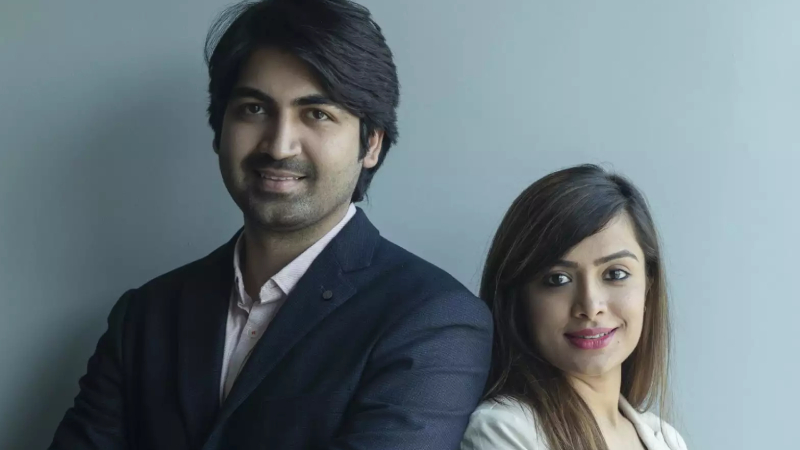 Coolberg Co-Founders - Pankaj Aswani and Yashika Keswani
Coolberg: Taste
The beverage combines the perfect amount of sweetness and is brewed impeccably on a natural base of hops and malt. The fizz is equally pleasant to tantalize the taste buds. Although the brew is alcohol-free, the malt variant can pass the beer tasting test without any doubt. Apart from this, the other five flavors of this fantastic beverage are Cranberry, Ginger, Strawberry, Peach, and Mint.
Coolberg: Process of Brewing
Coolberg products are brewed using a proprietary formula and procedure and are alcohol-free. To produce the dazzling golden drink, you'll need to follow the procedures below:
Natural Base It all starts with carefully choosing handpicked barley to get malted in gushing whirlpools of pristine water. This intense play germinates the grains and initiates a process that gives the finest of malt, thus giving Coolberg its beer flavor.
Processing The blend is now ready to undergo a surreal confluence of fire and ice, marked with intense boiling and cooling that leads to the maturation of the concoction. This rich mixture is then filtered and processed for its alcohol-free properties.
Bottling The golden brew jets into its glass armor, decking up for the crowning ceremony. The decorated drink of freedom glides down to its final basecamp, donning a distinct identity.
Ready to Drink And thus, is born Coolberg, the beer for the free-spirited.
Coolberg: Cover Market
Coolberg has 12,000 shops in key cities across India, including Bihar, Maharashtra, Punjab, Haryana, Uttar Pradesh, Karnataka, Goa, Jharkhand, West Bengal, and Rajasthan. Aside from regular retail outlets like supermarkets and restaurants, Coolberg may be found at workplaces, colleges, and airports.
Coolberg: Targeted Customers
The couple founded the Mumbai-based company intending to give people alcohol-free joy for parties and celebrations. Alcoholic beverages have become a vital component of each celebration throughout the world, yet there will always be a class of individuals who do not consume alcohol. There are various reasons why people may not drink alcohol, including religious and cultural views, lifestyle choices, and so on. Aswani came up with the concept of Coolberg since India is a nation where people of all faiths coexist.
Coolberg: Funding & Investors
The company has raised $4 million in two investment rounds, a Series A round and a seed round. RB Investments and its current partner, Indian Quotient, led the 2019 financing round. In 2018, the business received an unknown amount of money from venture capital company India Quotient and the Indian Angel Network's first fund.
Coolberg has a total of 7 investors, with four of them serving as lead investors. The lead investors of the startup are:
RB Investments Pte. Ltd
Sanjay Mehta
Indian Quotient
Anirudh Agarwal
Coolberg: Competition
Coolberg does not have any competitors in India, apart from soft drink firms, which are a whole different idea. The top seven competitors of Coolberg throughout the world are:
Estrella Damm
Five Star Beverages
Coors
O'Doul's
Bai
Jones Soda
Clearly Kombucha
Brewing Taste without Alcohol
It's difficult to make beer taste nice without alcohol, but Coolberg has shown this to be untrue. In India, Coolberg was able to usher in a new era of non-alcoholic beverages. It is no longer required for a person to consume alcohol to fit in; Coolberg is suitable for anyone.