Branding Best : Bombay Shaving Company Start-up Story
Grooming goods have traditionally been marketed to women but is now a gender-neutral concept, thanks to shifting times and attitudes. It has become a must for looking good and creating a positive first impression. A start-up, however, saw promise in men's grooming products in a market that has generally been crowded with FMCG (fast-moving consumer goods) for women. The Bombay Shaving Company discovered that the Indian men's grooming industry was utterly unorganized and restricted to shaving goods. Body wash, soaps, oils, shampoos, creams, and perfumes are available today for men's grooming and brands such as Bombay Shaving Company, Beardo, and Ustraa contributed to the success of grooming items.
Bombay Shaving Company Beginning
Deepu Panicker, Rohit Jaiswal, Shantanu Deshpande, and RaunakMunot, all colleagues, launched Bombay Shaving Company in 2015. Shantanu was a software developer for McKinsey in the United States of America when it all started. Shantanu's curiosity was piqued after a casual conversation with a friend who was interning at Harry's, a New York-based shaving company. Shantanu realized that India could benefit from a revolution in the grooming space after his friend mentioned how shaving brands in America are challenging the likes of Gillette and PRO.
Shantanu then surveyed his colleagues, relatives, and the general public about shaving practices and concluded that no one enjoys shaving because men despise the everyday routine. Bombay Shaving Company was born as a result of this. Shantanu quickly enlisted the help of Raunak Munot, GroupM New York's Director of Social Strategy, and college friends Rohit Jaiswal, Emel and Crompton Greaves' Head of Channel, and DeepuPanicker, a senior analyst at McKinsey.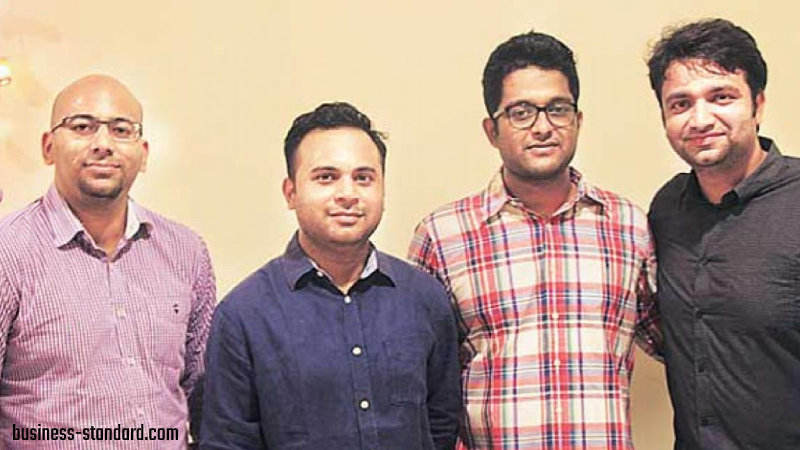 First Success to BSC (Bombay Shaving Company)
The owners boast that the company's first 500 clients come solely through word of mouth. It is primarily due to their focus on the customer interface. The Bombay Shaving Company, as a newcomer, had nothing to say in terms of provenance. Recognizing that their clients were paying top dollar for a brand-new offering, they wanted to have a fantastic unboxing experience for them. When buyers started posting their views on social media and other platforms, their tactic paid off – and revenue increased as a result.
Simultaneously, the quartet used their contacts with editorial teams at publications such as India today to advertise their brands, even appearing on the cover page of India Today, earning much-needed exposure.
The Contribution of Creativity
Six weeks after launching Bombay Shaving Company, the founders started running ads on Facebook, which they credit with a large part of their growth. Their posts questioned long-held beliefs about men's grooming and beard care, which had previously been considered simply a part of a man's everyday toilet routine.
Simultaneously, they ran tailored ads aimed at husbands, sons, and even women, such as the Father's Day Program. People reacted positively to the question of recognizing the importance of beard care. The Father's Day Campaign elicited hidden feelings and increased revenue. "We got nearly 100 orders from this effort, and nearly 25% of them had 'DAD' engraved on the razor," Munot says.
Bombay Shaving Company Story - Growth
The team collaborated with world-renowned experts and suppliers on fragrances, raw materials, manufacturing innovations, and chemical engineers and packaging innovators. The first 500 consumers were solely obtained by word of mouth. The majority of their offerings are actively being improved based on consumer feedback. E.g., after a large number of customers requested a closer and more vigorous shave, the team developed a new razor part and sent it to them free of charge.
Second, the Bombay Shaving Company team aimed to have a fantastic unboxing experience for their clients, and they succeeded. Customers began to post unboxing videos and photos on social media, which improved their brand and increased revenue. The team also offered users the option of having their names engraved on the shaving razors for free to add a personal touch. Since its inception, Bombay Shaving Company has raised $9 million in funding and now offers over 40 products across four categories (shaving, bath, beard, and skincare.)
Social Media's Influence
Before the rise of social media, the most popular ways to sell cosmetics and grooming items were through television and offline newspapers. Not just that, but only lipsticks, fairness creams, and moisturizers were included. However, as the internet became more widely accessible, it became apparent that social media sites had become extremely valuable platforms for promoting goods and services. When YouTube was first launched, several enterprising people realized that uploading tips about wearing makeup and using different products were a great way to make money.
In specific ways, it's fair to assume that social media has aided people in breaking out of their shells and pursuing their entrepreneurial dreams. With the new live update that has rolled out through most social media sites, influencers and potential influencers will personally reach out to their fans and engage with them in real-time while also answering questions. Facebook and Instagram, in particular, have developed into a flourishing marketplace for buyers and sellers to interact.
In addition, social media provided more sophisticated methods for identifying potential markets for a particular cosmetic product or service. Advanced content tracking platforms on social media now give advertisers complete control over audience targeting. Age and gender and personal desires and interaction preferences, such as the technology they use, are all recorded. Education level, area, and income are all factors that can help optimize audience targeting for a specific cosmetic product or service. After the introduction of social media, the cosmetics sector has grown to a $5.5 trillion industry. By 2025, India's cosmetics industry is expected to be worth more than $20 billion.
Total Funding $14.0M
Investors : Fireside Ventures, HNI India, Colgate Palmolive, Sixth Sense Ventures
Entrepreneurs in the 21st century
When we look at the current cosmetic environment on social media, we can easily find start-ups selling other beauty and cosmetic products, blogs creating videos on how to use beauty products, cosmetic start-ups in India seeking to follow greener ways to produce their products, and cosmetic e-commerce start-ups. Nykaa is hard to ignore, thanks to its solid online presence and loyal customer base, as well as its expansion into offline stores. Beauty, makeup, and skincare experts may use UrbanClap to interact with their clients. Famous start-ups in India that cater exclusively to men include Ustraa, Beardo, The Man Company, and Bombay Shaving Company, proving that social media has had a visible effect on how cosmetics are considered.
The Bright Future of Bombay Shaving Company
Bombay Shaving Company continues to expand and redefine the shaving experience. Bombay Shaving Company raised $6.1 million (INR 45 crore) in an investment round led by the UK consumer products firm Reckitt Benckiser in January 2021. This money would go into launching three new consumer brands in the market, investing in promotions and branding, and expanding beyond the major cities.