MilkBasket - Covering Your Daily Grocery Needs At Your DoorStep
Milkbasket is a daily micro-delivery subscription-based service that offers grocery, dairy products, and household needs. It delivers more than 9,000 items which include dairy, fruits and vegetables, FMCG products, etc. Since its inception, it has delivered nearly 30 million orders.
MilkBasket is considered to be the largest online grocery delivery service in Delhi-NCR, and it serves in other cities of India as well.
Milkbasket Startup: Facts & Stats
Legal Name: Doorstep Retail Solutions Pvt. Ltd
Founded: 2014
Founders: Anant Goel, Yatish Talavdia, Ashish Goel, Anurag Jain
Headquarters: Gurugram, Haryana, India
Areas served: Noida, Greater Noida, Dwarka, Gurgaon, Bangalore, Hyderabad, Ghaziabad
Number of Employees: 354
Type of Industry: Delivery Services, Food and Beverages, E-commerce
Investors: 18
Total Funding Amount: $38.5 million
Last Funding Type: Series B
Latest Deal Amount: $41.5 M
Latest Deal Type: M & A
Revenue: INR 322 crore (2020)
Play Store Rating: 3.7
Company Type: For Profit
Financing Status: Venture Capital-Backed
Website: www.milkbasket.com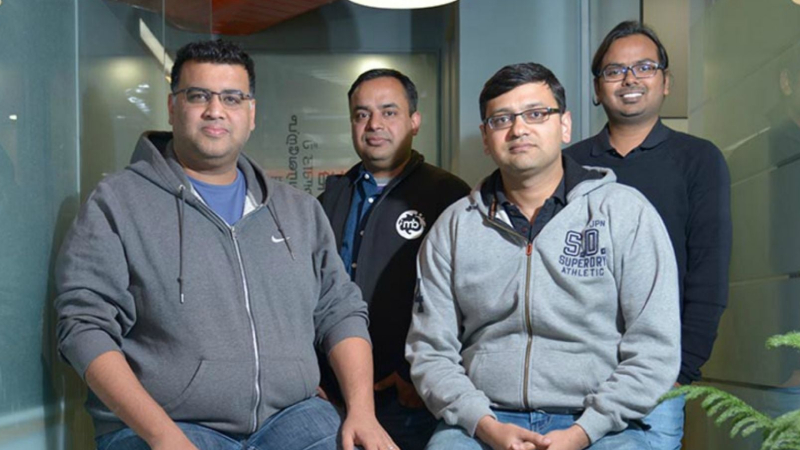 Milkbasket co-founders (from left) Anant Goel, Anurag Jain, Ashish Goel and Yatish Talvadia.
Milk Basket Startup: Logo & Name
'Milkbasket' had an earlier idea to deliver milk, and thus, the name and the logo was made accordingly. Then now, it is a delivery system that offers a wide range of customer's daily household needs.
Features of MilkBaasket
You can place your order till midnight and receive assured delivery by 7 A.M
You can get discounts on your everyday products
No questions asked refund policy is followed, and you will get back your money in just 15 minutes
You can schedule vacation time offs
You can even keep a count on your account expenditures
You can set your recurring orders, and there would be no such issues of setting up your orders every day.
At every order, there will be no hassle of OTP, CVV and payment check-outs
There are no such minimum orders limited to the customers
Milkbasket: Vision & Mision
MilkBasket's mission is to get established as a supermarket for more than a million households in the upcoming years. It is indeed one of the most money-saving models in comparison to others in the online grocery marketplace.
Expansion of MilkBasket
In 2020, Milkbasket disclosed a 3.8X increase in revenue with only slight losses in March last year. It announced Rs 322 crore in funding, 99.9% (Rs 321.7 crore) received from operations.
Revenue of MilkBasket
MilkBasket announced revenue of Rs 84.6 crore and expenditure of Rs 94.1 Cr, with a loss of Rs 9.5 crore in 2019. Also, the company's expense increased to Rs 337.7 crore, with its losses to Rs 15.7 crore in 2020. It got nearly 99.7% (Rs 84.4 crore) from its operations.
MilkBasket: Investment & Sources of Fundin
Milkbasket has raised $38.5 million over 11 funding rounds.
| | | | |
| --- | --- | --- | --- |
| Date | Round | Amount | Lead Investors |
| May 13, 2020 | Series B | $5.5M | Inflection Point Ventures |
| Jun 27, 2019 | Debt Financing | ₹150M | InnoVen Capital |
| Jun 4, 2019 | Series B | $10.5M | Unilever Ventures |
| Dec 19, 2018 | Series A | $7M | Mayfield Fund |
| Nov 12, 2018 | Series A | $100M | Mayfield Fund |
| May 22, 2018 | Series A | $7M | Kalaari Capital |
| Jan 23, 2018 | Seed Round | $3M | Unilever Ventures |
| Aug 23, 2017 | Seed Round | $840.9K | Lenovo Capital, Incubator Group (LCIG) and Blume Ventures |
| Dec 1, 2016 | Seed Round | $634.9K | — |
| Apr 26, 2016 | Seed Round | $500K | EVC Ventures |
MilkBasket: Growth in Pandemic
In the second half of 2021, Milkbasket has led its endeavor to reach out to a larger audience. This has been possible due to the recent increased rate of demands despite the COVID-19 pandemic.
It announced that it had shipped 30 million orders within the six months since its initiation.
Milkbasket Startup: The Two Important Decisions
Firstly, being an inventory cap for every customer purchase, they would make sure that no consumers hoard products.
Secondly, they continued to provide services to their earlier customers and stopped taking the new customer's orders. This had built the trust of the existing consumer base, and there has been sale improvement as well.
Words by the Founder
The Co-Founder and CEO of Milkbasket, Anant Goel, said,
"Milkbasket has a near-perfect record of reaching growth targets since being founded in 2015. The rapid adoption of at-home grocery delivery amongst consumers due to the pandemic has provided us with an impetus to target IPO in just a year, which we had initially planned for the year 2023".
Competition of Milkbasket
Milkbasket's main competitors in this online grocery space are
Grofers,
Big Basket,
Swiggy,
Zomato,
Amshop,
Supr Daily,
Town Essentials,
DailyNinja,
Dunzo,
ZopSmart,
PepperTap,
RainCan,
BB Daily
Milk Basket: Winning Trust with Variety
Milk Basket covers the daily necessity items, including fruits, vegetables, grocery, milk, eggs, bread, & yoghurt. It has more than 5,000 branded products. More than 40 milk varieties (fresh, organic, cow, buffalo, tetra pack, etc.) are sold from more than ten brands such as Amul, Nestle, Mother Dairy, etc.
The company has won the trust of more than 50,000 families with their services. Starting from fresh products to last minutes requirements, you can always rely on MilkBasket.