Story of Most Engaging Learning App : Quizziz
Quizizz is an Ed-tech startup that provides an engaging platform for creating and sharing creative quizzes. Since it is believed that a quiz-style teaching method helps you to test your knowledge, this app is beneficial for students and teachers. Quizzes can be viewed on any browser, laptop or smartphones. The platform is available in 6 languages, including English, Dutch, French, Polish, Spanish and Russian.
Benefit of Quizizz :
Quizizz helps teachers to generate quizzes in the form of a game.
Lessons become more interactive, and student feedback is automatically generated.
Also, teachers are benefitted because they can view the quizzes created by peer teachers to improve their content.
Users can create more than 30 million quizzes.
Also, teachers can teach better if they don't need to waste their time in grading.
Quizizz Startup Story : Beginning and Initial Years
In 2015, Ankit Gupta and Deepak Joy Cheenath founded this engaging platform. Ankit and Deepak had graduated from BITS- Pilani. They were doing a job in the IT sector, but the duo decided to become ed-tech creators. Therefore they left their jobs.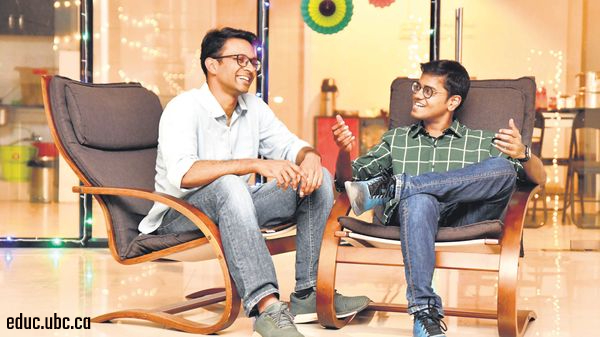 Quizizz Co-Founders: Deepak Joy Cheenath and Ankit Gupta
Since the makers were interested in game and education, they started a maths-based role-playing game specially designed for middle school students in 2013. The name of that game was Wizenworld. The product gained popularity in the US, and many schools connected with that platform.
Although Wizenworld featured in GSF Global 2014 list of 11 startups, there were certain areas that they felt they lacked in Wizenworld. So they decided to incorporate all the feedback and decided to come out with a new product, namely Quizzezz, in 2015.
The first version of Quizizz was launched at a Bengaluru Maths program. The makers say that their ultimate objective behind inventing this Ed-tech startup was to harness technology to create more attention than a distraction. It is a fantastic way to test your knowledge in the form of a quiz game.
Wizenworld and Incorporation in Quizizz
The main areas that were addressed in the new product were content and interactivity. Regarding content, teachers complained that there was no autonomy for teachers to add their content in Wizenworld. So in Quizizz, the founders gave this autonomy to teachers to add their content and alter it according to the study plan decided by teachers.
To tackle the interactivity lacuna in Wizenworld, Founders Ankit and Deepak decided to include a multiplayer experience in Quizizz. So now, Quizizz has a feature that helps students interact with their classmates and see how their friends answered the question and how much time they have taken.
To make it more interactive and engaging, the founders came up with a brilliant idea. They decided to include a meme after every answer. This technique is successful in gaining popularity. So no matter whether you give a right or a wrong answer, you will enjoy a meme after your response.
Wizzenworld helped the makers to build a massive network with schools and teachers. The makers also use Twitter wisely to market the new features. They ask for suggestions and give away Quizizz merchandise to promote their ed-tech platform.
Quizizz - Fundings
The company has received fundings from different sources like GSF, Nexus partner and Prime Venture Partners. The customer-centric approach and deep understanding of users helped the founders to earn millions of users and massive funding. Nexus partners have contributed $3 Million to this ed-tech startup because they believe that the adaptability and growth of the product without spending a lot on marketing is an indicator of the usefulness of this product.
This ed-tech platform has also raised a funding of $12.5 million from the Eight Roads venture. These fundings will be used for promoting international users and supporting school and corporates.
Quizizz & Competitors
The major competitor of Quizizz was Kahoot because Quizizz has a working model similar to Kahoot, a game-based learning platform. But there are slight variations in the two platforms that are outlined below:
Quizizz offers you two modes: real-time formative evaluation and the other is an extracurricular activity. But on Kahoot, there is only honest time discussion, questions and evaluation.
Another significant difference between the two is that Kahoot requires participation from the whole class while Quizizz allows students to follow their own pace and schedule. It means that if you are using Kahoot, you can't move to the next question unless all other student answers that question, a student can't move to next question. On the other hand, if you are using Quizzes, you can move to the next question as soon as you answer the first question.
Besides this, Kahoot is a more teacher dominated platform, while Quizizz is oriented to both student and teachers. This is because, on Kahoot, answers and questions are displayed on the teacher's device, but Quizizz, a student can see questions and answers on his device rather than the teacher's.
Signing up for Quizzing is also easy for students and teachers. You have to enter your google account and start using Quizizz. Similarly, creating quizzes is also very easy on Quizizz.
The success of Quizizz
Quizizz has captured a significant market in more than a hundred countries, including the USA and India.
The popularity of the quizizz platform grew even more during the COVID pandemic and online teaching among teachers and students.
Quizizz is hosting more than 60 million users a month, and it is used in more than 65% of US schools.
Future goals of Quizizz
The founders have revealed that now they will focus on Southeast Asian markets. The makers have also highlighted that they can make their presence felt in US school, but in Indian schools, the popularity is yet to rise, which can take 2-3 years.
They also hinted that although the platform is free now, they might explore pricing options in the coming future.
They will also add new features and customize the platform according to the curriculum taught in schools to become more student and teacher-friendly.
Learnings from Quizizz Startup Story
The success of Quizizz as an ed-tech platform for learning while playing depicts the importance of thinking out of the box ideas. Also, taking a risk in life also becomes a necessity when you want to do something unique. The founders had also left their jobs to create their ed-tech platform. Another significant point to note from the journey of Quizizz is that you need to work on your criticism and keep innovating yourself. The makers had also come up with the idea of Quizizz after incorporating the feedback given to Wizenworld. Therefore we must never forget that hard work and constant improvisation are two crucial elements of success.