Learn How to Take Rejections Positively: Zapier Business Story
There are many instances in life where we face rejection. But it is on us how we deal with that rejection. Sometimes we work so hard owing to that rejection that people are compelled to call us back. The pleasure from this situation is immense. A similar thing happened to Zapier founders that make the journey of Zapier from zero to hero worth reading. So in this article, we will look into the startup story of a prominent tech startup, Zapier.
Zapier: Integrating Software
Zapier is a wonderful app that allows the user to automate the repeating tasks for different apps. When a particular thing happens in one app, Zapier enables another app also to do the same action. So we can call this app a software integration app.
Example: If you want to integrate email marketing software into an analytic app, you can use this app.
Zapier Story: Early Years
The credit for founding this valuable startup called Zapier goes to three co-founders Wade Foster, Bryan Helmig and Mike Knoop, in 2011. CEO of Zapier, Wade Foster, was a marketing student while Bryan and Mike were expert software developers.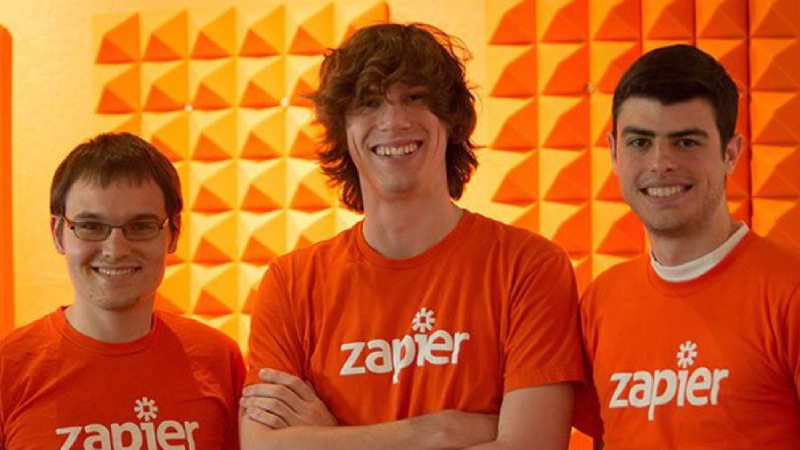 Wade Foster, Bryan Helmig and Mike Knoop three co-founders Zapier
Within two days, the app's prototype was developed at a startup weekend event in Missouri, Columbia. They were appreciated for their efforts and decided to go ahead with this idea.
Fun Fact: Zapier decided to send the plan to a big company "Y Combinator" but was rejected; however, they did not give up.
Zapier: Challenges Faced
The first challenge came in the form of rejection from Y Combinators.
When they decided to overcome this rejection, they were faced with the challenge of funding. In Missouri, where they came up with this idea, funding was negligible. So they decided to continue in their jobs. The three would work for the success of the startup at night and on weekends.
Another challenge for the startup was to get customers. It might sound easy, but it's tough to formulate an ideal marketing strategy for bringing customers to a startup.
Zapier Story: Marketing Strategies for Customers
Being a marketing student, Wade was given the task to bring customers to the startup. He did his task efficiently and used email to reach prospective customers.
Skype calls He used a very innovative strategy to attract customers. He used to call people on Skype and ask them if they want to integrate the features of two products.
Product Support Forums When Wade was asked about how he found prospective customers, he revealed his search for prospects in Product support forums. In this way, he would come to know if anyone wants to integrate any features. He used the user forums of Dropbox, Evernote, Salesforce, etc. Wade told how people looked for integration of Evernote and Dropbox, and he used this opportunity to promote his startup. He would post a link and get 10-15 visitors who became leads for the startup.
Customer Support and Satisfaction Another exciting outcome of Zapier's marketing strategy was customer support and satisfaction. The strategy of Skype calling laid the foundation of Zapier's excellent customer service. When any bug interrupted the customer experience, Wade would come forward through Skype calls to solve the problem. He calls it a great experience, and this helped them to make their product better.
Search Engines They also successfully used search engines for their marketing. The Makers were wise enough to set up a webpage for every app-to-app combination. For instance, if someone is looking to combine Dropbox and Evernote integration, they will get Zapier's integration service in the top results. This helped customers to get instant solutions, and the startup managed to create brand awareness.
Content Marketing The makers then exhausted the potential of content marketing for getting customers. Presently, it has almost Rs 2.50 lakh monthly readers.
Zapier: Partnerships
Using this strategy of posting their link on popular product support forums, the startup also contacted the staff of popular companies like Dropbox. This laid the foundation of partnership for Zapier. This partnership also brought huge traffic to Zapier's website.
Revenue Model
The strategy of Zapier was also different from the traditional approach. Instead of giving a freemium product in the beginning, the founders started charging right from the beginning. They would charge $1 at the beginning, which rose to $5-$10 gradually. This strategy ensures that only interested customers come to their platform, and those looking for freemium are kicked out.
Zapier's Present Success:
Zapier has Integrations with almost 2k apps presently. These include notable apps like Microsoft teams, DocuSign, Google ads, etc.
Zapier had received funding of 1.3 Million dollars.
Zapier's annual revenue has grown from 10 million dollars to 50 million dollars.
Today, Zapier has a happy consumer base of almost 3million plus people.
Zapier Story: Turning Failure into Success
We had begun this article with Zapier's challenge to turn rejection into acceptance. The idea for Zapier had been rejected by Y Combinators owing to a poor resume. But the makers did not give up. After a year, they applied again. This time they had a good customer base, a working model and most importantly a proof of their efficiency and the result of their hard work. The result was that they got the YC label, which bagged more customers for the startup.
Zapier's startup story is the perfect example of how you can grow your business using the right marketing strategy. From SEO to partnership, there is hardly any marketing strategy Zapier did not use to promote its product. The result of all this hard work was spectacular. They managed to get a good consumer base along with several partnerships. So we can see from the story of Zapier that a unique product is vital for the success of startup success, but more than that, an efficient marketing strategy is a key for long-term business success.