Best Growth Hacking Techniques to Boost Your Business Growth
Any startup or a business needs to grow to succeed & is the desire of every entrepreneur. To spread a business, the marketing of products has to be done in a very effective way.
It doesn't count if you are new to business or have been in it for a while. What matters at the end of the day are your conversion rates or sales. In short, your growth matters the most. Businesses without growth generally disappear from the market.
Growth Hacking Techniques - Introduction
Some stats show that 20% of the businesses don't even last one year, and a significant 50% don't make it past five years. So, how can you escape from being in that significant percentage?
Reaching a massive audience is the key to scale your business and, by using growth hacking techniques, entrepreneurs can achieve traction and increase their customers. Many entrepreneurs find it useful as it gives profitable results.
In this article, we will brief you on growth hacking techniques to help you grow your business.
What is Growth Hacking?
The term 'Growth Hacking' was coined by Sean Ellis, founder and the CEO of GrowthHackers.com, and it emphasizes focusing upon one goal: growth. Startups primarily use it because of the limited resources and budget constraints.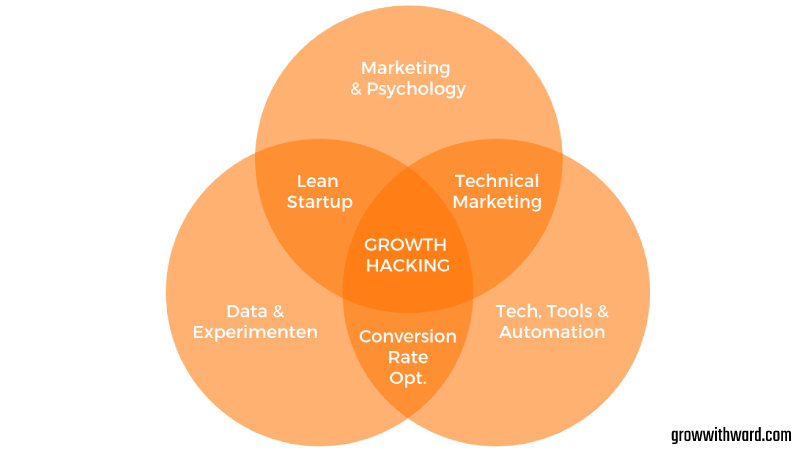 This process involves blending marketing, development, designing, engineering, and data-analyzing. As well as experimenting to get to know what are the effective ways to drive business growth. It is cost-effective, innovative, and creative & also takes less time to accomplish the goals. It is the best way to grow business, according to many entrepreneurs, consultants, and marketers.
Who is Growth Hacker?
A growth hacker is an individual who uses creative, cost-effective strategies to help grow your business. He should have a set of skills that does the job for the company. They go through the data to find your main problem and its possible cause.
A growth hacker must have given technical skills:
Build websites
Basic HTML and CSS
Implement tracking tools like Google Analytics, Hotjar, Crazy Egg, etc
Build landing pages
Run ads on Facebook, AdWords, etc
Know concepts like conversion rate optimization, AI in marketing, chatbots, etc
Note: Growth hackers follow this formula rigorously: Product + Growth = Impact
Growth Hacking Strategies
To assist you in your business and stand out from the crowd, we have prepared some growth hacking strategies. So, the following is a list of methods to expand your business and profits.
Create an Email List Email marketing has always been on top of the list for both leads and conversions. It connects you with visitors and encourages them to subscribe and become consumers. It will help you reach your audience and deliver your message.
Creating a pre-launch hype for any product helps businesses significantly to get more potential customers. Making your audience eager about the launch fills them up with excitement. But, emails can be slow.
So, creating an exit-intent campaign with a lead magnet will significantly change your number of subscribers. A lead magnet is a marketing term for a free item or service in return for contact details. And Exit Intent is a technology that allows you to monitor moments of website visitors and detect if they will leave the site.
This will increase your subscribers and growth, as well.
Use Referral Marketing Word-of-Mouth marketing is a tactic in which one of your existing customers raves about your business among his family and his friends. Referrals to people from their friends or family get them interested in that product or service. It's an always win-win-win situation for the marketer, customer, and his friend.
Generally, most customers forget to tell their friends about your business but, if they are offered something in return, they will do it willingly. Customers usually think – "what's in it for me? Why should I remember this at all?"
So, rewarding them with discounts on their next purchase or coupons is a great way to increase your customer base. It's an unstoppable chain.
One well-known example of a company that used a referral marketing strategy is 'Dropbox'. It is a file hosting cloud service founded by Drew Houston and Arash Ferdowsi in the year 2007. Dropbox, in its early days, struggled to grow. So, they adopted a referral marketing strategy. The plan was to give extra storage space to the referrer. Just think what could have happened, it grew by 3900% in just 15 months.
List product on Product Hunt Community Exposing your business is your golden ticket to have a large user base. So, launching your product on platforms like ProductHunt, allows you to get the attention of many people who might become your customers. You also receive feedback and ideas from the users.
Make products free for bloggers Bloggers have a huge fan base all around the world. They can play a crucial role in advertising your business by giving product reviews and backlinks to your website.
So, giving your products to bloggers for free might sound expensive at first, but it will give your brand a nice advertisement.
All bloggers might not turn up for this cause. But, some will be ready to do it. People follow bloggers; what they write matters if they have a big audience.
Build a Community Around Your Brand One of the best growth hacking strategies is to create a community around your brand. This can be achieved by leveraging social media like Facebook, Instagram, where the audience can engage with your brand.
There is a fair chance that many who might not know about your brand may get to know about it and like your content.
Use PPC PPC is the abbreviation of Pay-Per-Click. It is a model of internet marketing in which the advertisers pay a fee whenever one of their ads is clicked. An effective way to know what customers are attracted to is by using a Pay-Per-Click marketing strategy.
So, startups might consider this strategy to increase their website visits.
Summing up
Growth has been a significant concern for every business, and in a competitive market like ours, you have to use these growth hacking tips to elevate your business. There is no risk of failure or loss in using these hacks, plus they have been used by many entrepreneurs as well. If you feel this works for you, then share it with your group.
Happy Entrepreneurship!