The Story of Startup Dream11: India's First Fantasy Sports Game
In recent times, the world of sports has changed drastically, and people are now more engaged in sports one way or the other. They want to be part of these events somehow, and fantasy sports are the most desirable way. It is a way to engage with these games and matches, and as fans, you can be a part of the game by being a spectator in online leagues.
About Fantasy Sports
The industry of fantasy Sports has boomed in India a lot in recent times. You can create your imaginary teams with Real players and earn rewards based on their performance on the field. In the centre of this boom is the Indian gaming company Dream11, India's number one online fantasy sports platform.
About Dream11 Story
Harsh Jain and Bhavit Sheth founded Dream11 in 2008. Initially, it was an ad-based free for all sports app where people formed communities and discussed sports and could read blogs with some fantasy leagues based on different sports seasons.
This model wasn't successful and sustainable and later was changed to focus on daily matches and to allow the users to put money on the team.
Dream11 allows a user to choose a team from the participating players before the start of the match, the team is given points based on the players' performance during the match, and then, in the end, your team gets a rank among the participating people. If you participate in a game with money, it goes into a common pool, and you get winning based on ranks with some service charge.
Dream11 - Company Highlights
Startup Name - Dream11
Founders - Harsh Jain & Bhavit Sheth
Headquarter - Mumbai
Sector - Fantasy Gaming
Launch Year - 2008
Revenue - INR 775 crore in FY19
Parent Organization/Owner - Dream Sports
Website - www.dream11.com
Dream11 Financial Data:
Growth in Indian Online Gaming Market: 345%
Indian Gaming Market Valuation 2017: $290 Million
Indian Gaming Market Valuation 2021: $1 Billion
Dream11 Revenue in 2016-17: Rs. 67 Crore
Dream11 Revenue in 2019-20: Rs. 775 Crore
(Source: startuptalky.com/dream11-biggest-fantasy-game-india)
Dream11 Founders Bio
Founder 1: Bhavit Seth
Designation: COO, Dream11
Qualification: MBA from Bentley University (Boston), Diploma from Harvard
Role: Ensuring user-focused experience via operational excellence
Founder 2: Harsh Jain:
Designation: CEO, Dream11
Qualification: MBA from Columbia Business School, Graduate from University of Pennsylvania
Role: Keep the users engaged with Real-time modules.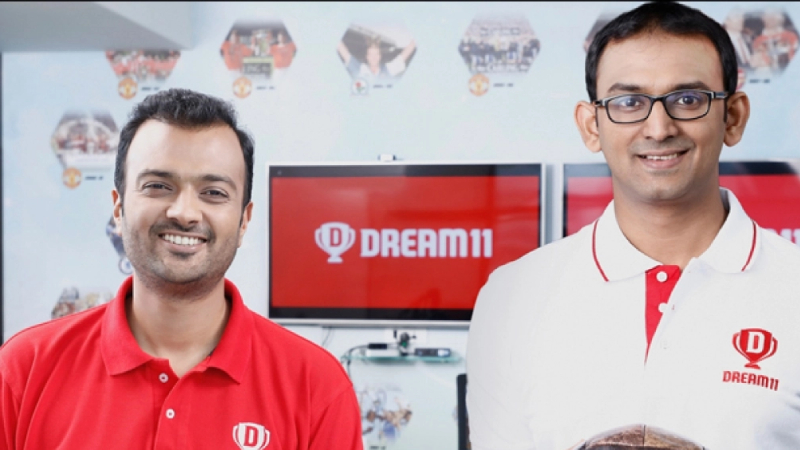 Dream11 founder - Harsh Jain and Bhavit Sheth
Dream11 Success Story - Business model
Dream11 does not earn money via the ad model. It does not feature ads as it did in its initial days and focuses on providing a fast user experience.
Dream11 supports three types of gaming methods for fantasy sports players to earn money.
Freemium ( players who play without money)
Premium (players who play using money )
Private (players who play with friends in the private league who have money as well as non-money games as the users want )
Fun Fact: Only Around 10% of Users of the Dream 11 App play in Paid Contests.
Revenue Model
Dream11 relies solely on two revenue models, namely:
Entry-level fees from the users to participate in paid contests.
Dream11 charges 15 to 20% of the total pool earned in the league.
Note that Dream11 incurred a loss of INR 131.64 crores in 2019 and INR 65.12 loss in 2018.
Dream11 Success Story - Challenges
Dream11 faced a lot of challenges during their journey to the top of the fantasy sports market. The first and one of the main challenges they faced in India was the legal challenge. Due to its similarities to gambling, which is not legal in India, they faced court allegations. But later, the court ruled in its favour. Fantasy sport is a Game of Skill rather than Chances and probabilities. Still, Dream11 is not allowed in some states of India like Odisha, Assam, Telangana, and Andhra Pradesh.
Major Challenges
Requirement of Investments
How to market this
To Locate a market
Also, the App of Dream11 is not found on Play Store because Google does not allow mobile apps offering cash contests on its platform, so you have to download it from Dream11.com.
Achievements
Guinness World Record for the 'Largest Online Fantasy Cricket Match'
Joined the Indian Unicorn club in 2019
First Indian Fantasy application to have 100 million users.
Valuation is about 5 billion dollars.
Fastest growing Indian Fantasy sports platform
Top 10 Indian innovative companies 2019
CAGR: 230% (Last Three years)
Top 10 Most popular trends 2018 by Google
Secured a Spot in Inc42's 42 Next List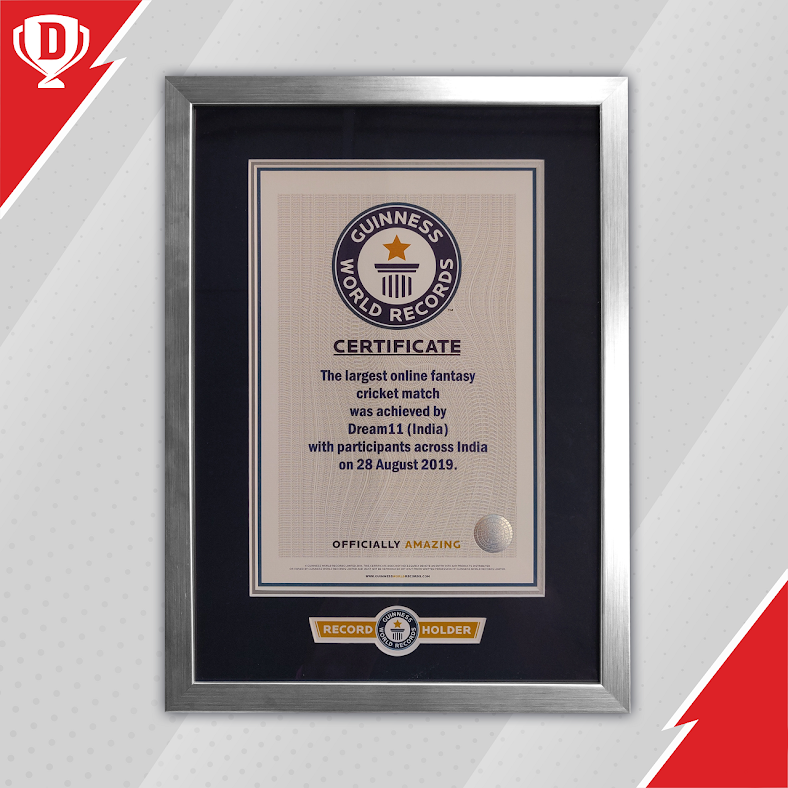 Dream11 has created a Guinness World Records title for hosting the 'Largest Online Fantasy Cricket Match'.
Dream11 Success Story - Funding and Investors
Giant firms back Dream11 like Kalaari Capitals, Tencent, Steadview Capitals, Think Investments, and Multiple Equities.
Recently the company has grown massively with new investments, with its valuation rising from 1.1 Billion USD in 2019 to 5 Billion in 2021. In total, the firm has hosted 8 rounds of funding, details of which are as follows:
| | | |
| --- | --- | --- |
| Stage | Investors | Amount |
| Series A (2015 January) | Kalaari Capital | Undisclosed |
| Series B (2015 December) | Kalaari Capital | Undisclosed |
| Series C (2017 January) | Kalaari Capital & Multiples Alternate Asset Management Private Limited | Undisclosed |
| Series D (2018 September) | Tencent Holdings | $100 Million |
| Seconary Market (2019 April) | Steadview Capital | Undisclosed |
| Private Equity (2020 January) | Tiger Global | $500 Million |
| Private Equity Round (2020 September) | Chrys Capital, Footpath Ventures, Tiger Global Management, TPG | $225M |
| Secondary Market (2021 March) | D1 Capital Partners, Falcon Edge Capital, TCV | $400M |
Partnerships
Dream11 has hosted many events and shows & partnered with many sports boards and celebrities, including:
Dream11 was appointed as the official partner of the Indian Premier League (IPL) by the BCCI in August 2019.
Announced as the Super Smash domestic T-20 tournament title sponsor by the New Zealand Cricket (NZC) in October 2019 up until 2026 in 2021.
Dream11 in 2018 has confirmed its partnerships with (ICC), (PKL) Pro Kabaddi League, (FIH) International Hockey Federation, (WBBL) World Basketball League, and the British Basketball League (BBL). As a result, Hockey and Kabaddi were added in Dream11.
In 2017 Dream111 was named the official Fantasy Partner of the Hero CPL, Hero ISL and USA's NBA (National Basketball Association).
Current brand ambassador: Mahendra Singh Dhoni (Former Indian Captain).
Launched the 'Dimag Se Dhoni' campaign in 2018 IPL Edition
Dream11's brand ambassador in 2017: Commentator Harsha Bhogle
Official Fantasy Partner for Hero Caribbean Premier League (CBL) and National Basketball Association (NBA)
Joined hands with ISL as the Official Fantasy Football Partner
National Basketball Association, the professional basketball league of USA, came up with a Fantasy Basketball game with Dream11
BCCI (Board of Control for Cricket in India) announced Dream11 as the Vivo Indian Premier League's (IPL) Official Partner in March 2019.
Dream11 also launched the 'Official Fantasy Game' of the IPL.
Dream11 Competitors
Fantasy sports in India have boomed at such a pace that there are about 60 other such online gaming platforms operating in the same genre.
Some of these include:
MPL
HalaPlay
My Cricket11
Ballebazz
Paytm games
MyTeam11
Final Call
So, this was all about the Dream11 success story. The company and the founders' idea have refined over the years and are showing heavy growth signs. The company has raised 8 funding rounds and is aiming to become a pioneer in the fantasy sports sector.