1mg Startup Story – India's First Online Medicine Delivery Platform
Being in the 21st century means you have to run along with the developments. Developments in every field of importance are necessary for the growth of a country. The world has been taken over by the use of Artificial Intelligence, popularly known as AI. Industries rely upon AI for production to packaging and, delivery. It is impossible to think of the future without mentioning it. So, If every industry uses AI, then why not the pharmaceuticals?
Despite all these, India suffers from providing healthcare to its population because the sector is fragmented and unorganized. Be it urban population or rural, a greater percentage of the population does not have any idea about proper nutrition, medicines, or diet. So, on this premise, the idea for 1mg, an e-pharmacy startup, began.
Let us go through the startup story of 1mg and how it made India's health infrastructure better.
1mg Startup Story - Overview
1mg is an online drug delivery platform made to make healthcare accessible, understandable, and affordable. Besides delivering medicines and health and wellness products, it provides lab test booking, online consultation, and truthful information from healthcare professionals. Thus, customers can get all their healthcare needs on a single platform with a hassle-free experience.
1mg Services
1mg provides allopathic, ayurvedic, homeopathic medicines, vitamins and nutritional supplements, even your wellness products at your doorsteps. At a time when information about lab tests and drugs is not available or incomprehensible to you, 1mg created transparent, authentic, and accessible information for all users. With the help of AI, 1mg has offered a new feature, 'Ask a doctor.' It is a chatbot that asks the users about their problems and tries to identify under which medical specialization it falls. User can then choose the ailment, and a doctor is assigned to you.
1mg – History & Healthkart
It was a joint work of three musketeers, namely, Prashant Tandon, Gaurav Aggarwal, and Vikas Chauhan. The website was founded in the year 2013 as HealthKartPlus, an online encyclopedia about medicines. It had all information related to medicines, from dosages to warnings, which was accessible to everyone. Soon it became popular. The fan base increased, they urged for the delivery of medicines.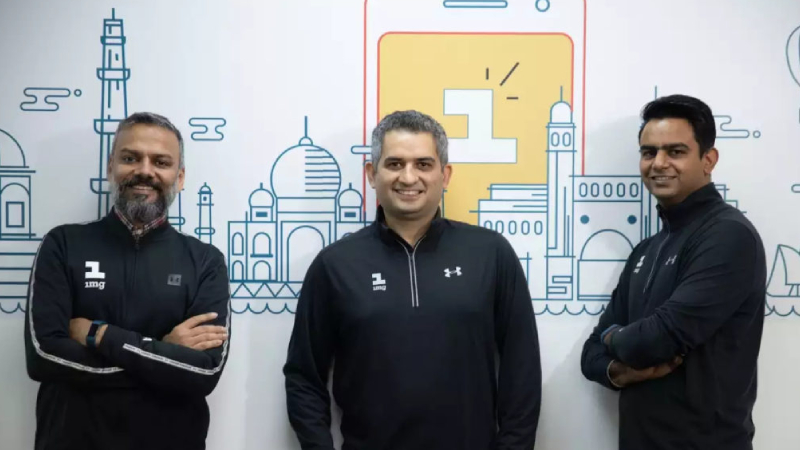 1mg Founders - Prashant Tandon, Gaurav Agarwal, and Vikas Chauhan
So, 1mg was started after healthkart separated from HealthkartPlus, its generic drug search business. In 2015, HealthkartPlus was rebranded as 1MG. Healthkart is now focused on the fitness and nutrition business. 1MG started with three business verticals – pharmaceuticals, labs, and doctors.
e-Pharmacy & India - Industry Overview
According to a KPMG and OPPI report, more than 60% of the country's hospitals, 75% of pharmacies, and 80% of doctors are to be found in urban areas. Rural India or semi-urban India has always suffered due to a lack of healthcare facilities, but the internet and technology acted as a solution in this matter of concern. 1mg is one of the online pharmacy centers that make healthcare accessible, understandable, and affordable for everyone.
Stats about India Pharma Industry:
India is regarded as the 'pharmacy of the world.'
India is the world's largest producer of pharmaceuticals, including vaccines.
It makes up to 60% of the world's supply that is used by developed as well as developing countries.
1mg – Challenges Faced
Challenges are something that every startup faces during the initial days. 1mg, also, faced them, and it can be explained in three short points.
Strict government compliances that banned online pharmacies by making prescription necessary for any purchase
Vendors who joined 1mg were to meet some requirements such as computerized inventory and invoicing, which was difficult to meet.
1mg started when people were not much aware of online pharmacy and didn't believe it easily
As everything was managed through the internet, it was a real problem to ensure the quality of pharmaceuticals
1MG - Mission
The startup aims to make healthcare accessible, understandable, and affordable for every citizen through its website and mobile app. It wanted people to learn about cheap substitutes of costly medicines or that were unavailable. It has detailed information about 100K medicines.
1MG – Funding and Investors
It has raised a total of $191.3M through funding. 1mg is funded by 16 investors, while the most recent ones are from Finance Corporation and MAF Mauritius.
| | | | |
| --- | --- | --- | --- |
| Date | Round | Amount | Lead Investors |
| 2020 | Debt Financing | $17.8M | - |
| 2020 | Venture Round | ₹710M | Bill & Melinda Gates Foundation |
| 2019 | Series D | $70M | Corisol Holding AG, International Finance Corporation |
| 2019 | Series D | $10.3M | Redwood Global Healthcare Fund |
| 2019 | Venture Round | - | InnoVen Capital |
| 2018 | Series C | $10.1M | Maverick Ventures |
| 2017 | Series C | $15M | HBM Healthcare Investments AG |
| 2017 | Series C | $12.2M | - |
| 2017 | Venture Round | $10M | HBM Healthcare Investments AG, Sequoia Capital India |
| 2016 | Venture Round | - | HBM Healthcare Investments AG |
1MG – Revenue
In FY19, 1mg revenue stood at Rs. 209.1 crore. As per regulatory filings, 1mg's total revenue was at Rs 369.3 crore in FY20.
Overall revenue from services grew 90.2% from Rs 41.8 crores in FY18 to Rs 79.5 crores in FY19. All services accounted for over one-third of the total revenues generated by 1mg during the last fiscal in 2019.
1MG – Accolades and Recognition
2014 – Won the m-billionth award for m-health in South Asia
2016 - Best App in the medical category by Gmasa
Best online pharmacy in India at the International Quality Awards
2017 - Recognized as one of the Top 50 ventures in the Smart CEO-Startup50 India 2017
2017 – Grew by 600% in terms of the success of the app and user engagement
2018 - won the BML Munjal Award for 'Business Excellence through Learning and Development'
1mg was also recognized as the 'Best Mobile Innovation for Health award' at the India Mobile Congress
1MG – Competitors
During 1mg's initial days, there were not many competitors. But, today, there are many. Among them, top competitors are
PharmEasy,
Netmeds,
Medlife,
Lybrate,
mChemist,
CareOnGo.
1MG – Future Plans
1mg has decided to expand its platform by acquiring Homeobuy, which is a platform for homeopathy medicines. 1mg will re-brand the website to www.1mgAyush.com and make homeopathic and ayurvedic medicines available to Delhi customers.
Other than China, India uses the largest number of medicinal plants, and there has been a sudden rise in this traditional form in the last ten years. Being the leading online marketplace of prescription medicines, 1mg has the potential to tap this new market aggressively.