Story of Nazara Gaming: Learn How to Survive in the Market
Smartphone gaming is gaining immense popularity with the boom in smartphone production. Several companies understood the potential of the gaming industry and invested heavily in this sector. One of the prominent gaming startup, Nazara, is also credited for tapping the vast potential of the online gaming industry. Presently, it is one of the top gaming companies globally, but this success was not a cakewalk. The founder faced several failures before this success. So in this article, we will look at the worth exploring startup story of Nazara.
Nazara: Introduction
Nazara is a global gaming and sports media corporation backed by one of the famous billionaires, Rakesh Jhunjhunwala. Known for its popular games like WCC, Chhota Bheem, Motu Patlu, etc., the company has established itself as a gaming giant.
Founder of the Startup: Nitish Mittersain
Nazara Technologies Ltd. was founded in the year 2000 by Nitish Mittersain. Nitish Mittersain was a Business Administration graduate from Sydenham College of Arts and economics & belonged to a Marwari business family with a successful textile business.
But Nitish had different interests. He was a passionate gamer from class seventh. Gradually, he developed an interest in technology, computers, and the internet. He also came in contact with prominent Bollywood actor, Shashi Kapoor who further motivated him for his own business.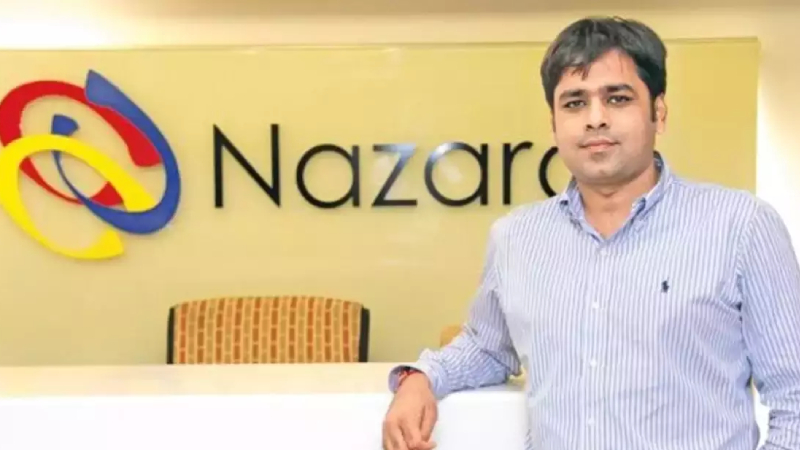 Founder of the Startup: Nitish Mittersain
Nitish Starts his Own Company
Being a business graduate, he loved experimenting with different businesses. So he came up with a startup for localised online gaming. But the environment at that time was not conducive for online gaming. As a result, Nitish, who had taken almost Rs 30 million from his friends and relatives to start this business, faced huge debts.
Nazara Success Story: Top Growth Factors
Reluctance to Debt The founder of the startup, Nitish Mittersain, had witnessed the 2003-04 Dotcom crash. He confessed that this crash impacted him gravely, and he became reluctant to losses and debts. So he understood that first, he should turn his startup into a profitable company and then look towards any loans.
No Useless Expenditure The second crucial factor in the startup's success was the unwillingness for vanity metrics (creating a good company image without any insights into your company's growth). Nitish preferred savings over useless vanity metrics' expenditure.
Saving The habit of savings inculcated by the founder helped in sustaining the startup even when the gaming sector was not promising.
Diversification Another prominent factor in Nazara's success was 'Diversification'. Founder Nitish knew the potential of online gaming, but the online gaming sector gained momentum recently. So the founder could not rely on online gaming for sustaining his business in the initial years. Accordingly, he decided to diversify the services for business sustenance.
Owing to these strategies, the startup finally turned into a profitable startup in 2008. Presently it occupies an important place amongst global gaming corporations.
Nazara Success Story: Business Strategies
During the year 2000, net connectivity was inadequate for online gaming. So the makers could not rely solely on online gaming for sustaining their business. Therefore, during all the initial years, the startup diversified its services to sustain itself.
Nitish worked with some mobile phone operators to sustain his business.
The startup company also invested in brand campaigning and advertisement for early sustenance.
He also approached prominent Cricketer Sachin Tendulkar for promoting Nazara technologies' mobile cricket game.
Then the company partnered with an American video gaming company named Electronic Arts and launched video gaming in India.
Gradually, the company became a profitable startup and attracted investments from giant companies.
When the company had gained a stronghold, it decided to launch its online games. One can say that the company was smart enough to unleash its online gaming services after the popularity of the online gaming market in India in 2018.
Nazara Technologies Ltd: Funding
The first funding for Nazara came in 2005 from WestBridge.
Nazara is funded by India's prominent billionaire, Rakesh Jhunjhunwala, who has invested a massive amount of Rs. 182 crore in the startup.
Nazara Technologies also received Rs 100 crore investment from Instant Growth Ltd in Feb 2021.
In 2017, Nazara managed to raise findings of Rs. 327 Crore from IIGL exceptional opportunities Fund.
Nazara Success Story: Achievements
Nazara has made considerable investments in Esports and Sports media, besides an investment of Rs. 300 crore in the Indian gaming industry.
Nazara hosts almost 100 million Indian players, besides a robust global presence.
The company's annual revenue has grown from Rs. 164 Crores to Rs. 264 Crores.
Nazara has acquired popular gaming companies like Godwin, Halaplay, Hash Cube, Mastermind sports, Bakbuck, Sportskeeda, paperboard apps etc.
Nazara: Future Goals
Nazara aims to increase its annual revenue to Rs. 450-470 Crore.
The startup also endeavors to achieve 130 million active users by the end of the year.
Nazara technologies ltd. has a goal to promote sports, and gaming content, globally.
Lessons Learnt
Every startup story brings with it a bag of learnings. Similarly, the startup story of Nazara teaches us many lessons:
Patience The first lesson from Nazara's startup story is that we can't expect our business to succeed in one day. Patience is a vital characteristic of a successful entrepreneur. If Nitish had quiet in the very beginning owing to the Dotcom crash and huge debts, we wouldn't have been discussing his story.
Looking for Alternatives The second learning from this startup story is to look for alternatives when one plan doesn't work. We think of a lot of things in life. But not every plan will succeed. So it's essential to go with the flow and understand what can work as a plan B.
Unique Idea The third and the most important learning from this startup is the importance of a unique idea. Nitish's plan to venture into online gaming initially proved unsuccessful for the company. But it was his farsightedness that ultimately made his startup a successful business.
Thus we can conclude that Nazara's journey from a failure to a successful gaming platform is an inspiration for all startups. One must learn from the shortcomings of this startup to succeed in business.