How Patanjali Clocked Rs 10,000 Cr Revenue: Marketing Study
Patanjali is a famous Fast-moving consumer product brand. From food products to soaps and shampoos, it deals in almost every household product. It has become one of the highest revenue earning companies in the past few years. This success is a culmination of the hard work of the makers combined with a unique marketing strategy. So in this article, we will look into the fantastic journey of Patanjali from an Ayurvedic company to a Fast-moving Consumer Business.
Patanjali Ayurveda: Initial Idea & Founder's Story
Divya Pharmacy Patanjali was established due to the efforts of Acharya Balakrishna and Baba Ramdev. They started Divya Pharmacy in 2005 to make herbal and Ayurvedic medicines. Due to the popularity of Baba Ramdev as a yoga guru, the trust started receiving donations from famous personalities like Sunita Poddar and Govind Aggarwal. This reflected the possibility of Divya pharmacy's expansion.
Patanjali Beginning The famous brand Patanjali Ayurveda, as we know it today, was founded in 2006. Balakrishna, the present chairman of Patanjali, took a loan of Rs. 60 crore to set up Patanjali Ayurveda. Being a purely Ayurvedic company, it was not able to generate profits. So the duo decided to venture into FMCG (Fast Moving Consumer Goods). The venture became successful, and today, Patanjali has achieved many milestones.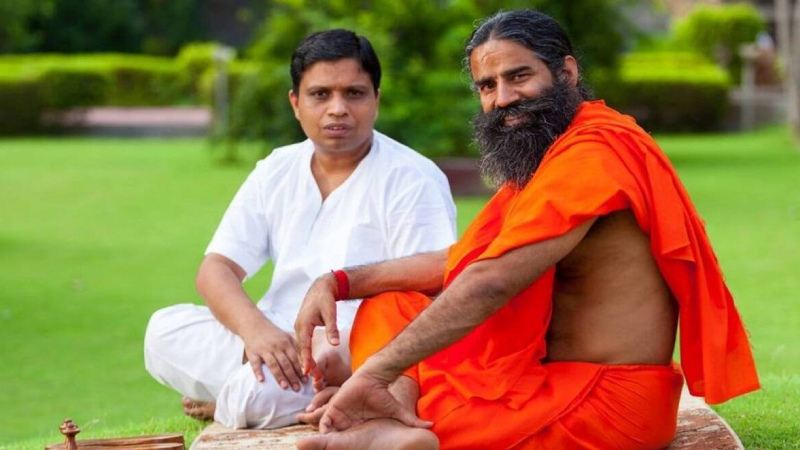 Balkrishna - Baba Ramdev
Patanjali Brand: Success Timeline
Patanjali has become a household name, and it had registered a turnover of Rs. 10561 Crore in 2016-17.
Patanjali Ayurveda is seen as a significant competition to prominent International brands. Almost every Patanjali product has been successful in occupying a central place in Indian households.
Patanjali had also donated 1 million rupees to BJP in 2009.
Patanjali's annual sales doubled in 2017, and its turnover grew from Rs. 450 million to Rs. 10561 Crore.
Patanjali has also signed agreements with significant e-Commerce sites like Bigbasket, Amazon, etc., to gain an online presence.
Patanjali has also acquired Ruchi Soya, an edible oil maker brand, for 610 Million Dollars.
Patanjali's social media presence is also impressive. It has over 750k followers on Facebook, 290k+ followers on Instagram and a strong presence on Youtube.
Patanjali Ayurveda Story: Marketing Factors
Ramdev's Popularity The first factor that contributed to Patanjali's success is the massive popularity of Ramdev Baba. He became famous as a yoga guru from TV channels, Sanskar and Aastha. Ramdev Baba himself acknowledged the role of media in his and his brand's success. He had once revealed that "he has only a 10% role in the making of Patanjali, the rest of the credit goes to the media".
Ramdev is the face of Patanjali, although the majority stakeholder is Balakrishna. By choosing Baba Ramdev for promoting Patanjali products, the company was able to show that Patanjali products make you healthy and fit. Patanjali also popularised its products in Baba Ramdev's yoga session.
Affordable pricing The second key factor behind Patanjali's success is affordable pricing. Almost every Patanjali product is sold at a reasonable price to attract consumers. Even the makers revealed that they have a small profit margin. But one must note that Patanjali's costs are less due to the procuring of raw material directly from the farmers without including any middleman. So it's able to earn high profits.
Strong Distribution Network One must have seen that in the beginning, Patanjali products could be purchased only from some selected shops. But there was a significant problem with this conventional distribution network. The products did not reach a wider audience & makers identified this problem and switched to retail distribution in 2011. This helped the company to broaden its reach, which further helped in raising the revenue.
It has also partnered with prominent retail outlets like Reliance Retail, Future group etc. and signed a partnership agreement with Amazon for the online distribution of its products.
Swadeshi tagline Patanjali used the 'Swadeshi' tagline to attract Indian buyers. In almost every Patanjali ad, we see Ramdev promoting his product by saying that 'Indians must buy Indian products. This strategy did wonders for the company, and the company attracted a vast number of customers.
Product Quality Patanjali products are cheap, but they never compromise quality. This unique combination of quality and affordability also contributed to Patanjali's success.
Range of Products Patanjali offers a wide range of products. There's hardly any household product that Patanjali doesn't manufacture. In this way, Patanjali has been able to earn considerable revenue due to its diversified products. Even when one Patanjali product failed, the overall business remained intact due to the popularity of other products.
Experienced Staff Another factor that makes Patanjali different from other brands is its staff. Unlike corporates that hire MBA professionals, Patanjali looks for Science and Ayurveda degree professionals. This ensures that the staff is experienced in ayurvedic products.
Patanjali Ayurveda: Future Plans
To promote Patanjali in the food and grain market, Patanjali will tie up with famous brands. It has already tied up with online stores like Bigbasket and Amazon.
The company will soon venture into the jeans business. But this idea has been dropped for now as Baba Ramdev does not find any connection between Swadeshi products and the jeans business. He considers it to be against Indian values.
The brand is also willing to launch Quick Restaurant service, which will provide various vegetarian fast foods.
Patanjali had also started a telecom service named Kimbho app. But unfortunately, it was closed due to security concerns. So there are chances that Patanjali will launch its revamped version in future.
Controversy about Coronil
The rising Covid-19 cases compelled the world to look for COVID-effective medicines. Various pharmacy brands came forward with their medicines. Baba Ramdev's Patanjali brand also came up with an Ayurvedic medicine named Coronil. It was claimed that it could treat a COVID infected patient.
But it was later disclosed that all these claims were false. No legitimate testing was done before launching Coronil. This brought considerable criticism to the company. The Ayush Ministry also filed an FIR against Baba Ramdev and Acharya Balakrishna for false Ayurvedic medicine.
Patanjali Ayurveda: Holding the Market
Patanjali has been a successful brand. But unfortunately, Patanjali is losing its stronghold over Indian markets. Due to this, Patanjali has recorded a decline in annual revenue. It has also attracted criticism due to its Coronil medicine.
Therefore to keep Patanjali's business intact, Balakrishna and Ramadeva have to develop a strong strategy. It will remain interesting to see how they bring Patanjali back into the race.