Life Story of Most Successful Indian Wrestler: Sushil Kumar
These days, Sushil Kumar's name is splattered all over headlines for the worst possible reasons imaginable. But it cannot be denied that he was once the pallbearer of India's success in wrestling. In fact, he is arguably the most successful wrestler to have ever competed for India. Here's everything you need to know about the life, and the sordid legacy of the Olympic medalist turned murder suspect Sushil Kumar.
Sushil Kumar: Success Wrestler
He was born in Barpola Village, in South West Delhi & was inspired to take up wrestling by his father Diwan Singh and cousin Sandeep, both of whom were wrestlers. His family was never quite well off, and money was an issue when it came to pursuing the sport. At the age of 14, he joined the Chhatrasal Stadium akhara for training. He finished his Bachelor degree in Physical Education and a Masters in Physical Education from Noida College of Physical Education, Dadri.
Sushil Kumar Career Timeline
In the Olympics Sushil Kumar was the first person to win two individual medals for independent India. He improved astronomically from his 14th place in the 2004 Athens Olympics to go and win a bronze medal in the 2008 Beijing Summer Olympics. He won the bronze against Leonid Spiridonov in the 66kg category. He took it up a notch in the 2012 London Olympics and brought home a silver medal. He lost the gold to Tatsuhiro Yonemitsu of Japan in the 66kg category.
In the Commonwealth Games Sushil Kumar has won gold medals in the commonwealth games for three consecutive years. He won gold in the 66kg category in the 2010 Delhi Commonwealth Games. For both the 2014 Glasgow Commonwealth and the 2018 Gold Coast Commonwealth Games, he won gold in the 74kg category.
Sushil Kumar Biography: Notable Medals Won
In 2010, he beat Alan Gogaev of Russia in the 66kg category and won the World Wrestling Championships; he is the first and only Indian to win this title.
He has five gold medals and one bronze medal in the Commonwealth Wrestling Championships (not mistaken for Commonwealth Games). Gold in 2003 London, 2005 Cape Town, 2007 London, 2009 Jalandhar, 2017 Johannesberg, and bronze in 2006 Cape Town Commonwealth Wrestling Championships.
He also has four medals in Asian Championships, two bronzes, one silver, and one gold. He won bronze medals in the 2003 New Delhi and 2008 Jeju Island Asian Championships. He won silver in the 2007 Bishkek tournament and gold in the 2010 New Delhi Asian Championships.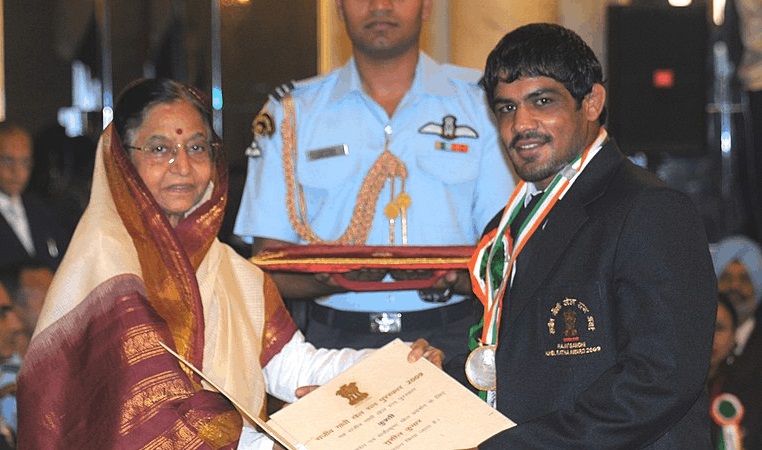 Receiving the Rajiv Gandhi Khel Ratna Award
Sushil Kumar: Awards & Recognition for Work
He was awarded the Arjuna award in 2005, the Rajiv Gandhi Khel Ratna award in 2009, and the Padma Shri in 2011. Kumar stands to lose his Padma Shri status amid the murder controversy.
He was the flag bearer for India for the 2012 London Olympics.
He also handed the Queen's Baton to Prince Charles in the Queen's Baton Relay for the 2010 Commonwealth Games Opening Ceremony.
He was also given the rank of DSP in Haryana Police as a reward for his Bronze medal in the 2008 Summer Olympics.
For his silver medal in the 2012 London Olympics, the Haryana Government once again rewarded him, this time with a land area in Sonipat for a wrestling academy.
Sushil Kumar: Brand Endorsements
Dew: In 2012, after his success in Olympics, he bagged an endorsement deal with the popular soft drink brand Mountain Dew.
Ralson Tyres: In the same year, he was also made the brand ambassador for Ralson Tyres.
Eicher: Sushil Kumar also endorsed Eicher Tractors, their campaign banner wishing Kumar luck for his 2012 Olympic bout made into the Limca Book of Records. The brand made a "1,415 ft long and 4ft 4 inch wide, working out to 5,660 sq ft, flex graffiti roll in a custom made van to associate with the popular Eicher Tractors Model 5660 that Sushil endorses."
Liquor (Refused): In 2012, he also made headlines for refusing an offer of Rs. 50 lakh to endorse liquor. He clarified his decision in an interview with Hindusthan Times; he said, "I didn't want to be associated with a liquor brand in any form as it would send a wrong signal to the youth. The sporting tradition that I have been raised in values discipline way above money."
Sushil Kumar: Railway Job
Sushil Kumar was appointed as a senior commercial manager with the Northern Railway in 2015. He was deputed by the Delhi Government as an Officer on Special Duty (OSD) at Chhatrasal Stadium to overlook developments in sports at the school level. His tenure was extended in 2020 after Kumar applied for an extension. He was suspended from his position after his arrest.
Sushil Kumar: Controversies
The 2010 World Championships During the trials for the Indian competitors for World Championships, fellow wrestler Jitender Kumar accused Sushil Kumar of deliberately injuring his eye and twisting his finger during the match.
2012 Olympic He entered the final after beating Kazakh wrestler Akzhurek Tanatarov. The defeated wrestler accused Kumar of biting his ear. Kumar moved on to the next level as Tanatarov did not appeal during the match. Kumar denied the allegation.
2016 Rio Olympic When Narsingh Yadav was selected over Sushil Kumar for Rio Olympics, Kumar appealed to the Delhi high court for a trial bout against Yadav. This step was deemed by many as an example of poor sportsmanship from Kumar. Later, Yadav also accused Kumar and his associates of tampering with his food and causing him to fail the drug test three weeks before the Olympics.
2017 National Championships Brawl He was involved in a fistfight with Parveen Rana in the KD Jadhav Indoor Stadium. According to sources, the fight was regarding the result of the Nationals. The Wrestling Federation of India (WFI) created a three-member disciplinary committee to look into the matter. Parveen had also accused Kumar of ambushing his older brother, which resulted in the brawl.
2021 Murder Case Sushil Kumar was arrested on 23rd May 2021 for alleged involvement in the murder of 23-year-old wrestler Sagar Dhankar. The deceased wrestler was beaten to death in the parking lot of Chhatrasal Stadium. According to the police, they have video evidence of Sushil Kumar, along with a few associates thrashing Dhankar to death.
Possible Motive for Murder
According to the police, the motive for murder had been a monetary dispute. Sagar Dhankar was residing in a rental apartment that was under Sabi Kumar's name, who is Sushil Kumar's wife. Dhankar had failed to pay rent for two months. Sushil Kumar was determined to teach him a lesson and wanted to maintain his dominance over the Chhatrasal Stadium. Allegedly, Kumar was looking forward to the video of him thrashing Dhankar going viral. Any further motive is yet to be determined.
Sushil Kumar: Legacy over Head?
Sushil Kumar's life urges us to reflect on how little we know about the people we inevitably end up idolizing. Kumar was an idol to the wrestling and sports community, even beyond our country. His success was considered exemplary until it all came crashing down. The multi-faceted and unstable nature of the Indian wrestling community imbibed with internal family politics has come to light. And the community has lost their faith in the Mecca of wrestling Chhatrasal akhara and its hero Sushil Kumar. The question that comes to the fore amidst is where does the wrestling community go from here? Will Sushil Kumar ever be able to recover even an iota of his honor back?