The Story behind Digit Insurance : The General Security Provider
Digit Insurance is an Indian general insurance and financial Startup which is based in Bangalore. It aims at selling several insurance policies like Health and Travel Insurance Policy, Bike and Car Insurance Policy, Commercial Vehicle Policy, etc. It is done through the online procedure and via partnership channels. Also, it is available during national holidays.
In September 2017, Digit Insurance had received authorization permissions from the Insurance Regulatory and Development Authority (IRDA).
Fun Fact : Digit Insurance is the 1st Indian Startup to join the Unicorn Club in 2021.
Key Highlights of Digit Insurance
Legal Name: Go Digit General Insurance Limited
Founded:2017
Founders: Kamesh Goyal
Headquarters: Bangalore, Karnataka, India
Number of Employees: 810
Investors: 4
Type of Industry: Financial Services and Insurance
Total Funding Amount: $224.5 M
Last Funding Type: Venture- Series Unknown
Total Funding Rounds: 5
Latest Deal Type: PE Growth
Latest Deal Amount: $300 M
Company Type: For Profit
Known As: Go Digit General Insurance
Financing Status: Private Equity-Backed
Website: www.godigit.com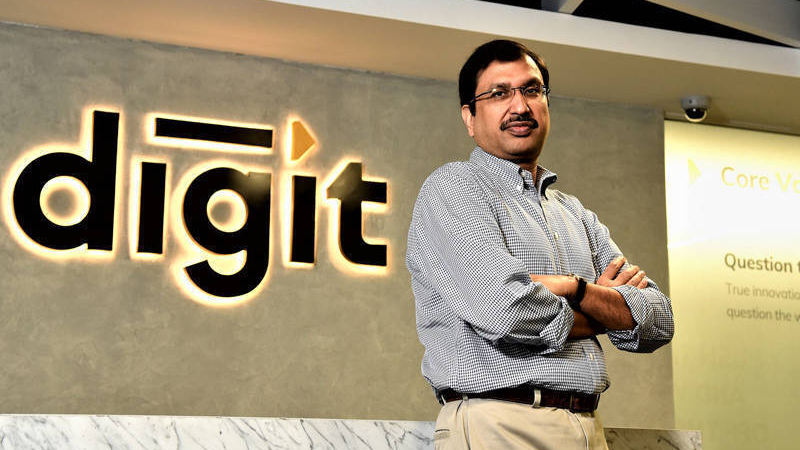 Digit Insurance Founders - Kamesh Goyal
The Man behind Digit Insurance : Founder Kamesh Goyal
Kamesh Goyal is the Founder and the Chairman of Digit Insurance. He pursued B.A. LLB and completed his MBA from Delhi University. His career started as a manager at KPMG, India.
He had also worked as the Head of Asset Management and Group Planning and Controlling at Allianz Insurance. Even he was appointed as the Regional Chief Executive Officer and had former roles, i.e., the Chief Operating and General Officer there.
Expansion of Digit Insurance
Digit Insurance increased by 31.9%, gaining a premium of $186 million (April 20-Dec 20), and since the beginning, it has nearly 1.5 crores customers. It grew its empire by 30% in 2020.
Two major products helped in the company's expansion, COVID health insurance and fire insurance. This resulted in the immense development of Digit Insurance.
Due to the global pandemic situation, the industry is facing losses, and the interest rates are declining. Though the company suffered, health insurances were still bought by the customers due to the fear of COVID-19, which helped the stability of the company's growth.
Since the company received the IRDA approval, 94% of claims settled in the 16 months - 99.5% for domestic travel, 97% for mobile phones, 93% for international travel, 92% were for car insurance, and 91% for two-wheel vehicles.
Digit Insurance : Revenue Model
The revenue of Digit Insurance is produced from the premiums. Premium starts from Rs 786 for the Two Wheeler Insurance. If the vehicle faces any accident or damages, the company will be paying 80% advance payment to the garage, which the customer chooses, only if there are no nearby cashless garages. This will be in the case of a Commercial Vehicle Insurance Policy.
Digit Insurance - Funding and Investors
Digit Insurance has risen total funding of more than $179 million over the three funding rounds.
| | | | |
| --- | --- | --- | --- |
| Date | Transaction Name | Money Raised | Lead Investors |
| January 2021 | - | Undisclosed | |
| January 21, 2020 | Venture Round | $84 million | VS Capital Funds, A91 Partners, Faering Capital, |
| June 5, 2019 | Venture Round | $50 million | Fairfax Financial Holdings |
| July 3, 2018 | Venture Round | $45 million | Fairfax Financial Holdings |
Business Model of Digit Insurance
Digit Insurance's Business Model focuses on launching several new products and services to obstruct the general insurance sector of India. It carries a general insurance license which permits it to sell health insurance items.
It also offers jewelry and mobile Insurances along with car and home insurance. The main goal of the company is to build profitable alliances with other organizations.
Achievements
Digit Insurance was rewarded the Asia's General Insurance Company of the Year 2019-2020.
It was also India's Top Startup on LinkedIn in 2019.
It received a 4.9 Facebook rating which means about 92% of the customers like the company.
Words by the CMO
The CMO of Digit Insurance, Mr Vivek Chaturvedi, said,
"We are once again honored and delighted to receive this prestigious award title of being the General Insurance Company of the Year. At Digit, our constant endeavor is to deliver the best customer experience with products that matter to our customers. And this recognition is a validation that we are on the right path of simplicity!"
Digit Insurance : Skyrocket Growth
Digit Insurance has an 87% growth from 2019 to 2020 in premiums. The customers' trust is already won, and along with the 1.4 crores of earlier customers, it is also expecting some new and good customer base.
Digit Insurance: Simplifying Health Covers
The main aim of Digit Insurance is to make insurance simpler and available for ordinary people. Even, it offers home and shop insurances which are much needed. Also, the company introduced a COVID-19 product, which is a fixed benefit cover for COVID-19. Via their Digit Group Illness Insurance product, they have been able to help 20 lakh Indian lives.