How Mukesh Ambani Took Over-Reliance Industries & Topped $100B Valuation?
Reliance is one of the largest corporations and most profitable companies in the world. It is a conglomerate company that operates in various sectors and is diversified in industries such as petrochemicals, fashion, entertainment, telecommunication, etc. RIL crossed the $200 billion market capitalization in 2007 and became the first Indian company to achieve this milestone. It is also the highest tax-payer by any private organization in India. So, let's get to know about the success story of this giant Indian multinational company.
Fun Fact : In 2020, Forbes magazine ranked it 96th in the Fortune Global 500 list of companies.
Reliance Story – Key Points
Startup Name - Reliance Industries Ltd.
Founded - 1973
Founder - Dhirubhai Ambani
Headquarters - Mumbai, Maharashtra, India
Owner - Mukesh Ambani
Company Type - Public
Industry - Conglomerate
Area Served - Worldwide
Revenue - $92 billion
Number of Employees - 2,37,000
Website - www.ril.com
Reliance – Founders and Team
Reliance got founded by Dhirubhai Ambani and, Mukesh Ambani is the Chairman and MD of it. Its churn rate has increased to 23.4% from 7.5% in the past few years. The employee retention rate of the company is commendable and, the working environment is much easy and stable.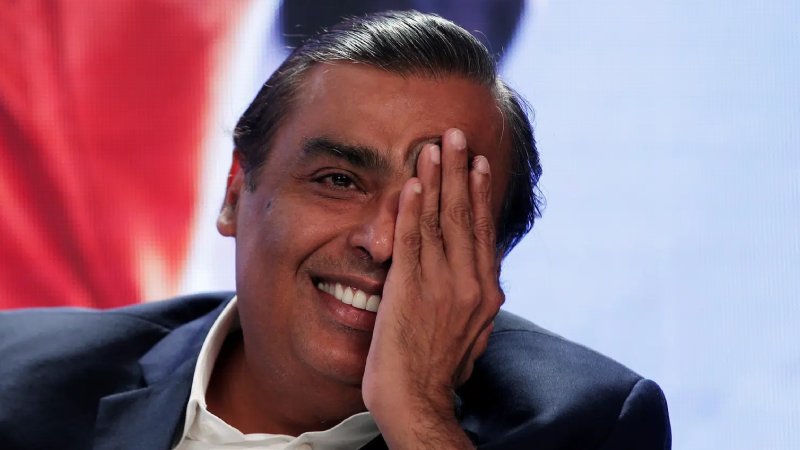 Reliance - Chairman and MD
Fun Fact: Reliance has more than 2,00,000 employees, of which 30,000 are permanent employees and 1,70,000 temporary employees.
Reliance Legacy – History
Reliance got incorporated in 1960 as a partnership firm in Maharashtra. It started the business of polyester and later established a mill in Gujarat of synthetics fibre. They issued their IPO in 1977 and, it went over-subscribed more than five times. They soon started entering into different sectors to expand their business.
Reliance Story – Listing and Shareholdings
The Ambani Family holds 49.38% of the Reliance Industries Ltd. Rest 50.62% of the shares gets owned by the other shareholders such as FII, public, corporate bodies, etc. Its largest shareholder is LIC, India that has a holding of 7.98%.
RIL gets listed in NSE (National Stock Exchange) and BSE (Bombay Stock Exchange). Its 3.46% share gets listed at the Luxembourg Stock Exchange and, debt securities are in the WDM (Wholesale Debt Market) of NSE.
Reliance Success Story – Subsidiaries
Some of the subsidiaries of Reliance are as follows:
Jio
Reliance Retail
Reliance Solar
Reliance Industries Infrastructure Ltd
Reliance Life Sciences
Network 18
Embibe
Model Economic Township
Reliance Logistics
NowFloats
Reliance Strategic Business Ventures Ltd.
Reliance Industrial Investments and Holdings Ltd.
Reliance Sibur
Reliance Company Story – Products
Some of the products of the company are as follows:
Petroleum
Textiles
Natural Gas
Petrochemicals
Television
Music
Media
Retail
Software
Telecommunications
Entertainment
Financial Services
Reliance – Awards and Achievements
Reliance Industries has won several awards and achievements. Some of the awards won by them are as follows:
International Refiner of the Year - Global Refining and Petrochemicals Congress, 2017
International Refiner of the Year - HART Energy's 27th World Refining and Fuel Conference (for Jamnagar Refinery), 2005 and 2013
Ranked 7th Most Trusted Brand in India - By the Brand Trust Report, 2013
Ranked 9th Most Trusted Brand in India - By the Brand Trust Report, 2014
Certified as Responsible Care Company - By American Chemistry Council, 2012
Ranked 25th in the World - By ICIS Top 100 Chemicals Companies List, 2012
National Golden Peacock Award - In the corporate sustainability, 2011
Ranked 5th Biggest Sustainable Value Creator in the World - By Boston Consulting Group, 2009
Selected in the top 100 Best Managed Companies in the World - By the Industry Week Magazine, 2000
Won National Energy Conservation Award - In Petrochemical Sector, 1994, 1995, 1996, 1997
Reliance Story – Advertisement and Promotion
Reliance has collaborated with several top actors and actresses to promote its brands. The fan base of these superstars has helped the company. It has drawn the attention of customers towards their brands and made them more customer-friendly. The owner of RIL, Mukesh Ambani, also owns an IPL team (Mumbai Indians). The purchases of an IPL team have played an instrumental role in promoting and advertising their brand in the global market. It bought RIL in the spotlight and saw significant growth in its business.
Reliance – Revenue
Reliance Industries earns its revenue from various sources. Its growth plays an important part in the total GDP of the company. RIL's revenue and profit sources are as follows:
Oil and Chemical - 58.4% (INR 3,00,000 Cr)
Retail - 28.3% (INR 1,50,000 Cr)
Media and Others - 7.7% (INR 41,000 Cr)
Digital Service - 5.1% (INR 27,000 Cr)
Gas - 0.3% (INR 1,600 Cr)
Financial Services - 0.2% (INR 1400 Cr)
Reliance – Growth
RIL is one of the biggest industries in the world. Some of its recent growth is as follows:
Turnover of the company for the FY 2019-20 was INR 1,30,000 Cr.
Its turnover saw a spike of 88.7%.
RIL's EBITDA was INR 6,000 Cr.
Its income CAGR and EBITDA CAGR were 55% and 76% respectively in the last five years.
It has more than 10,400 retail stores all over India.
Their retail stores cover an area of 22 million sq. ft.
Their oil company saw the development of 3%, gas 8.1%, Gasoil 3%, stream fuel 9.1%.
Reliance Success – Future Plans
RIL is an industry that works in various sectors. Companies like Reliance have over 1000 plans for the future. They work on making the company better for both customers and the environment. Some of the upcoming plans of the company are as follows:
Open more retail stores in the country.
Become an environment-friendly company and work towards sustainability.
They have a long-term goal to convert themselves into a new energy company.
They are planning to amalgamate with several small businesses.
RIL needs to grow over its competitors in every sector.
Reliance Industries Limited – 50 Years of Legacy
So, this was all about Reliance Industries Limited. Reliance uses various strategies to advertise its business . They spend a good amount on publicizing and advertising their products. RIL is one of those few companies that is succeeding in almost every sector. Its journey and subsequent growth have been tremendous. Reliance is a trustworthy company and, they have built their goodwill through hard work and consistent performance.