Swapnil Jain's Voice AI Software Observe.AI – Now Backed with $88Million
Observe.AI is a voice of the customer (VoC) service agent enabled platform driven by AI that uses the latest speech and natural language processing technology to allow businesses to examine 100% of calls swiftly. Support teams use Observe.AI to improve call quality, check compliance, and coach agents to become top performers. Agents provide a rare opportunity to humanise companies and enhance the consumer experience in a digital environment, and Observe.AI hopes to accomplish this with this endeavour.
Note: The core goal of Observe.AI is to disrupt the $300 billion voice customer service industry by using AI-based insights and coaching to transform every agent into your best brand representative.
Observe.AI Startup – Key Highlights
Startup Name - Observe.AI
Headquarter - San Francisco, CA
Sector - Analytics, Voice AI
Founders - Akash Singh, Sharath Keshava Narayana, Swapnil Jain
Founded - 2017
Parent Organization - Z21 Labs
Website - www.observe.
Observe.AI Story – Beginning of Idea
Swapnil and Akash, the co-founders, had a feeling in 2017 that advances in speech, natural language processing, and artificial intelligence (AI) were opening up new opportunities across every sector and vertical. These two entrepreneurs recognised they could utilise these technologies to revolutionise how the world's 100 million call centre agents work while on a trip to the Philippines.
Fun Fact: Observe.AI has an 80% transcribing accuracy, an 80% silence detection rate, and an 87% sentiment analysis rate.
Observe.AI Startup Story – Founders & Team
Swapnil Jain, Co-Founder & CEO: Swapnil is an IIT Delhi graduate with a strong foundation in technology. Before joining Observe.AI, he worked at Twitter, where he oversaw user growth and launched the company's India branch. He focuses on product innovation as CEO of Observe.AI.
Sharath Keshavanarayana, Co-founder & CRO: Sharath is a second-time entrepreneur with over 14 years of experience leading and managing global sales teams at Unbxd, AWS, and Akamai. He focuses on go-to-market operations like sales, marketing, and Customer Success as the CRO of Observe.AI.
Akash Singh, Co-Founder & CTO: Akash is an IIT Delhi graduate with experience in both high-tech and start-ups. He is based in Bengaluru and is in charge of the engineering team.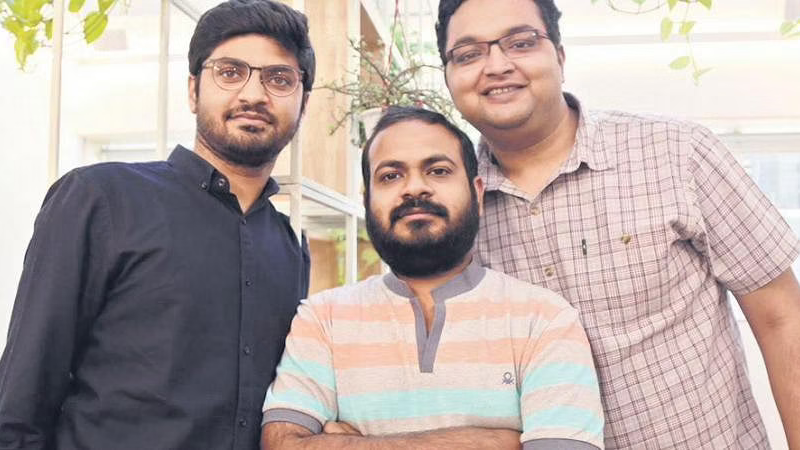 Observe.AI - Founders & Team
Observe.AI Startup Story – Brand Tagline
The tagline of Observe.AI is "Turn every agent into your finest brand advocate with Voice AI," says Observe.AI tagline. AI's This is because the ventures think that agents are the brand's voice and contact customers and prospects more frequently than anybody else in the company.
Observe.AI Startup – Products & Services
Observe.AI is an Audio AI platform that uses the latest speech Recognition, Natural Language Processing, and deep learning technologies to transcribe and analyse 100% of voice customer care calls. For Contact Centres, this solves many issues:
Repairing Faulty Quality Assurance system: Only.003% of calls are assessed for quality and compliance purposes on average. With Observe.AI, every call is evaluated in its entirety. Furthermore, call scoring with Voice AI is objective and data-driven (rather than randomly selecting calls to review, which is how the process works today).
Compliance & Security: The platform detects compliance issues automatically. Furthermore, features such as automated PII redaction safeguard sensitive user information.
Operational Improvements: Voice helps AI organisations increase critical contact centre KPIs like customer satisfaction (5%), average hold time, dead air, and the Quality Analyst to Agent ratio.
Improving Customer Experience: With objective proof, sentiment analysis via Voice AI helps firms understand how customers feel about the support experience and the company's products/services.
Note: Observe.AI has one of the Bay Area's most diversified teams, with a worldwide culture that spans San Francisco, Bangalore, and Dallas, Texas.
Observe.AI – Unique Selling Proposition
Through AI-based insights and coaching, Observe.AI aims to transform every agent into the best potential brand representative. Observe.AI benefits include:
Built for Contact Centres : We provide the highest transcribing accuracy in the industry (80%, which is higher than Google and Amazon for Contact Centres). Our entire platform is focused on the Contact centre use case.
Rapid integration : In the Speech Analytics Contact centre industry, we are the quickest solution to go live. In a sector where it might take 3MO+ to get up and running, our customers go live in just two weeks, and we offer one-click connectivity with Talkdesk.
Proprietary SpeechNLP : SpeechNLP for Sentiment Detection, Silence Detection, and automatic Redaction on calls, our engineering and Machine Learning teams have released some genuinely ground-breaking capabilities.
Fun Fact: The expected Target Market Size for Observe.AI is more than $300 Billion.
Observe.AI Startup – Investors and Funding
Observe.AI has raised a significant amount of money throughout the years. It recently acquired $26.2 million in Series A funding from Scale Venture Partners in December 2019.
| | | | |
| --- | --- | --- | --- |
| Date | Stage | Amount | Investor |
| August 2017 | Pre-Seed | $900k | Emergent Ventures |
| January 2018 | Pre-Seed | $120k | Y Combinator |
| May 2018 | Seed | $7.1 Million | Nexus Venture |
| January 2018 | Series A | $26.2 Million | Scale Venture Partners |
Funding : The current $26 million Series A financing brings the overall funding for Observe.AI to $34.3 million.
Observe.AI – Indian Pioneer of Artificial Intelligence
So, this was all about Observe.ai. It is one of the few firms that discovered the market first and then created a product around it, rather than the other way around. The team was able to keep improving the product by maintaining a constant feedback loop with the users, ensuring that the process was never a one-time event but rather a continual activity.