Big Billion Ecommerce Startup Flipkart – 2BHK to 8.3 Lakh Sq Ft Journey
Flipkart is a famous Indian e-commerce company and has helped in the growth of all kinds of e-commerce companies. With the rise of the Internet in our country, the craze of online buying and selling has also increased. Flipkart owns a market share of 39.5% in the Indian market and, its main rivals are Amazon and Snapdeal. Flipkart has come a long way and, it has become a tremendously successful startup in just a few years of its incorporation.
Flipkart Startup – Key Points
Startup Name - Flipkart
Founded - 2007
Founders – Sachin Bansal, Binny Bansal
Parent Organization - Walmart
Sector - e-commerce Industry
Area served - India
Website – www.flipkart.com
Flipkart Startup – Founders
Binny Bansal and Sachin Basal are the founders of this company. Both of them are alumni of IIT-Delhi and ex-employee of Amazon. They thought of leaving their jobs and building a similar company for India. They started their company as an online book store and offered country-wide shipping. They received a positive response and, the founders decided to expand their business in other areas. Flipkart became a unicorn company in 2014 and, the most valuable startup in India.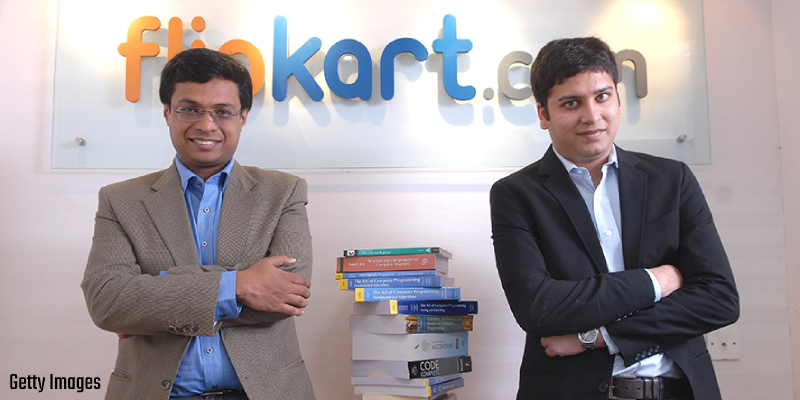 Flipkart co-founder Sachin Bansal and Binny Bansal
Flipkart Startup – Brand Name and Logo
Brand Name: The founders of the company wanted to come up with a name that resonates with their customers. They came up with the name Flipkart which means Flipping products into the cart.
Logo: They have changed their logo twice since the incorporation of the company. The logo is in the yellow and blue color that signifies positivity, loyalty, growth, etc.
Tagline: Flipkart has changed its taglines several times. Some of the tag lines of the company are:

Ab Har Wish Hogi Poori
If it is trendy, it is on Flipkart
Itne Mein, Itnaaa Milega
Ab Mehengayi Gayi
Abhi Nahi to Kabhi Nahi
Shopping Ka Naya Address
Flipkart Story – B2C Business Model
Flipkart works on a Business to Consumer Model (B2C). It initially started as a direct consumer model and began selling books and some other products. Today, the company has become a marketplace of various products and claims to have over 80 categories. They have more than a million sellers from all over the country.
Flipkart Startup – Revenue Model
Flipkart offers 24x7 support service to its customers and charge a certain amount of commission on the sale of products through their app or website. The commission usually ranges between 5% and 20%, depending on the type of product. The commission doesn't include any discount or taxes.
Flipkart - Products and Services
Flipkart offers a range of products and services to its customers. They have a marketplace across 80 plus categories with more than 80 million products. They have everything that you can even imagine. Some of its products are:
Electronic Products - Laptops, Tablets, Mobile Phones, etc.
Fashion - Clothing, Shoes, accessories, etc.
Furniture - Dining tables, chairs, beds, sofas, wardrobe, table, centerpieces, etc.
Appliances - Fridge, Washing Machine, TV, Mixer, Juicer, gas stove, blenders, etc.
Home Furnishing - Bedsheets, cushions, mattresses, blankets, curtains, rugs, and sofa covers, etc.
Musical Instruments - Guitar, sitar, piano, Tabla, drums, flute, etc.
Flipkart - Funding and Investors
Flipkart has raised $12.5 billion from funding to date. They started with an initial capital of $6000 and, it became a unicorn startup in 2012. Some of its investors are as follows:
$1 billion - SoftBank Vision Fund, Secondary Market Round, 2017
$133.9 million - SoftBank Vision Fund, Debt Financing Round, 2017
$200.8 million - Flipkart, Corporate Equity Round, 2019
$14.5 million - Secondary Market Round, 2019
$217 million - Flipkart, Corporate Round, 2019
$28.4 million - Corporate Round, 2019
$1.2 billion - Walmart, Corporate Round, 2020
$26.2 million - Tencent, Corporate Round, 2020
$3.6 billion - Softbank Vision Fund, GIC, Canada Pension Plan Investment Board, Walmart, Equity Fund Round, 2021
Flipkart - Subsidiaries
Flipkart has a customer base of more than 1 billion people. It bought Myntra in 2014 for $300 million and Jabong for $70 million. They also acquired PhonePe and the Indian subsidiary of eBay in 2017. Some of its other subsidiaries are as follows:
Weread- 2010
Mallers- 2011
ngpay - 2014
AdlQuity - 2015v
FX Mart - 2015
MapmyIndia - 2015
Appiterate - 2015v
F1 Info Solutions and Services - 2017
Upstream Commerce - 2018
Flipkart - Awards and Achievements
Some of the awards and achievements by the company are as follows:
Entrepreneur of the Year – Sachin Bansal by The Economic Times, 2012-13
Founders entered the Forbes India rich list - By Forbes Magazine, 2015
100 Most Influential People in the World - Sachin and Binny Bansal By Time Magazine, 2016
Flipkart Startup – Competitors
Flipkart has a more than 50% portion in the Indian market. It dominates the clothes and apparels market but, it still has a lot of competition in the electronic field. Some of its cut-throat competitors are:
Flipkart Success Story – Challenges
Every sector has its challenges and but nothing is better than your hard work and dedication. Some of the challenges of this unicorn company are as follows:
Competitors - Competitors are in every sector and, every business has to fight with its competitors. Right now, the biggest competitor of this giant company is Amazon. Amazon is an international company and, it has a good customer base. Flipkart will have to constantly keep fighting with its rival to remain strong in the business.
Local Vendors - A lot of people in India still prefer offline shopping over online. E-commerce like Flipkart still has a long way to go to build trust in their customers. Local vendors win over a lot of factors and, customers prefer shopping from them.
Flipkart Startup – Future Plans
Some of the upcoming plans of the company are as follows:
Advancements in e-commerce
Wider Range of products
Upgraded collaboration with small businesses
Better products
Public Listing 2021
Flipkart – 40% Market & $38B Valuation
Flipkart has now become a favorite brand in all Indian households. Their fast service and availability of every product have attracted a lot of customers and, it has helped the brand to grow. Flipkart's return policy is also good and, you can have your money back in just 2-3 business days. They also have regular sales and discount going on from month to month when they offer bumper surprises to their customers. Their festive sale and big billion sales are to look.