Startup Story of BharatAgri: Smart Farming Made Easy
Despite India's rich agrarian history, in the past few decades, it has been felt that our technological advancement hadn't caught up with our farming culture. And that was the reason why the industry is dwindling, and the youth don't want to find a career in it. Over the last few years, both the public and the private sectors have invested in agritech aids and startups to tackle this issue.
BharatAgri is one such startup that is trying to bridge that technological gap one step at a time.
BharatAgri: Founders
Sai Goel and Siddharth Dialani co-founded BharatAgri. A few years after graduating from IIT-Madras, they started LeanAgri, in Pune, in 2017. LeanAgri was later renamed as BharatAgri.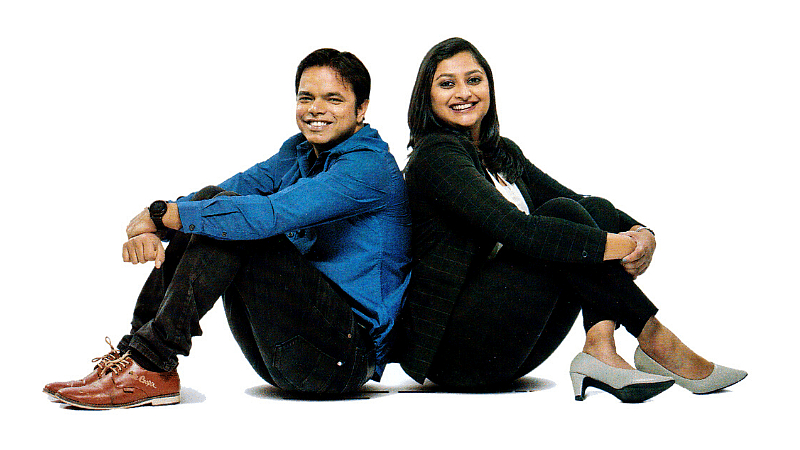 Sai Goel and Siddharth Dialani co-founded BharatAgri
BharatAgri Idea
While Goel and Dialani were students, they were part of IIT-Madras's Centre for Innovation. It is a lab that orients students to create their products. Sai Goel says in an interview with Forbes that they were committed to creating something unsophisticated, something people without specialized skills could use. A year after graduating, they stayed on a five-acre farm in Pune to get a first-hand feel of how things worked. Other than that, Goel's family was into farming for 30+ years, which too factored into her knowledge of the field.
Founder's Vision
Dialani spoke about their vision while creating the startup, "We realized Indian farmers earn less because of the unavailability of scientific knowledge. They needed a personalized solution."
BharatAgri: How does it work?
In founder Sai Goel's own words, "You can consider it as a smart farming advisory. Using daily step-by-step instructions for farmers, we make sure that they get personalized advisory and insights about the soil, water, and weather conditions in their farmlands."
BharatAgri works in a business-to-farmer or B2F model, where they directly deal with the queries of their customers without any middlemen. While they have a website and an app where customers can sign up and communicate their issues with a team, they also offer help via WhatsApp, SMS, and Interactive Voice Response (IVR) calls.
Products BharatAgri Offers:
Weather-based Advisory This feature helps protect the farms and is currently exclusively available on the BharatAgri App. Farm owners can "get actionable agronomy insights based on changing weather". These insights can be customized based on the crop.
Chat with Expert Customers can connect with experts at each stage of the crop. Crop related issues can be shared with Agri Doctor or Krishi Doctor to get instant expert advice.
Personalized Crop Calendar Calendar log for crops that help manage each stage of growth. It also allows experts to observe these stages alongside the farmers.
Crop Advisory It provides aid with farm security from sowing till harvesting. Shows real-time crop protection updates and offers an efficient crop management advisory platform.
Soil Testing It helps in understanding the nature and the nutrient profile of the soil in the farmland. The BharatAgri soil report can guide the farmers regarding the amount of fertilizer to use.
Farm Mapping It offers farm solution tailored to particular farms, as every farm differs in "oil, land area, water, weather and crop". The goal is to understand the farm entirely and improve crop production capacity. All this works using an extremely advanced crop schedule specific to the farm conditions.
Water Testing This feature helps to map out the irrigation mode of a farm. Keeping in mind, the crucial role groundwater plays in crop cycles. They test the quality and suitability of the water according to the planned crop.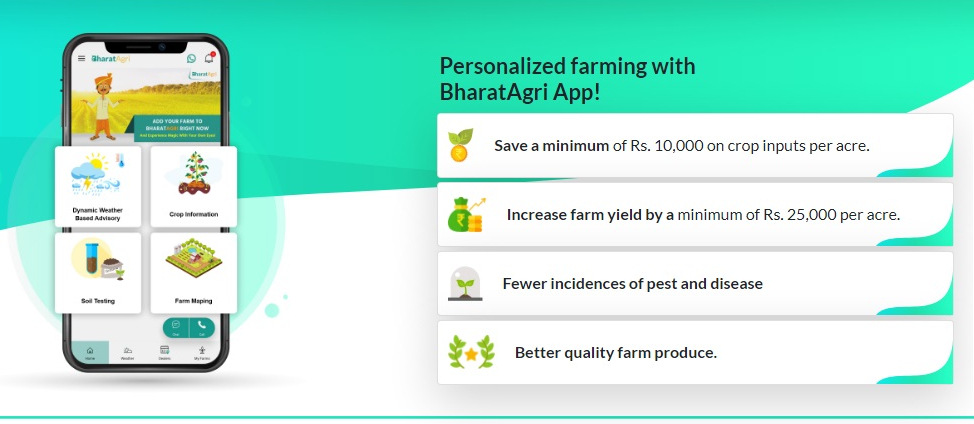 Premium Services by BharatAgri:
Farm to Market Assistance They guarantee the quality and quantity of produce sent into the market. They also promise residue-free crops.
Bank Assistance They help farmers manage their credits while giving financial assistance to each crop cycle.
Insurance They offer insurance to minimize the risks of crop failure & also make personalized crop plans based on the economic status of the customer. They also help in the geo-tagging of farms.
Agri-input Companies They do appropriate product placement for these companies while also conducting cost-efficient demonstrations of their products. They make sure the right products reach suitable crops and farmers.
BharatAgri: Milestones
BharatAgri started as LeanAgri in 2017 in Pune.
It scored the UberPITCH competition in March 2017, resulting in an investment of $50,000 (₹35 lakh) by Uber into the startup.
BharatAgri was part of the 2018 batch of the JioGenNext Programme. Insights from the programme were crucial in switching from B2B to B2F or B2C strategy.
In October 2020, BharatAgri raised $2 million in their pre-Series-A funding. Some of the leading investors were Binny Bansal-backed 021 Capital, Better Capital and Ajay Prabhu (COO, Quest Global), and India Quotient.
With the help of this funding, BharatAgri aims to penetrate deeper into the market and scale to 5 million farmers and 500,000 premium users.
In 2020, BharatAgri was among the 20 Indian startups shortlisted for the Google for Startups Accelerator India programme.
To Conclude
Agritech businesses are popping up at a brisk rate, and both the founders of BharatAgri believe that the emergence and existence of competition bode well for them. Siddharth Dialani commented regarding this, "We need 10 times the number of agritech startups we currently have. It is good if more startups participate and help us educate farmers to move from traditional practices to adopt the latest technologies available."
Hence, the growth of agritech in our multi-billion dollar farming industry is not only crucial for startups like BharatAgri but also for the farmers themselves. But it remains to be seen, as the competition gets denser, how startups like BharatAgri manage to survive and thrive in this new ecosystem.