BookMyShow & its Ticket to Success – Hemrajani's Futuristic View
BookMyShow is India's leading ticketing platform for entertainment and unites all movie lovers. The company offers a range of bookings, from movie bookings to monument visits. Ticket bookings could never have been this easy and hassle-free. But this wasn't an overnight success for them. The company worked hard for more than two decades to reach where they are today. BookMyShow has been on a roller-coaster ride for sixteen years, experiencing all types of crests and troughs.
BookMyShow – India's First Digital Ticketing Platform
BookMyShow began as a software re-seller for movie theaters in 1999 and has now evolved into a platform for cloud-based ticketing for events, movies, sports, and plays. At the time of its beginning, BookMyShow was known by the name of its parent firm, Bigtree Entertainment Pvt. Ltd. It has more than 30 million customers in five countries.
BookMyShow Startup – Key Points
Company Name - BookMyShow
Founded - 1999
Headquarters - Mumbai
Parent Organization – Bigtree Entertainemtn Pvt. Ltd.
Founders – Ashish Hemrajani, Rajesh Balpande, Parikshit Dar
Business Sector - Online Ticket Booking
Website – www.bookmyshow.com
BookMyShow Startup - Founders
BookMyShow was founded by Ashish Hemrajani, Rajesh Balpande, and Parikshit Dar. All of them are alumni of Sydenham Institute of Management, Mumbai. Before launching this company, Rajesh Balpande worked as an investment banker and, Ashish worked for J. Walter Thompson. CEO of the company is Ashish and, under his leadership, the company has seen tremendous growth.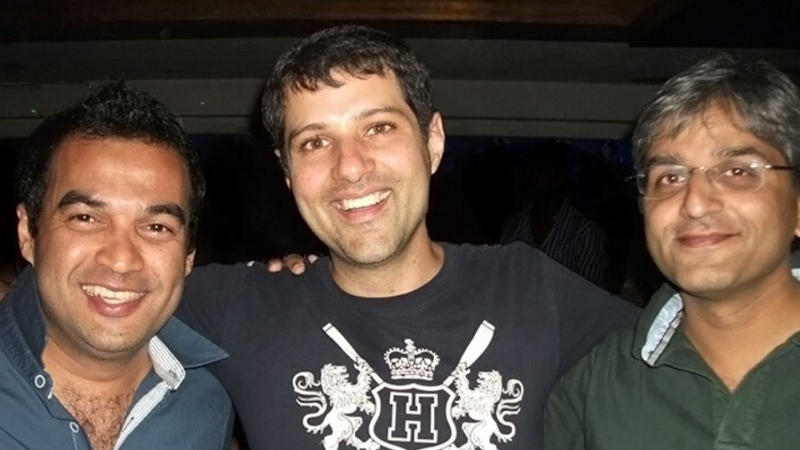 Ashish Hemrajani, Parikshit Dar, and Rajesh Balpande
BookMyShow Story - Brand Name and Logo
Brand Name BookMyShow was initially named 'Go for Ticketing', but in 2002, it got renamed India Ticketing. The company wanted to change its name and wanted to go with something catchier. In 2007, the company organized a contest among its employees. They had to suggest a better alternative name for the company. An engineering intern came up with a name and, the company decided to go with ''BookMyShow''.
Logo The brand's logo is in simple red and white color that is very catchy for the customers.
BookMyShow Startup - Services
You can avail yourself of all the services provided by BookMyShow through its app and website. The company constantly app is available for Android, iOS, Blackberry, and Windows. They keep upgrading their app from time to time and allow their customers to check show timings, read reviews, book tickets, watch trailers, etc.
The company primarily provided only the movie ticketing facility to its customers. But now they allow bookings for almost everything. You can:
Book Movies,
Book Sports Events,
Book Plays,
Book Fairs,
Book Monument Exhibits,
Book International Events,
Book Concerts,
Book Standup Shows
BookMyShow – Business Model
BookMyShow integrates the backend of this app with the APIs to show the real-time availability of tickets. The company makes money through these sources:
Ticketing Revenue - 60% of the revenue of the company comes from this source. The company charges various fees like a convenience fee, commission on ticket bookings, internet handling fees, etc. For the n0n-movie events, they charge a commission on the sale of the tickets.
Non-ticketing revenue – Book My Show also has various non-ticketing revenues. Many companies collaborate with them and, they earn through these sources.
BookMyShow – Investors and Funding
The company did not have any investors from 2002 to 2006. After the boom in the internet facilities, infrastructure set up, debit and credit card facilities, etc the multiplexes grew in the country. It made the company look like a promising and good startup. It attracted a lot of investors and, they invested in this new venture. Some of the investors of the company are as follows:
Network 18 - Seed, 2007
Accel - Series A, $18 million, 2012
Saif Partners - Series B, $25 million, 2014
Accel, Saif Partners, Stripes Group, Network 18, Series C, $81.5 million, 2016
TPG Gropu - Series D, $100 million, 2018
Capital 18 - Venture, 2019
BookMyShow Startup - Acquisitions
Some of the acquisitions of the company are as follows:
Ticket Green - 2013, Chennai-based company
Identifier - 2015, Bangalore-based company, For $2 million
Fountain - 2016
Masti Tickets - 2017, Hyderabad-based company
Townscript - 2017, Pune-based company
burp! - 2017, For $10,300
nFusion - 2017
BookMyShow - Competitors
BookMyShow has a lot of competitors in the market. Right now, its biggest competitor is Paytm that offers various discounts and cashback to its customers. Some of its other competitors are as follows:
TicketCounts
Explara
BookMyEvent
Kyazoonga
MeraEvents
TicketGenie
BookMyShow - Awards and Achievements
Some of the awards and achievements of the company are:
Awards

The Hottest Company of the Year - By CNBC Young Turks Awards, 2012
The company to watch out for - By CNBC Young Turks Awards, 2012
Best Omnichannel Customer Experience Brand - By OneDirect Quest Customer Experience (QuestCX) Awards

Achievements

50 million-plus app downloads
15 million-plus tickets sold in a month
Two billion-plus pages viewed in a year
35 million-plus customers
It covers 5500 plus screens
Operating in 5 countries
It provides services in more than 700 cities and towns
Official ticketing partner of Delhi Capitals. Mumbai Indians, Pune Warriors, Kings XI Punjab. Rajasthan Royals in IPL.
Exclusive ticketing partner for Formula 1 race.
BookMyShow - Growth and Revenue
BookMyShow had a growth of more than 30% in the FY 2018-19. The company saw a dip in its revenue in the past two years due to the COVID pandemic.
But they earned revenue of INR 391 crores in 2019 and INR 300 crores in 2017.
BookMyShow - Future Plans
The company plans to target some of the areas such as:
BookMyShow is planning to add a merchandising section on its website. The customers can buy hoodies, tees, and apparel from it.
They are also planning to focus on the betterment of the mobile segment.
BookMyShow - Challenges
Right now, the company has to face a lot of challenges. Some of the challenges of the company are:
COVID-19 Pandemic - The firm has already seen a lot of challenges from day one. But currently, its challenge is the COVID-19 Pandemic. The online ticketing got shut and, the company has seen almost no bookings in the past 1.5 years.
Competitors - BookMyShow acquires 85% of the online ticket booking market. However, the company has very few competitors but could give them strong compassion in the coming years. The company needs to come up with new strategies to overshadow its competitors.
BookMyShow – Closure
BookMyShow is already the leading company in its sector. This company has been in the market since people were not familiar with booking tickets online. It has seen significant growth in the past 7-8 years and, this success is not going anywhere now.