Mumbai-Based WhiteHat Jr - How it Achieved 100% Growth in 1 Year?
White Hat Jr. is the first 1:1 online platform for coding and Math. It is an educational startup that was started in the year 2018 by Mr. Karan Bajaj and aims to provide quality education to students. WhiteHat Jr. is an online platform that is designed for kids between 6 to 14 years for coding. It has created a coding system for programming for AI, robots, gadgets. Children are being educated about these online by professional tutors.
Note: WhiteHat Jr. is aiming to provide its services globally to countries like Canada, New Zealand, United Kingdom, and Australia.
WhiteHat Jr – Coding for Kids
WhiteHat Jr. is a platform that empowers children by enhancing logical knowledge and was found by Karan Bajaj in 2018, who is the former CEO of Discovery Networks. It became famous when the parent company BYJUs acquired it for $300 million. Karan first approached all his investors to raise the amount. Then he started his own company to solve his problems.
WhiteHat Jr – Key points
Company Name : WhiteHat Jr
Headquarters : Andheri, Maharashtra, Mumbai
Founder : Mr. Karan Bajaj
Sector : EdTech
Founded : 2018
Parent : BYJU'S
Website : www.whitehatjr.com
Funding : $11.3 million
Revenue : $220 million (as of 2020)
WhiteHat Jr - Features and Strength
Wide Range It has an organized list of courses which is taught according to the grade of the children. The beginner course is provided to class 1 students, Intermediate for classes 2 and 3, Advanced classes for classes 4 and 6, Professional class for classes 7 and 9, applied tech is provided for students of class 10 and above.
1:1 Model It has a 1:1 teaching system that helps the students clarify their doubts without any hesitation. It provides students with courses such as python, Game designing, java, Turtle coding, space coding, etc.
Demo Classes One of the best things which WhiteHat Jr. provides is free demo classes before enrolling any student for the course. It educates the children about coding in such a way that it keeps the children interested.
Interactive Sessions It motivates the children in the best way possible and rewards them after their tasks. WhiteHat Jr provides children with logical knowledge and enhances their thinking capacity.
Proud Fact : WhiteHat Jr. is trying to elevate women teachers in India.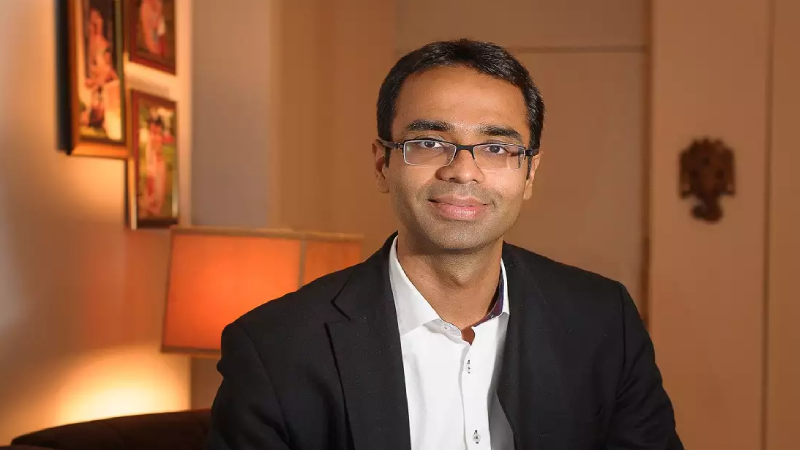 WhiteHat Jr Founder – Karan Bajaj
WhiteHat Jr Founder – Karan Bajaj
Karan Bajaj founded WhiteHat Jr. in 2018. He is an Indian author, technology entrepreneur and is well known in the Edtech industry. He pursued his master's from the Indian Institute of Management, Bangalore in Business Administration. He also has a B.A diploma in Mechanical Engineering from the Birla Institute o Technology, Mesra.
Founder's Fact: Karan Bajaj was also the CEO of Discovery Networks and has worked in companies like Kraft Foods, The Boston Consulting Group, and Protector & Gamble.
WhiteHat Jr Startup Story – Team
Karan Bajaj - Founder and The Chief Executive Officer
Pranab Dash - CTO
Ankur Nyati - Chief Operating Officer
Shweta Singh - Head of Innovation
Brishty Srivastava - Vice President Talent Acquisition
WhiteHat Jr Startup Story – Funding and Investors
The company has uplifted over $11.3 million of funds. On 7th August 2020, it was acquired by Byjus for $300million in cash transactions.
6th August,2020 (amount- $300M)
10th September 2019 (amount- $10M which rose to $11.3 M)
16th April, 2019 (amount- $1.3 M)
Investors :
Nexus Venture Partners
Omidyar Network
Owl Ventures
Note : WhiteHat Jr. has the plan to hire over 20,000 teachers on their platform.
WhiteHat Jr. Startup – Revenue and Growth
WhiteHat Jr has rapidly grown in a very short span. Before the lockdown, the revenue rose from 1 crore to 10 crores. It started to double when BYJU'S started approaching its revenue at $75 million and got completed at $150 million. Later, in the first month of August the company's valuation rose to $220 million.
WhiteHat Jr. Story – Competitors
WhiteHat Jr has various competitors such –
Coding Ninjas
Coding blocks
Camp K12
Coding with Kids
Tynkor
Engineering for kids
Kidz To Pros
Code mentorv
Hack handsv
Youth Digital
Fun Fact : Currently, WhiteHat Jr is adding about 220 educators daily.
WhiteHat Jr. Startup – Controversies
High Priced and Poor Structured Course People have a say that the courses provided are overly priced and believes that it's a wastage of money as many courses are available free on other sites.
Advertising Controversy the Advertising Standard Council of India alleged that the WhiteHat Jr has a misleading commercial and was asked to take down the commercial.
Misleading Sales Pitch A former sales worker told in an interview the company encouraged her and her co-workers to use job titles that sound authoritative such as director or co-founder. Thus, a controversy was raised saying that the company encourages false promises.
WhiteHat Jr. – Growing Children with Tech
WhiteHat Jr. is an innovative platform that aims at providing online courses of coding for kids. The phenomenal growth story of WhiteHat Jr. is mentioned in this article, as well as the ups and downs Karan Bajaj faced during this tech platform. It is the best way provided to teach children about coding and provides an outstanding curriculum, i.e. 1:1, which helps the students to clarify their doubts without hesitating. It provides tremendously skilled and experienced teachers.