The Story of Travel Triangle || India's Leading Holiday Marketplace
Travel Triangle is India's leading and a first full-stack holiday marketplace. It was founded by 3 IIT graduates in 2011 as a platform to connect travelers with the trusted & expert travel agents. It provides holiday services to the customer from more than 60 countries travelling to 40 destinations.
Travel Triangle has more than 650+ travel agents, 500K+ travelers, 65 destinations, and monthly traffic of 2.5 million+ visitors on its website.
Stats and Facts of Travel Triangle
Legal Name: Holiday Triangle Travel Pvt. Ltd
Industry Type: Online holiday marketplace
Founders: Sankalp Agarwal, Sanchit Garg and Prabhat Gupta
Launch Year: Jul 1, 2011
Business Type: Private Held Company
Headquarters: Noida, India
Users: Around 60,000 customers/year
Number of Employees: 572
Last Funding Type: Series D
Financing Status: Investment-backed
Total Venture Capitalists: 14
Total Funding Amount: $47.9 M
Website: www.TravelTriangle.com
The People behind Travel Triangle: Founders
Travel Triangle was founded in 2011, but the idea was planned a year before its launching. It was founded by three school friends and IITians, Prabhat Gupta, Sanchit Garg and Sankalp Agarwal, and they were working with Yahoo, Oracle Corporation and Adobe Systems, respectively.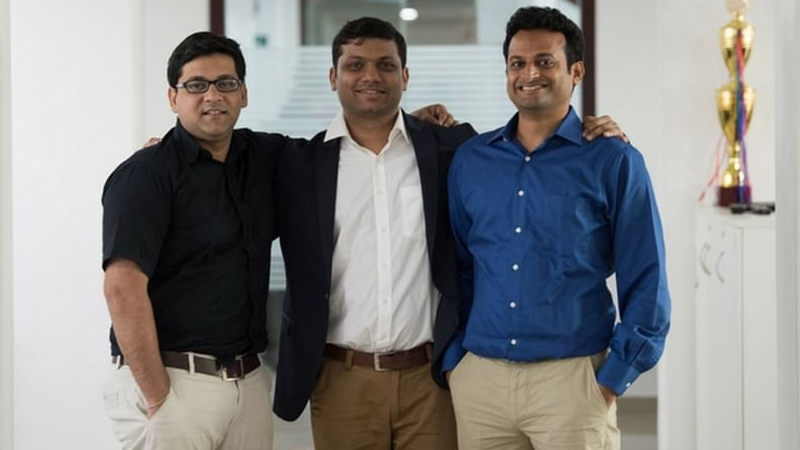 From left to right: Prabhat Gupta, Co-Founder and CTO; Sankalp Agarwal, Co-Founder and CEO; Sanchit Garg, Co-Founder and Director
Travel Triangle: Beginning of Idea
The trio went on a Ladakh trip, and the package they received through a travel agent was quite satisfying. Upon interacting with other travelers, they realized that the others had got better and customized packages.
This implanted the idea, and they planned to work on a personalized Holiday Plan, which finally was launched as "Travel Triangle".
Travel Triangle: Brand Name
The name "Travel Triangle" was derived from the connection of three words: 'Travel agents', 'Travelers', and 'An efficient marketplace'.
Services
Travel Triangle provides several different packages, including family and honeymoon packages, holiday deals, and luxury holidays. It helps people to enjoy the fun and calmness and experience a lot of adventures & is considered to be one of the best travel portals.
Travel Triangle: Process & Work
The travelers enter a request for a trip, and via a pre-defined form of questions, their requirements are accumulated. Then, the information is shared with the local travel experts, who come back with their best quotes. So, they get many quotes from several agents to choose their package from.
Investment Source Funding of Travel Triangle
Currently, Travel Triangle is funded by 14 venture capitalists, and Fundamentrum is the recent one. In the 7 investment rounds, it has raised a total amount of $47.9 million in funding.
| | | | |
| --- | --- | --- | --- |
| Date | Transaction Name | Money Raised | Lead Investors |
| November 18, 2019 | Series D | $13 million | Fundamentrum, KB Global Platform Fund |
| October 17, 2018 | Debt Financing | $3 million | InnoVen Capital |
| April 10, 2018 | Series C | $12 million | Fundamentrum |
| February 7, 2017 | Series B | $10 million | RB Investments Pte. Ltd. |
| April 29, 2015 | Series B | $8 million | Bessemer Venture Partners |
| July 17, 2014 | Series A | $1.7 million | Elevation Capital |
| June 1, 2012 | Seed Round | $200, 000 | - |
Travel Triangle: Business Model
The main business model of Travel Triangle is based on the use of rooted technology to analyze the choices of the customers so that they can connect them with an appropriate travel agent. It also deals with:
Travel Triangle services are free of cost for everyone and maintain quality.
It tries to fulfill all the requirements of the travelers.
It offers a minimum package for all the bookings which are done.
It makes sure to provide the best holiday deals.
The company has built a SaaS-based customer relationship management platform. The main aim is to establish a good business relationship with the customers.
A customized Holiday plans can be made based on travel destinations or interests like nature, adventure, and pilgrimage.
It also provides several quotes from verified travel experts. Accordingly, travelers can choose their best package for themselves.
Expansion of Travel Triangle
Travel Triangle is rapidly booming in the field of travel and tourism, and the market opportunity is immense. Also, outbound holidays are a huge chance which is expected to increase more by 2021 and 2025.
It is mainly investing in technology, products, and brand building. A new office has been opened in Udyog Vihar, Gurgaon, which adds to the existing office in Noida.
Revenue Model of Travel Triangle
Travel Triangle's revenue model is quite simple.
5-8% of the holidays are always booked. Sometimes, it even increases to 10%.
It is cash efficient.
It does not have fulfillment costs and only has marketing costs.
Typically, it receives a lot of payments before getting distributed to the suppliers. So, a network is made accordingly.
It helps the association to grow at very low burn rates due to the features mentioned above.
Achievements of Travel Triangle
In 2011, it received an award for being one of the Top 50 Growing Startups by NASSCOM.
In 2011, it received an award for Website of The Year.
In 2012, it received an Award for Microsoft Biz Spark Startup.
It was featured as one of the most promising Indian startups in Techinasia.
Recently, Travel Triangle is working on refining its technology, laying special emphasis on Artificial Intelligence (AI) and Machine Learning (ML). Also, it intends to develop to advanced geographies.