PV Sindhu Success Tale: Story of Sheer Sacrifice & Hard Work
Pusarla Venkata Sindhu, popularly known by her initials PV Sindhu is an Olympic silver medalist and one of the most popular Indian badminton players currently active. Like most successful sportspersons, she too picked up the sport at a very young age. And from the looks of it, she was a great player from the get-go. Here's how her journey as a successful badminton player panned out.
P. V. Sindhu: Early Life
P.V. Sindhu was born on 5th July 1995in Hyderabad. Her parents are P.V. Ramana, and P. Vijaya, both of them were volleyball players with varying professional experience levels. Her father, P.V. Ramana, was the recipient of the Arjuna Award in 2000.
She studied in Auxilium High School and for her higher studies went to St. Ann's College for Women; both institutes are in Hyderabad. She has a Bachelor of Commerce degree and later also finished her Master of Business Administration.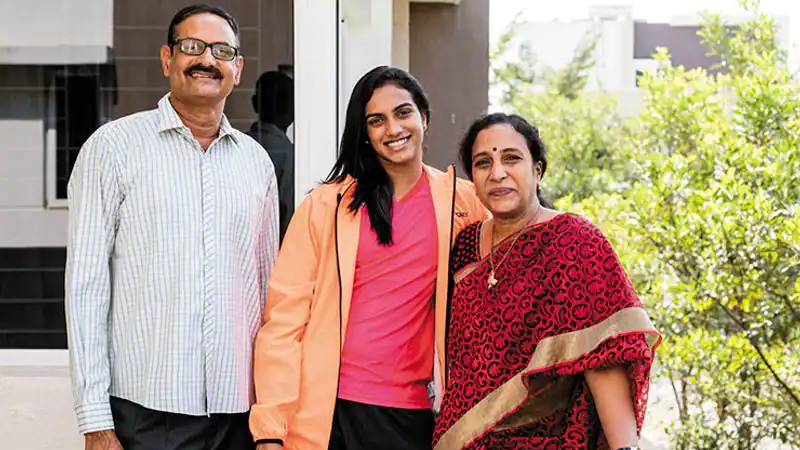 Introduction to Badminton
Sindhu got interested in Badminton because of Pullela Gopichand's success in the field. Gopichand, who is also from Hyderabad, had won the All England Open Badminton Championships in 2001. And with that inspiration, she took up the sport at the tender age of 8. Her first instructor was Mehboob Ali, who taught her in the Indian Railway Institute of Signal Engineering and Telecommunications badminton courts. After that, she joined the Pullela Gopichand's Gopichand Badminton Academy. After joining the academy, she won several medals in the under-10, under-13, and under-14 category.
P.V Sindhu: Training
For the first four years in the Gopichand Badminton Academy, she had to commute for around 56 Kilometres to reach the academy. She made a habit
of waking up at around 3:30 AM and reach the academy on her father's scooter by 4:30 AM. After completing her training sessions, she would reach school by 8:30 AM. And once again practice Badminton at 4:30 PM. However, after nearly four years of following this routine, her family moved closer to the Gopichand Badminton Academy for her convenience.
P.V Sindhu: Junior days
In 2009, she officially entered the international circuit at the young age of 14. She won the bronze in her debut Sub-Junior Asian Badminton Championships. In 2010, she reached the quarter-finals of the BWF World Junior Championships, held in Mexico. In 2013, she won the bronze medal in Badminton World Championships, becoming India's only 'singles' medalist after Prakash Padukone in 1983.
P.V. Sindhu: Major Championships Won
| | | | | |
| --- | --- | --- | --- | --- |
| Tournament | Year | Location | Medal | Opponent |
| Olympic Games | 2016 | Rio de Janerio, Brazil | Silver | Carolina Marín, Spain |
| World Championships | 2013 | Guangzhou, China | Bronze | Rachanok Intanon, Thailand |
| World Championships | 2014 | Copenhagen, Denmark | Bronze | Carolina Marín, Spain |
| World Championships | 2017 | Glasgow, Scotland | Silver | Nozomi Okuhara, Japan |
| World Championships | 2018 | Nanjing, China | Silver | Carolina Marín, Spain |
| World Championships | 2019 | Basel, Switzerland | Gold | Nozomi Okuhara, Japan |
| Commonwealth Games | 2014 | Glasgow, Scotland | Bronze | Tee Jing Yi, Taiwan |
| Commonwealth Games | 2018 | Gold Coast, Australia | Gold (Mixed Team*) | N/A |
| Commonwealth Games | 2018 | Gold Coast, Australia | Silver | Saina Nehwal, India |
| Asian Games | 2014 | Incheon, South Korea | Bronze (women's team) | N/A |
| Asian Games | 2018 | Jakarta, Indonesia | Silver | Tai Tzu-Ying, Taiwan |
| Asian Championships | 2014 | Gimcheon, South Korea | Bronze | Wang Shixian, China |
*Medals won for women's singles until stated otherwise.
P.V. Sindhu: Awards and Titles
In 2013, at just 18 years of age, she was awarded the Arjuna Award for her achievements in Badminton.
In 2014, she won the FICCI Breakthrough Sportsperson of the Year.
On 29th August 2016, she received the Rajiv Gandhi Khel Ratna Award.
In March 2018, she was awarded the fourth highest civilian award Padma Shri.
In January 2020, she received the third-highest civilian award Padma Bhushan, for her contribution to the field of sports.
P.V. Sindhu: 2021 Journey
P.V. Sindhu participated in the BWF World Tour in January of 2021. She had a disappointing start when she was ousted in the first round of Super 1000, but she did make it to the BWF World Tour Finals. In the finals, she had two consecutive losses but had a breakthrough win with a match against Chochuwong Pornpawee of Thailand. But after two losses, she lost her chance to medal.
She also lost the Swiss Opens to Carolina Marin in March 2021. She was defeated in only 35 minutes by the Spanish champion. Also, in March 2021, she was defeated by Chochuwong Pornpawee in the semifinals of the All England Open tournament.
P.V. Sindhu: Future Plans
Tokyo Olympics During the first lockdowns of 2020, P.V. Sindhu took a five months break from training. She said in an interview with The Hindu that the break made her feel both paranoid about the virus and uncertain about future tournaments. She made headlines in October 2020, when she left the SAI Gopichand National Badminton Academy in Telangana midway to join Gatorade Sports Science Institute (GSSI) in London. Despite her shaky start in 2021, she is not giving up and aiming for the Tokyo Summer Olympics.
P.V. Sindhu Badminton Academy In May 2021, the Andhra Pradesh government issued an order to allot two acres of land to P.V. Sindhu for her badminton academy in Vishakhapatnam. It will be the first full-fledged Badminton academy in the city and is set to be located near the Visakhapatnam Institute of Medical Sciences at Chinagadili Village. P.V. Sindhu also plans to build an entire sports academy in the future for the academic developments of young sportspersons.
Lesson to Learn
P.V. Sindhu is one example where one can clearly see how big of a role hard work and perseverance have played in someone's success. From being a young aspiring badminton trainee to the reigning world champion, she has never stopped working towards bettering herself. And her dedication to the sport has never faltered. Despite her shaky performances in 2021 and a rough adjustment to coaching changes, it is reassuring to see her keeping her head above the water. Despite all setbacks, her fans and supporters are excited to see how she performs further into the year and wish her the best of luck for the Tokyo Olympics.