Story of Bounce Scooters: Things to Learn
Bounce Scooter Share is a vehicle rental company that is slowly taking over the Indian commute scene. This Bangalore based startup was started by founders Vivekananda Hallekere, Anil G, and Varun Agni. The bounce startup story is not dramatically different from the countless startup stories we come across every day. But it is one full of great learning experiences, even greater ideas and surprising resilience.
Wicked Ride: The Beginning of an Idea
The startup story of Wicked Ride started when co-founder Anil G. had to wait nearly a year to receive the Royal Enfield that he ordered. They realised that this issue was probably prevalent for any high-end bike. So, instead of spending several lakhs of rupees on it and then waiting for months and months to arrive, they gave people the option to rent it. And finally, in 2014, they started the premium bike rental service called Wicked Ride.
Little did they know their fascination for luxury bikes and their endeavour to make them more accessible would turn into something this widespread and essential.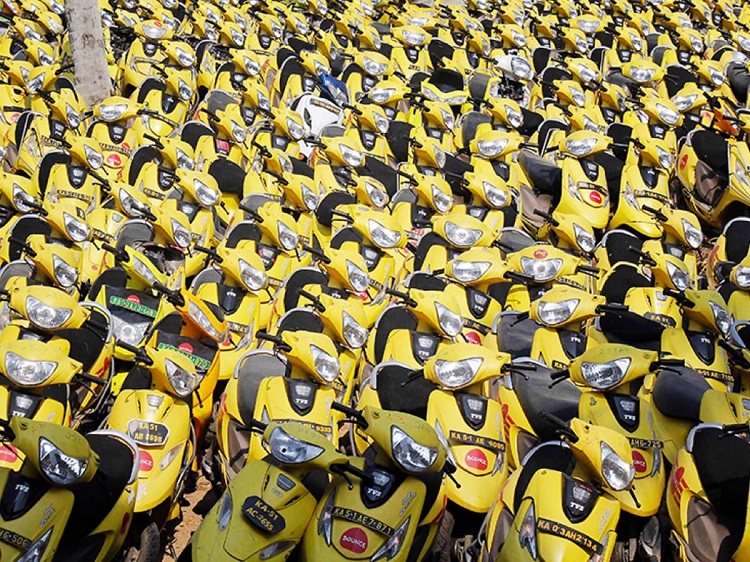 Tackling the Metro with Bounce
In Bengaluru, the first part of the metro line fully opened, and the founders realised that commuting from the first to last mile and vice versa was going to be an issue. Not to mention the second part of the metro line is still under construction, so in the meantime, a large part of the city remains out of its reach. This was to be the prime inspiration for the Bounce startup story.
They realised that Wicked Ride could be expanded to include daily and regular commute vehicles. They did contemplate what kind of vehicles would be the best choice and came to a unanimous decision that they'd stick to two-wheelers.
For the first few months, they operated using the revenue from Wicked Ride, and they invested in around 20 scooters with it. In the subsequent months, they raised around Rs 12 lakhs from Toyota Mobility Foundation. It was one of the first corporate investments into the startup. They invested in a simulation program with that funding. Their team worked with people on the ground to handle giving out the keys, filling out minor paperwork, and later receiving the bikes. This renting program stretched from Byapannahalli Metro station to Whitefield, a route usually covered in two hours by a car.
CEO Vivekananda Hallekere mentioned in an interview that co-founder Varun Agni started working on upgrading their technology after realising the full extent of the demand for their products. He said, "It was then that Varun began designing the technology and the hardware behind [the dockless scooters and] built an IoT-enabled vehicle."
As of 2020, they had around 20,000 dockless scooters in Bangalore and Hyderabad combined.
Timeline of the Bounce Startup Story
The Bounce startup story started with the parent company WickedRide Adventure Services Pvt. Ltd. In 2016 they launched Metro Bikes which was essentially a beta stage for the company.
In 2018, with around 200 dockless scooters, the company was rebranded as Bounce.
In 2018, the company took over the Indian assets of Alibaba-backed Chinese bike-sharing company Ofo.
In August 2018, they raised $12 million from VCs like Sequoia Capital India, Accel, and Raghunandan G., in their Series-A funding.
In 2019, they expanded their operations to Hyderabad with 2000 dockless scooters.
In 2019, they also won a competitive bid to provide their dockless scooter-sharing service in the railway stations in Karnataka.
In January 2019, they raised approximately $67 million from existing investors like Sequoia Capital India and Accel and new investors like Chiratae Ventures and Mauritius Investments; in their round of Series-B funding.
In June 2019, they raised another round of funding from B Capital Group, Falcon Edge Capital, and Accel, which came up to a total of $72 million.
In January 2020, in their Series-D round of funding, they raised the largest amount they had to date, $105 million. This round was led by B Capital Group, Facebook co-founder Eduardo Saverin, Sequoia Capital India, Accel, Qualcomm Ventures, Vistra ITCL, Maverick Ventures etc.
In September 2020, they received their official certification from International Centre for Automotive Technology (ICAT) for their self-assembled two-wheeler electric vehicles.
Bounce Startup Story and How They're Tackling the Pandemic
In May of 2020, as the fear of the pandemic increased, Bounce started providing their vehicles disinfected, thus, immediately attempting to tackle the fear of safety among customers.
A company spokesperson emphasised their efforts to a news outlet and said, "The coating will last for over three months. There is a health card pasted on the scooter, which shows the last time the vehicle was sanitised." They collaborated with Bengaluru Police for this project.
As of 2021, Bounce continues to turn fully electronic and is selling its older inventory of scooters. By 2022, they aim to achieve this goal fully. Currently, their home-grown electric bikes are available for rent, but they plan to make these vehicles available for sale soon.
As of now, it looks like the Bounce startup story hasn't been irreparably hindered by the pandemic, and things are looking up for them in the future.
Final Words
While the Bounce startup story does have a tinge of 'right place, right time' good luck attached to it, the essence of their success is the thoughtfulness behind their ideas. Bengaluru is a rapidly growing city, with increasing issues in commuting due to traffic, and the expensive cab options are difficult to access for its budding fleet of young workers. The founders of Bounce understood the crux of this issue and built their business idea upon that.
Bounce has faced several issues like theft and vandalism but always found ways to work around the issues and come through. Their faith in their technology and drive to constantly upgrade it to meet the demand of an evolving consumer base is truly commendable. And with so many exciting prospects coming up, it will be a pleasure to watch where the Bounce startup Story leads them to.