Camel Milk Producer Aadvik Foods Startup: Story of Pioneer
"Fortis Fortuna Adiuvat," this Latin phrase means Fortune Favors the rave. It is the case of the owner of Aadvik Foods, Hitesh Rathi. He is an engineering graduate turned entrepreneur. He formed a business giant which sells camel milk and camel dairy products. Hitesh had very tough days getting along with his entrepreneur career as he was from an engineering background. In this article, we will discuss the ebb and flow of the startup story of Aadvik Foods and its proprietor.
Aadvik Foods: About
Aadvik Foods is a Rajasthan-based company that deals in camel milk and camel dairy products. Camel milk and its products have been in demand in the world for its medicinal benefits. It is considered a very healthy food and home remedy for many ailments like diabetes, cancer, heart diseases, and autism. It has proved itself to be an immunity-boosting food. But it was tough to enter into the Indian dairy industry as camel milk was a new niche, and factors were considered before entering. Aadvik foods made a lot of fame in this industry as it is one of the first Indian brands to process camel milk.
The company has helped many camel breeders to create a better standard of living by giving them a source of income. It now produces various camel milk products like,
Camel Milk Chocolates
Soap
Cleanser
Flavored Milk, And Many More Products.
Aadvik Foods Founder: Hitesh Rathi
Hitesh Rathi founded it in 2015 in Delhi, and in 2017 Shrey Kumar was made the co-founder of Aadvik Foods to reach new heights. Hitesh Rathi is an engineer turned entrepreneur. He quit his civil engineering job to start something of his own, which was his first choice. He invested only Rs 2 Lakh during the starting of his company. In the early days, he alone handled all the business operations, from managing orders on the website to deliver milk to all his clients in the whole Delhi NRC region. Initially, he got orders through the ads posted on Facebook and Instagram.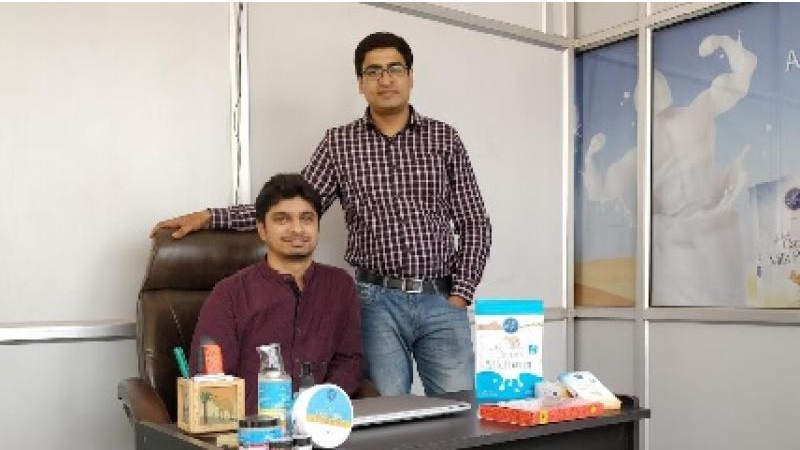 Hitesh Rathi - Aadvik Foods Startup
Aadvik Foods Idea
Hitesh says, "In Myanmar, I realized that I could not spend the rest of my life working for somebody. I left the job and started researching the market," in an interview. It was solely not his idea; rather, it was an idea from a discussion with his friends from his college days. His friends gave him this idea as Hitesh was from Rajasthan. The business was running smoothly, and in one year, there was a whopping turnover of Rs 67 lakh.
Aadvik Foods: Business strategy
It is the first Indian firm to manufacture, brand, and market camel milk and camel milk products in India. It has been doing well with its products as they are being used globally by the customers and has a turnover of Rs 4 Crore. Aadvik started with just one SKU in 2015. Now, it has about 40SKUs. How did it happen? Here is the answer to it.
Aadvik directly make agreements with camel breeders of Gujarat and Rajasthan
Removed chances of any middleman which made sure the profit was between the breeders and the firm
New technologies for new products
Products launched were of high quality and were mutually healthy
Camel milk removes chronic diseases like cancer, autism, heart diseases
Specialized packaging was done of milk to ensure the shelf life is 60 days in frozen form and 9 months in powdered form
Dieticians and YouTubers were hired to create awareness about the product
Collaborating with e-commerce giants like Amazon, Flipkart, BigBasket, Dhoodhwala, etc
All these factors contribute to a huge fan base of the products of Aadvik. It even made itself to top-selling products of many e-commerce giants, resulting in the export of products globally. U.S.A, Malaysia, Singapore, and the Philippines are the countries where Aadvik has made a strong distribution network.
Aadvik Foods: Revenue
The dairy market has grown exponentially after the white revolution. And, camel milk market is in its early stage, so it is difficult to assume its growth percentage in the coming years. But it is a much better alternative to cow and goat milk. Aadvik Foods sales have been getting better every day. On a daily basis, the company receives more than 150 orders for camel milk and its products.
The revenue for the company is listed below.
In FY 2017 – 65 Lakh
In FY 2018 – 5.4 Crore
In FY 2019 – stagnant growth of 30% revenue
In FY 2021 – expected to see 70%- 80% revenue growth
Aadvik Foods: Products
Aadvik Foods have not only made food products out of camel's milk but also daily use essentials. Here is a curated list of products that the company produces for global users.
Camel milk (flavored/unflavored)
Camel milk Soap
Camel milk powder
Camel milk chocolates
Camel flavored milk
Camel milk skincare essentials
Aadvik Foods: Competitors
As an emerging startup in the dairy sector, it faces a lot of competition from large firms like
Amul
AsFresh
Camel Charisma
Nutra Vita
These are all big names in the dairy industry, but Aadvik has made its sales decrease with its nutrient-rich products.
Aadvik Foods: Awards
With its modern technology, like the freeze-drying process to manufacture milk powder from camel milk to preserve the quality, taste, flavor, mineral, and nutrients, has given Aadvik some advantages over other brands. It helped it secure some accolades, namely,
Bootstrapped Business of the Year
Social Impact Sector in Tech 4 Raj
Recognized startup by Government of India
Aadvik Foods: Moving into Future
Camel dairy market sales reached a value of $5.64 billion in the year 2018. And, it is expected to grow much bigger than those numbers. So, Aadvik Foods has just started to get into the business and has done it in an impressing manner. Aadvik plans to launch goat milk to expand its business and make its iconic product, camel milk, the next superfood in the world.