Bangalore-based Drivezy Startup – Delivering Car Luxury Feel to Every Indian
The entire world is preparing a trip to Mars, yet in India, the average man's goal is still to travel by car. Furthermore, in Indian society, an automobile is frequently regarded as a status symbol and valued possession, as most people regard it as a luxury rather than a need. However, the majority of Indians cannot afford to own a car simply to enjoy the ride. To address this issue, Ashwarya Pratap Singh, Hemant Kumar Sah, Vasant Verma, and Amit Sahu founded DriveZy in Bangalore in 2015, previously known as Just Ride.
Drivezy – Car for Everybody
Drivezy, which was founded in 2015, allows travelers to rent cars, scooters, and motorcycles from locals. In other words, it is a car rental marketplace that promises to revolutionize the way people buy and use cars. The startup currently operates in 21 Indian cities, including Bengaluru, Delhi-NCR, Hubli, and Manipal, with a fleet of 4,000 automobiles and 16,000 two-wheelers.
How it Works?
When car owners are not using their vehicles, they can list them on Drivezy, and customers can rent them any time.
Drivezy Startup – Beginning of Idea
It all began when one of the co-founders, Ashwarya Singh, purchased a new car, which was involved in an accident quite early on. Singh didn't use the automobile very much, but he still spent a significant portion of his pay on its maintenance. This inspired him to create a platform where people could hire cars.
Another motivation for the creation of Drivezy was that most Indians could not afford to acquire vehicles. He then discussed the idea with his college friends, who are now co-founders, and established Drivezy in Bangalore in 2015.
Drivezy Startup – Features & Strengths
Bookings can be made using the website or the mobile app.
The minimum age to book motorcycles and vehicles on Drivezy is 18 years old.
The users can reserve the vehicles on an hourly, daily, or weekly basis. They also have the option of hiring vehicles with or without fuel.
Drivezy requires a small security deposit. It can be anywhere from INR 0 to INR 999.
Drivezy offers a home pickup service to its customers.
Drivezy makes immediate compensation to automobile owners and refunds to customers.
Drivezy Startup – Founders
Co-founder and CEO of Drivezy, Ashwarya Pratap Singh Ashwarya is an Electronics and Communication Engineering graduate, alumni of the 2016 Y Combinator class and the inaugural Google Launchpad class. During his post-Graduation, he worked as a mentor at Launchpad.
Hemant Kumar, Drivezy Co-Founder Before starting Drivezy, Kumar worked as an application developer at 'Service Now' and a senior consultant at Oracle India. Kumar holds a B.Tech degree from MNNIT.
Abhishek Mahajan, Co-Founder of Drivezy Abhishek has worked as an Associate Consultant at PwC India after graduating from IIT Bombay. He is also a candidate for the CFA Level 2 designation.
Vasant Verma, Drivezy's Co-Founder and COO Before founding Drivezy, Verma worked at Nomura as a global market analyst. Vasant Verma graduated from MNNIT with a B.tech degree.
Amit Sahu, Co-Founder of Drivezy After graduating from MNNIT in Allahabad, Sahu worked for Honda R&D India as a vehicle testing engineer. He would be in charge of performance testing for various automobiles. He went on to work at Drivezy after that.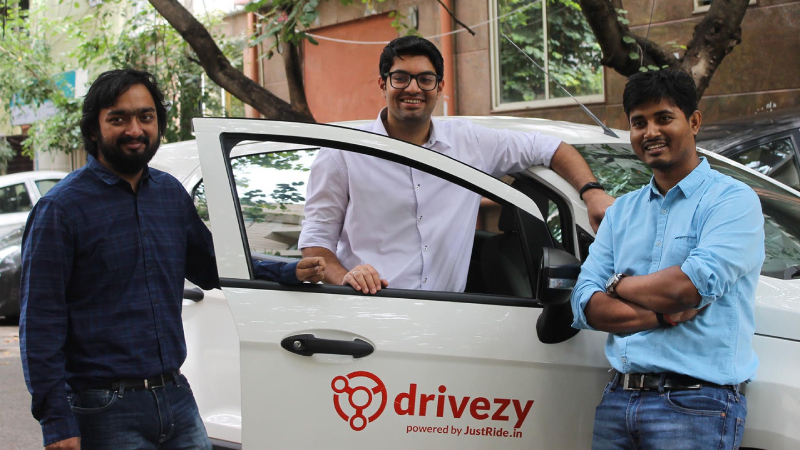 (From left) Drivezy co-founders Ashwarya Singh, Vasant Verma and Hemant Kumar Sah.
Drivezy Startup – Business Model
To broaden and grow their user base, the team decided to include bikes in their product line in 2017. Drivezy operates based on a paradigm in which owners' cars and bikes are listed with them, allowing them to earn money even when the vehicles are not in use. Individual commercial vehicle owners are also registering with Drivezy to generate money.
Fun Fact: Drivezy was earlier named Just Ride.
Drivezy Startup - Revenue Model
Drivezy's business model is commission-based. Vehicle owners can list their automobiles on Drivezy's mobile applications. Renting a car generates about 20-25% of the total revenue for the company.
Drivezy Startup - Competitors
Drivezy Cars is a company that operates in a highly competitive market. There is fierce competition in the market, with top firms commanding a significant market share.
Ola,
Uber,
Bounce,
LetsRide,
PoolCircle,
ZoomCar,
Carzonrent,
Wunder,
Ryde
Drivezy - Investors and Funding
The startup has raised $49.45 million in total funding since its establishment. Drivezy obtained a $100 million asset finance arrangement in 2018, with which the company aims to induct nearly 50,000 automobiles. Drivezy has raised a total of $149.3 million in funding from a variety of investors, including:
| | | | |
| --- | --- | --- | --- |
| Date | Investors | Stage | Amount |
| August 2015 | Anirudh Damani, Alok Mittal, Niraj Singh | Angel Round | $1 million |
| November 2015 | - | Seed Round | $2 million |
| March 2016 | Dheeraj Jain | Series A | $400K |
| August 2016 | Y Combinator | Venture Round | $120K |
| November 2016 | Susa Ventures, SCM Holdings, Kima Ventures, Axon Ventures, and ITFarm from Japan | Venture Round | $3 million |
| October 2017 | Das Capital | Venture Round | $10 million |
| February 2018 | - | Initial Coin Offering | $5 million |
| April 2018 | - | Venture Round | $7.8 million |
| November 2018 | IT-Farm, Das Capital, Yamaha | Series B | $20 million |
| November 2018 | AnyPay | Debt Financing | $100 million |
Drivezy Startup – Growth Numbers
Drivezy's expansion coincides with what appears to be a turning point in the transportation industry. For each successful transaction, the firm receives a 15-30% commission. It had a GMV (Gross Merchandising Value) of $32 million in FY18, up 200% from 2017.
Drivezy claims to have a user base of 1.5 million registered users, with 93% of them being between the ages of 18 and 35.
According to co-founder Ashwarya Singh, the company has processed over 4 lakh bookings and employs 500 people across 11 locations.
It is operating in over 21 Indian cities
Monthly average clients are 200,000, and monthly average pending requests are 2300.
Monthly revenue averages $150,000.
The average monthly gross revenue is $950,000.
Drivezy Startup Challenges
Lack of Trust: The first and most significant roadblock for Drivezy was the lack of trust among vehicle owners. They wouldn't just let strangers hire their vehicles. Although Drivezy offers assurances, an aggregator model, peer-to-peer sharing, and user background checks, this is considerable difficulty in the Indian industry.
Financial Issue: The second stumbling block was the difficulty in leasing and purchasing cars due to financial challenges.
COVID Pandemic: Most enterprises that relied on transportation, communication, and mobility found themselves on shaky ground during the corona virus epidemic. Drivezy is no exception, and the Bangalore-based vehicle and bike rental startup has finally opted to be purchased by Yamaha after enduring the economic crisis for almost a year. According to rumors, the transaction will cost between $45 and $50 million.
Drivezy Startup – Future Plans
Drivezy made $32 million in total sales last year and has plans to make $80 million this year. Further, the company intends to begin operations in the United States with a fleet of 200 automobiles in San Francisco. Drivezy also intends to launch operations in Southeast Asia soon.