Indian Zest Money Startup is Filling the Credit Gap in Tier II & III Cities
Many people in India do not have access to credit cards or other viable financial options due to insufficient card history, lack of awareness, and hefty process for loans. This is where Zest Money enters the picture. Zest Money is a well-known Indian fin-tech startup & an internet platform designed to make a difference in the lives of the 300 million people who don't have access to suitable funding. The startup makes life easier by utilizing cutting-edge mobile technologies, digital banking services, and artificial intelligence.
Zest Money Startup – Making Financial Services Easy
Zest Money is a platform that makes receiving a loan simple by combining mobile technology, digital banking, and artificial intelligence. While many lending institutions are hesitant to give money to people who do not have a good credit history, Zest Money is a platform that does not consider credit history to be a barrier to acquiring a loan.
Fun Fact : The founders got the idea inspiration from Wonga, a UK-based financial startup.
Zest Money Startup – Key Stats
Founders: Ashish Anantharaman, Lizzie Chapman, Priya Sharma
Headquarters: Bangalore, India
Founded: 2016
Industries Type: Consumer Lending, Big Data, FinTech, Financial Services
Operating Status: Active
Funding Status: Early Stage Venture
Number of Employees: 101-250
Parent Company: Camden Town Technologies, Pvt. Ltd.
IPO Status: Private
Company Nature: For Profit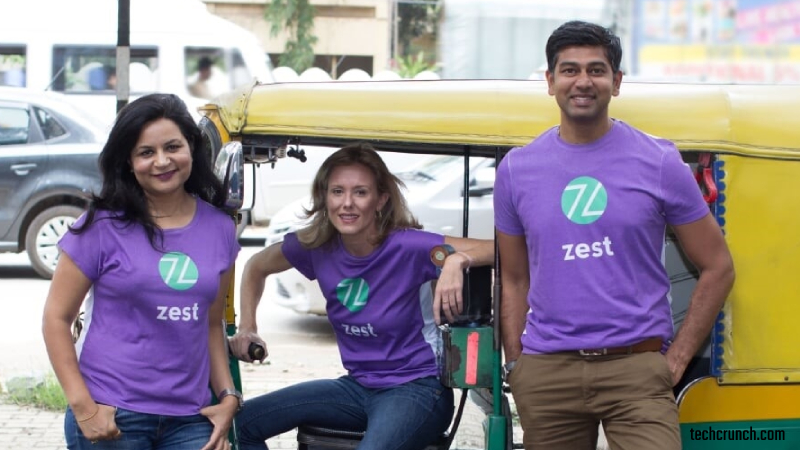 Zest Money Founders
Zest Money Startup – Features & Strengths
Unlike any other organization, Zest Money guarantees high-growth businesses while developing EMI for clients of all sizes.
Guaranteed AOV 2.5-Fold Rise
Easy to Use Computerized Methods
Quick Process of Integration
Customers can pay their EMIs in a Variety of Methods, Including Websites, Apps, And In-Store Transactions.
Customers Who Do Not Have A Credit Card Can Take Advantage Of EMI.
No Penalty for Paying In Advance.
A Clear Fee Structure
No Hidden Charges
Zest Money Startup – Founders
Lizzie Chapman – CEO, London
Priya Sharma – CFO, Delhi
Ashish Anantharaman – CTO, Mumbai
Fun Fact : Zest Money employs approximately 200 people.
Zest Startup – Tagline & Brand Name
Brand Name: The term 'Zest' stands for positive emotions like enthusiasm, zeal, and passion, and so the word 'Zest' in 'ZestMoney' indicates Zest Money's speedy loan of money, making borrowing money a joyful rather than a stressful experience.
Tagline - "EMI for everyone."
Zest Money - Investors & Funding
Zest Money is currently valued over $190 Million & has raised investment from several investors, including:
| | | | |
| --- | --- | --- | --- |
| Date | Lead | Investors Stage | Amount |
| September 2015 | Omidyar Network & Nelson Holzner | Seed | $2M |
| December 2016 | PayU | Series A | $6.5M |
| August 2018 | Xiaomi | Series A | $13.4M |
| January 2019 | Alteria Capital | Debt Financing | - |
| April 2019 | Quona Capital | Series B | $20M |
| December 2019 | Goldman Sachs | Series B | $15M |
| March 2020 | Primrose | -- | $4.6M |
| May 2020 | Primrose | -- | $3.06M |
| June 2020 | Primrose | -- | $3.58M |
Zest Money Startup - Competitors
Zest Money startup has an advantage of the established skilled team & highly processed technology over its competitors, which includes:
Snapmint
KredXIndia
LazyPay
Finzy
Zest Money Startup Revenue Model – Commissions
Merchant partners, lending partners, and borrowers all pay Zest Money commissions. According to growjo.com, Zest Money's annual revenue is predicted to be $26.1 million. Zest Money said that it received 500,000 applications per month in 2019 and that the number is projected to rise. Zest Money grew by 2,706% in one year in terms of revenue growth.
Fun Fact : In 2019, the startup got an NPS rating of 75, higher than Amazon and Uber.
Zest Money Business Model – AI-Based Selection
Every borrower has a risk profile created by Zest Money's AI-based machine learning decision engine. Those who do not have a sufficient credit history need to supply some more information, which Zest Money's Decision Engine uses to assess the borrower's credibility and lend him money.
Sign up & Know your Credit Limit
The startup offers personal loans by simply signing up for Zest Money and completing the KYC process to access the Zest Money Credit Limit. After being authorized, a user is given a credit limit based on his eligibility, which he can use to pay any of Zest Money's 3000+ merchant partners.
Zest Money Startup – Payment & Merchant Partners
Zest Money has worked with a variety of notable brands, including:
Merchant Partners:

Amazon,
Flipkart,
Myntra,
SleepyCat,
Xiaomi,
NestAway,
Make My Trip,
UpGrad,
Raymonds,
Nutrabay,
Levis,
Home Central
Sulekha,
FabIndia,
Pantaloons,

Payment & Lending Partners:

DMI Finance,
Fox Capital,
PACE Finance,
Northern Arc,
SMC Finance,
Nahar Credits,
InCred,
Muthoot Finance,
CSB Bank,
Ghalla Bhansali,
IIFL,
Hedge Finance
Fun Fact : In Mar 2021, Zest Money was ranked second in Deloitte Technology's 50 fastest growing technology businesses in India ranking
Zest Money – Future Plans
In the future, the company intends to expand its product development and partnerships at a faster pace. While some Zest Money Merchant Partners, such as Xiaomi, Titan, and Croma, accept Zest Money EMI at their offline stores, the firm is partnering with more merchants to allow users to pay with Zest Money EMI in more locations.