Learn How to Crack Indian Market? Story of $250M Startup Cashfree
India is a favourable market for all businesses. It supports various conditions and is very suitable when it comes to startups. Recently around 10 Indian startup companies got unicorn status which shows the strength of the Indian market.
FinTech in India is in boom and, the government's dream of 'Digital India' is helping them a lot. The demonetization drive in 2016 also helped in the growth of these companies.
Cashfree Startup Story - Introduction
Cashfree is a FinTech and Digital Payments Startup company. The company was founded just a year before the demonetization drive, that is, in 2015. It helps in sending and accepting money; in short, it is a full-stack payment solution.
Finance and Technology are two main pillars of the Indian economy and, startups like these help the country grow. Such companies got overnight limelight and success after the demonetization and, since then, there is no looking back for them.
Cashfree Startup Story - Key Points
Company Type - FinTech/Digital Payments (Startup)
Founding Year - 2015
Headquarters - Bangalore, Karnataka
Founder - AkashSinha (CEO)
Co-founder - ReejuDutta
Website - cashfree.com
Cashfree - Founders
Akash Sinha (CEO), an IIIT-H (International Institue of InformationTechnology, Hyderabad) graduate and an ex-Amazon employee, is the founder. He has a background in tech and has also worked with a FinTech company before.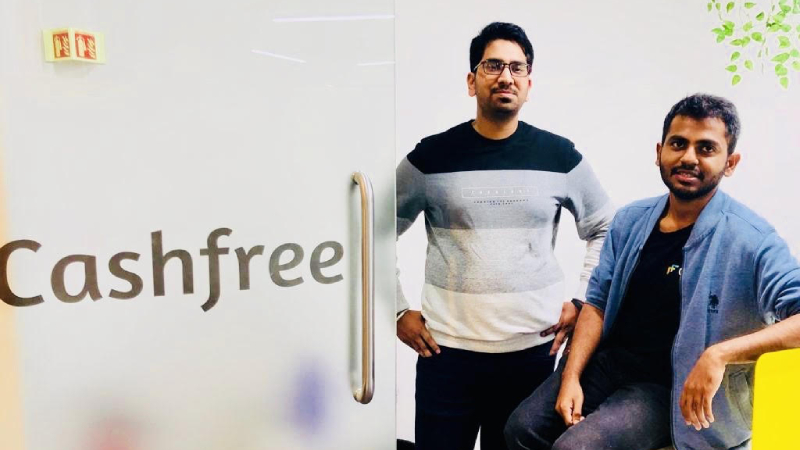 RajuDutta, an IIT-K (Indian Institute of Technology, Kharagpur), is the co-founder. Raju has worked for an e-commerce website before as a marketing head. He also has a vast knowledge of digital marketing.
Both of them got introduced by a mutual friend. They further became good friends and shared the same idea. It ultimately leads to the building of this company.
Cashfree Story - Brand Name and Logo
Cashfree, as the name suggests, makes cash transfer easier for businesses and individuals.
The company's Logo is in simple blue colour, which signifies trust, positivity, and loyalty.
Cashfree Startup - Business Model
The app offers a platform for digital payments. It is a payment solution that eases the mode of sending and receiving money. It is used by 50,000 plus individuals and businesses daily for money transfer, wage payment, refunds, vendor payouts, etc. The company charges a fee of anywhere around 1.5% to 3% of the value of proceedings.
The company also has a strategy of customer retention as they minimize the difficulties caused during the payments. It has a high success rate and has also helped the company gain the trust of its clients and customers.
Cashfree - Investors and Funding
Cashfree is around six years old startup company, and in this short period, the company has raised a good amount of funding.
It raised 5.5 million dollars in the Series A stage in the year 2019. The investors were VellayanSubbiah, George Osborne, and Y Combinator.
It raised 35.3 million dollars in the Series B stage in the year 2020. The investors were Y Combinator and Apis Growth Fund II.
In total, the company has been successful in raising 42.5 million dollars. The investments have helped the company to work towards its vision. They are planning to create a dynamic base in India and emerge into several markets.
Cashfree - Competitors
Competitions are a big part of our lives. When it comes to startups, the challenges are never-ending. One of the biggest challenges for entrepreneurs is to face their competitors. Some of the powerful competitors of this FinTech startup are:
Paytm
Mobikwik
JioMoney
Airtel Money
Google Pay
PayPal
Cashfree Story – Achievements
In 2021, the CEO, AkashSinha, and the co-founder ReejuDutta got listed under Forbes 30 under 30.
In Deloitte Technology Fast 50 India, Cashfree secured 5th position as the fastest-growing tech company in 2020.
Cashfree - Services
Cashfree is used by over 50,000 plus people including, businesses, vendors, etc. It is an instant money transfer app and one of India's leading API banking platforms. It provides various services to its clients/customers. Some of those are:
Instant Refund
On-demand Payouts
Pre-authorization
Bank Account Verification
Instant Settlements
Subscriptions
Recurring Payments
Cashfree - Growth and Revenue
Cashfree is one of the leading FinTech companies in India. Several people and businesses used this app. Some of its main clients are BigBasket, Delhivery, Cred, Zomato, ZoomCar, etc. It also supports several e-commerce websites such as Vero Moda, Nykaa, EaseMyTrip, etc.
The revenue of this company in 2020 was 100 crores and, the company was able to make a profit of 20 crores. In the financial year 2020-21, the company plans to grow by 2-2.5 times in volume and revenue.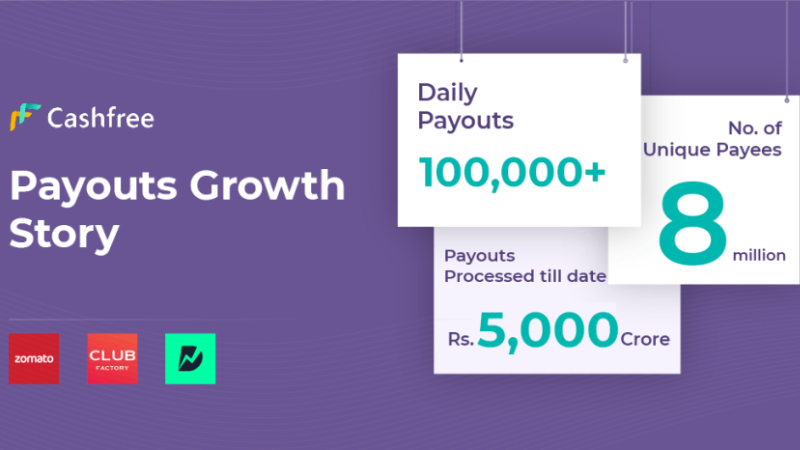 The company is currently dealing with millions of transactions per day. Also, they are planning to handle around 5 million transactions by the end of this year. Apart from Bangalore, they have their offices in Mumbai, Delhi, and Chennai.
Cashfree - Challenges
Startups and entrepreneurs have to face a lot of challenges to survive and grow. Some of the difficulties and challenges in their path are:
COD payments Cash on Delivery payment services offered by almost all the commerces companies has disturbed digital payments. Customers find the COD more trustworthy as compared to the digital payment mode.
Customer Trust The most significant part of any business is to build customer's trust. People in India still fear the digital payment mode due to several scams. Gaining the confidence and trust of the older generation is a huge task and, they prefer the conventional way of payment over the digital mode.
Complicated Industry There are several obstacles when you are in this industry. Maintaining a smooth relationship and healthy partnership with the banks is a tedious task. Banks also fear while working with these startups as they can lose their reputation.
Cashfree - Closure
Cashfree is a perfect example of an ideal and successful startup story. The company has gained a lot of recognition and respect in just six years. With a lot of competitors and challenges, the company has still managed to survive. It is an inspiration for all those who are planning to step into the FinTech industry in India. If you are passionate and confident about your idea, you can achieve anything you want.