Eupheus Learning Startup - Squeezing Education Market to the Core
Eupheus Learning Ed-tech is a Delhi-based firm that aims at providing educational help to students in the K-12 segment & solutions for in-school and at-home learning needs. It pedagogically offers solutions that lead to deep thinking and achieving higher learning outcomes by providing solutions to home-learning and the private school sector of Pre-K to 12th class. Today, in this write up, we will deep study the right & left of this Ed-tech and try to understand its way to success.
"Inspiration and ideas are born when you notice the gaps between the needs and what is offered in a market" – said Sarvesh Shrivastava (The CEO of Eupheus learning)
Eupheus Learning – Startup for K-12
Eupheus Learning is a Delhi-based Ed-tech firm that aims at providing a bridge gap between school textbooks and at-home learning solutions. It was founded in June 2017 by the United Education Company. It specializes in k-12 curriculum, coding, E-learning, Senior School solutions, primary school solutions, ICSE and CBSE circulated textbooks, TOEFL, Atal Tinkering Lab, Digital Library, Fiction online books, Live Books, Digital Learning, Reading Program, Kinesthetic Learning, Digital Learning Resource, and Teacher Support.
Eupheus Learning – Key points
Company name: Eupheus Learning
Founded: June 2017
Founders: Sarvesh Shrivastava, Ved Prakash Khatri, and Amit Kapoor.
Headquarters: New Delhi
Type of Sector: Ed- Tech
Parent: Proficiency Learning Solutions Private Limited
Revenue: 600 million
Eupheus Learning Startup – Founders
Sarvesh Shrivastava - CEO and MD of Eupheus Learning Eupheus Learning was founded by Sarvesh Shrivastava who was a former employee at Britannica. He has also worked at Corning, Telecom Australia, NIIT, Pearson, and General Electric. He pursued his bachelor's and master's in Science degree from The University of Illinois. He has over 30 years of experience in this field and looks after the management of the company. Besides, he also looks after the production, development, technology, and administration
Ved Prakash Khatri – Co-founder and Director Ved Prakash Khatri is the co-founder and Director of Eupheus Learning. He has worked with Suman Prakashan, Ratna Sagar, and Oxford. He is a graduate from Lucknow University and has over 23 years of experience in the educational sales industry. He is in charge of looking up at the curriculum.
Amit Kapoor - Co-founder, Director, and CFO Amit Kapoor is the Co-founder, director, and CFO of Eupheus Learning. He has worked at NIIT, Centum Learning, Britannica, and Across World Education. He has a PGDM degree from T.A. Pai Management Institute, Manipal and has over 15 years of experience in this field.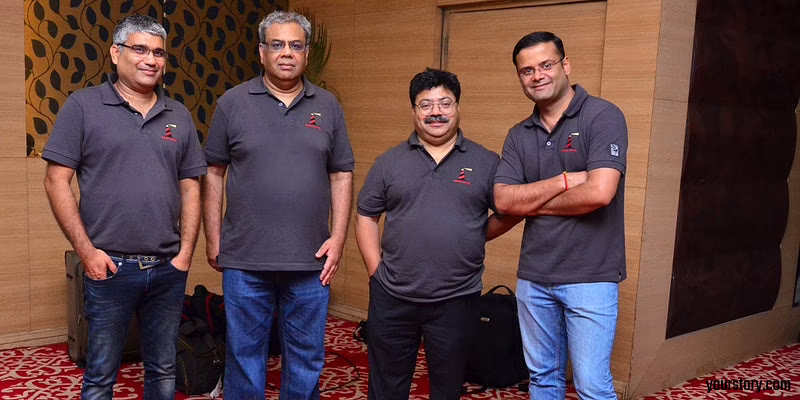 Eupheus Learning's Founders (L-R): Ved Prakash Khatri, Sarvesh Shrivastava, Rohit Dhar and Amit Kapoor
Fun Fact: Most of the employees at Eupheus Learning are former employees at Britannica.
Eupheus Learning – Services
Eupheus Learning provides seamless end-to-end educational guidance for both in-class and at-home learning through their solutions, reference books, and learning materials. It provides solutions from Pre-K to 12 segments.
Products and Services provided:
Sanako(Finland): Language learning solution which is both provided offline and online means
Cubeto(UK): Coding program provided to eight-year-old kids
Fiction Express(Spain): Program for reading in the form o books
Wizefloor(Denmark): Interactive form of teaching in form of a learning program
Robogarden(Alberta, Canada): Gamified form of teaching coding which is done in a very fun manner i.e. through missions, journeys, adventures
Allied Publishers: Curriculum for ICSE and CBSE boards students
Eupheus Learning – Brand Name & Logo
Brand Name: It has been named Eupheus for making a huge difference in the educational sector. The word Eupheus is a Greek word that means "to seek knowledge".
Logo: The logo depicts a pencil with red and black stripes.
Eupheus Learning - Investors
Eupheus Learning is funded by over 4 investors:
United Education Company
Al Rayan Holding Company
Yuj Ventures
Sixth Sense Ventures
The most recent investors of Eupheus Learning are- United Education Company, Al Rayan Holding
Eupheus Learning - Funding
Eupheus Learning has fundraised over $8.4 million funds in about 3 rounds.
| | | | |
| --- | --- | --- | --- |
| Investors | Amount | Date | Round |
| United Education Company | $4.1 million | 15th February, 2021 | Series B |
| Yuj Ventures | $4.3 million | 22nd January, 2020 | Series A |
| Sixth Sense Ventures | - | 29th October, 2018 | Seed Round |
Eupheus Learning – Competitors
Note: Eupheus Learning's target is to reach 10 million students in India
Eupheus Learning Story – Achievements
It secured third position for the best training practices for the 8th Genius HR Excellence award in the year 2018.
It is regarded as the top 3 startup that has reshaped the educational industry in India.
It is has made a change in the educational techniques provided to kids.
It is regarded as one of the 20 most promising K12 tech solutions providers.
It has been featured in CNBC Awaaz for its inspiring growth story in the year 2018.
Note: Eupheus Learning goal is to provide educational solutions in a 21st-century manner.
Eupheus Learning Startup – Growth and Revenue
The company first started in the year 2017. During the first year, it was able to reach over 1800 schools and 1 million+ students.
In the second year, it doubled and it reached up to 3700 schools and 3.3 million students. It had a growth of about 15% in in-classroom and 60% in home learning. It has crossed over Rs. 60 crore in his second year of its operation
Eupheus Learning Story – Partnerships
ETS
BBC Muzzy
Sanako
Fiction Express
Pickatale
World Book
Robo Garden
Eupheus Learning – The 21st Century Learning Solution
It is a modern solution to this modern world. Eupheus Learning is one of the newest and easiest solutions to solve educational problems both in an online and offline form. Its exclusive and unique services have made the everyday hassle life of students easy. It is a 21st centuries learning solution that has been all across the globe. It has created a great impact on more than 10 million students in India and across the globe.