BharatPe - The Simple Idea of QR Code Based Payment Solution App
BharatPe allows its users to make payments through any UPI apps using just one interface. It is a QR-code-based app for payments and gets used by offline businessmen/women and retailers. They allow the free acceptance of money through their QR code and one only has to sign in and make their account. You can directly receive your money into your bank account. Let's get to know its success story, whose intention is to help all individuals.
Fun Fact: The company accepts payment from 100+ mobile apps on India's UPI system through a single QR code.
BharatPe Startup – Key Points
Startup Name - BharatPe
Headquarters - Delhi, India
Founded - 2018
Founders - Ashneer Grover and Shasvat Nakrani
Sector - Fintech
Website – www.bharatpe.com
BharatPe Startup – Founders and Team
Ashneer Grover – He is the founder and CEO of the company. Grover completed his graduation from the IIT, Delhi. He was the head of PCJ and also worked for Amex India and Grofers.
Shasvat Nakrani – Nakrani is the co-founder of the app. He is also an alumnus of IIT, Delhi. He graduated in Textile Technology from IIT in 2019.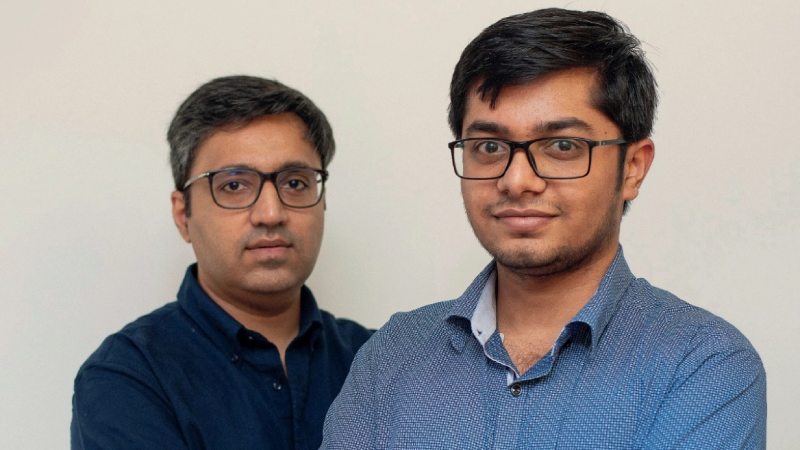 BharatPe Startup – Founders
BharatPe – Brand Name, Logo, and Tagline
Brand Name The firm name goes exactly with its work. It is the first UPI BahiKhata for merchants and the first fin-tech startup in India that allows retailers and businessmen/women to make offline payments.
Taglines

Ab se Dukandar is King
Apne Parivar and Shop ko Rakhe Insured
BharatPe Startup – Business Model
The company accepts payment from 100+ mobile apps on India's UPI system through a single QR code. Users can scan the QR code from their mobile and, the app accepts payment from all the renowned payment applications. The merchants get the money transferred to their bank accounts in real-time. Now, all the businessmen/women can run their businesses with no worry.
Note : Mobikwik, Paytm, BHIM, Amazon Pay, Google Pay, Freecharge, Whatsapp, and Truecaller accept payments through BharatPe.
BharatPe Startup Story - Revenue Model
The company's revenue model is providing its users with digital payments platform. They also have a separate app for the merchants where the company credits them for their transactions.
The company boosts its revenue by counting the application usage and interdependent cyclical connection of credit. For such startup companies, they need to focus on the merchant side of the business.
BharatPe Success Story – Funding and Investors
The company has successfully risen a funding of $640 million in eight rounds. They are also looking to raise a debt investment of nearly INR 1300 crores that seems to be the biggest debt investment round for any Indian startup this year.
Some of its investors are as follows:
$2 Million - Seed Round, By BEENEXT and Sequoia Capital India, 2018
$14.5 Million - Series A Round, By Sequoia Capital India, 2019
$50 Million - Series B, By Insight Partners, Rabbit Capital, 2019
$75 Million - Series C Round, By Coatue and Rabbit Capital
$33.5 Million - Debt Financing, By Alteria Capital, Innoven Capital, and Trifecta Capital
$108 Million - Series D, Coatue Management, 2021
$6.7 Million - Debt Financing, Northern Arc, 2021
$350 Million - Series E Round, Tiger Global Management LLC, Coatua Management and Rabbit Capital, 2021
According to the reports, BharatPe was going to become the next Unicorn startup in July 2021. They have many investors and, a New York-based firm is also planning to invest $100 Million in the company. After this investment, the valuation of the company will increase to $2.5 Billion.
BharatPe Story – Growth
According to the reports, the company has seen massive growth in the past years.
It is the fourth largest in the market after Paytm, PhonePe, and Google Play.
It has also launched the Bharat Gold Scheme that offers digital gold products on its platform.
They also launched BharatSwipe in 2020, which is a card payment machine.
BharatSwipe is the first machine in India that offers a zero rental swipe facility. It received an overwhelming response since its inception.
Their overall business also saw a boost after the introduction of BharatSwipe.
They have already got over one lakh installations for BharatSwipe Machines across 17 cities.
It supports a transaction of INR 1500 crores every month.
The startup has also received good responses from small business owners including, restaurant owners, Kirana store owners, small entrepreneurs, etc.
BharatPe – Brand Ambassadors
BharatPe signed a lot of Indian celebrities as their brand ambassador in the past few years. Some of its brand ambassadors are:
Rohit Sharma
KL Rahul
Jasprit Bumrah
Ravindra Jadeja
Shubhman Gill
Shreyas Iyer
Suresh Raina
Mohammed Shami
BharatPe – Competitors
BharatPe has a lot of competition in the market. Some of its competitors are as follows:
BharatPe Startup – Future Goals
Some of the upcoming plans and goals of the company are as follows:
They launched a button Paisa Bolega that announces the transactions loudly to the shopkeepers. The company is planning to disburse around INR 700 crores into this.
They want to scale up their POS business (They are currently the third-largest player in this business).
It aims to reach $6 Billion in annualized TPV by the end of the next financial year.
It is planning to increase its overall reach by five times.
They plan to popularize BharatSwipe across 80 cities in India by the end of FY 2021-22.
BharatPe – Receive Payment Anytime, Anywhere
The company has worked tremendously hard in the past year and saw significant growth in just 2-3 years. They are one of the players in the market with a good market share. This startup is helpful for all business owners as it makes their jobs hassle-free. The company is coming up with various new features and, in no time, it will become the most popular payment interface in the market.