FreshtoHome Story: Building Loyal Customers by "Meating" Fishes
Freshtohome is an online grocery store where customers can purchase a variety of seafood and meat. FreshToHome, an Indian e-commerce startup that sells fresh vegetables, fish, chicken, and other types of meat, has raised $121 million in new funding round, citing the coronavirus pandemic catalyst for its rapid development.
Fish, pork, mutton, steaks, and fillet are among the items available on the website. Shellfish, freshwater fish, and sea fish are all forms of fish. It also allows vendors to supply the website with fish and meat.
About FreshToHome
FreshToHome, which has been operating for over five years, sells fresh vegetables and meat, including chicken and fish, in cities such as Bangalore, Mumbai, and Pune. It also has a presence in the United Arab Emirates. Following the completion of the new round, Freshtohome plans to expand to six to eight new towns, according to sources.
FreshToHome, in addition to selling fresh vegetables and meat, entered the milk delivery market last year and acquired milk delivery startup Doodhwala to expand the vertical.
FreshtoHome: Business Model
The app follows a straightforward and gamified model. When a fisherman opens the app, the camera "reads" the fish and senses the variety and scale, allowing him to place his offer. One or two "feet on the ground" bid at auctions, pick up the catch and transport it through the cold chain to respective hubs on the other end.
FreshtoHome: Basic information
Founded - 2015
Headquarters - Bangalore, Karnataka, India
Status - Private
Employees - 17,000
Latest deal type - Series C
Latest deal amount - $121M
Investors - 26
Website - www.freshtohome.com
FreshtoHome Founders
Shan Kadavil Shan Kadavil is a multi-talented person. He has worked with and operated businesses in various domains, from being one of the founding members of Zynga (of Farmville fame) to now operating an eCommerce business for fresh seafood and meat.
Mathew Joseph When Mathew Joseph, a big fish exporter with his own eCommerce company and admittedly Kadavil's favourite when it came to buying seafood, ran into financial difficulties, he came up with the idea FreshToHome. Though Kadavil was initially just an angel investor in Joseph's company, he soon realized the potential and decided to take it to the next level.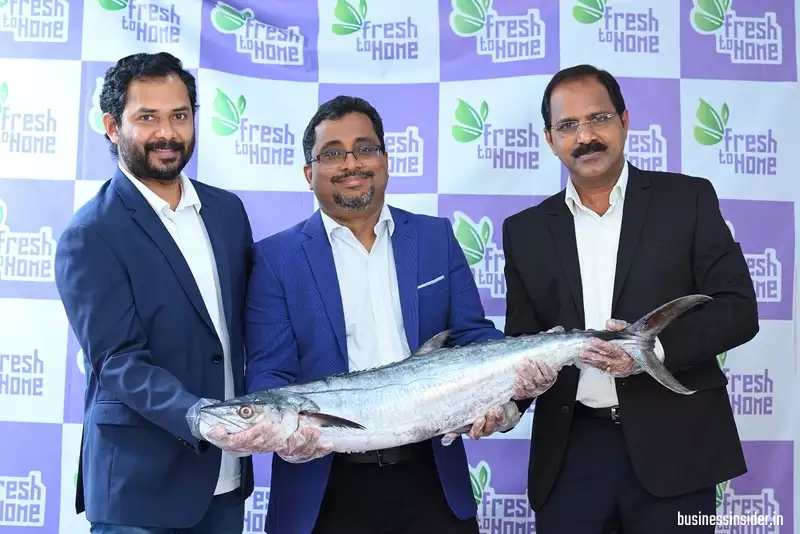 FreshtoHome Story
That is how Shan Kadavil and Matthew Joseph decided to start their own company.
Brand Name and Logo
Brand Name FreshToHome, as the name implies, brings you fresh, chemical-free fish and meat right to your door. The Indian delivery service's visual identity is a representation of the company's name and essence. Freshness and lightness are evoked by the logo, which is drawn in a vivid and vibrant colour palette.
Logo The custom logotype, which is strong and modern and uses a bold typeface with straight angles and lines, evokes a sense of stability and professionalism. The wordmark is drawn in a light purple colour, representing imagination and balance, and adds crispness and vitality to the logo.
FreshtoHome Funding and Investors
Recently, Freshtohome managed to get a total investment of $121M. In total, there are 26 investors and 6 lead investors in the firm, namely:
Abu Dhabi Investment Office
Investment Corporation Of Dubai
Ascent Capital
Iron Pillar
Investcorp
The Allana Group
FreshtoHome Startup Competitors
Food distribution, like all other markets, faces a lot of competition. Freshtohome's main rivals include the following:
Licious
Wholey
Paragon
Aqua star
City Fish Market
FreshtoHome Startup Challenges
Like any other startup company, Freshtohome faced various challenges as well -
Payment Handling FreshToHome began to have difficulties collecting payments from customers. Customers put an order and paid for it, but FreshToHome did not obtain the funds. The problem was caused by flaws in the payment capture and authorization mechanism. As a result, there was a sales loss as well as a bad customer experience. Customers began to lose faith in the company, which is not a position any company wants.
Declining customer trust Along with mounting sales losses, the immediate effect was a lack of consumer confidence, which is a difficult issue for any startup to fix. FreshToHome was able to integrate and go live with the latest payment solution in just two days, thanks to Razorpay's comprehensive documentation. FreshToHome's customers benefited from the 24-hour service, which helped them resolve urgent payment problems
FreshtoHome: Lessons
Shan is a seasoned entrepreneur who has founded four companies, including Dbaux and SupportSoft. Shan served as the India Head of Zynga, the developer of Farmville, which once ruled the roost, before joining FreshToHome as a Co-founder and CEO.
Face Difficulties Shan, like any other entrepreneur, had his share of setbacks along the way, but he had the perseverance to emerge victoriously. "In my early career, I started a gold processing plant in Dubai, but the business collapsed due to a sharp drop in gold prices in 2007." My morale plummeted, and I lost a significant amount of money.
Another business I started had a similar issue. When a disaster strikes, my first thought is to imagine the worst-case scenario: mortgaging my house and other valuables. Nothing is more deplorable than becoming a pauper. It helps to alleviate some of my discomforts.
Focus on key areas Founder advises aspiring entrepreneurs. Your primary goal should not be to raise money; instead, it should have a positive customer experience. It's a pain in the neck to get money. However, when raising funds, be more frugal about your expenses. Be a responsible business owner."
Conclusion
FreshToHome's unique collaborative approach with fishermen and farmers, as well as their use of tech-based procurement solutions, offer them an advantage in establishing themselves as the most dependable brand in the segment and a potential market contender.