This Startup got 1.5 Lakh Customers in 2020: Freshworks Startup Story
Freshworks offers SaaS customer experience solutions to companies & offers services through their products. The company sells items that promote teamwork and help teams interact and communicate with their customers and coworkers more effectively.
9 Freshworks Products:
Freshdesk,
Freshmarketer
Freshsales
Freshservice,
Freshteam,
Freshchat,
Freshcaller
Freshconnect
Freshping
Freshworks Story Introduction
Freshworks creates cutting-edge customer experience tools for companies of all sizes, making it simple for teams to attract, close, and retain long-term customers. Freshworks SaaS products offer you a 360-degree view of your customers, are ready to use and have a fast payback. Girish Mathrubootham and Shan Krishnasamy formed Freshdesk (former name) in October 2010.
Basic Information
Founded date - 2010
Headquarters - San Francisco Bay Area, silicon valley, west coast
Founders - Girish Mathrubootham, Shan Krishnasamy
Operating status - Active
Last funding Type - Secondary market
Former name - Freshdesk
Legal name - Freshworks Inc.
Freshworks: Services
On their website, Freshworks lists ten items. Rather than going into great depth on what each one does, we'll only offer quick overviews of who they are and what they do:
Freshservice Freshservice is the IT service desk app from Freshworks. Freshservice is mainly used by IT and HR teams who want to improve the event, SLA, mission, inventory, and knowledge management by using automation, multi-channel support, and team collaboration features. Users who want to work on several tasks at the same time can use their powerful dashboard. These dashboards also provide powerful analysis tools that make it easier for users to understand the data.
Freshdesk Freshworks' helpdesk ticketing program is called Freshdesk. Ticket management, ticket assignment, follow-ups, and prioritization are just a few of the strong automation available. They have important reporting features that show support teams how to improve their strategies. They also have self-service solutions for consumers who want to solve issues on their own. This ensures that agents are only concerned with problems that are difficult and need their attention.
Freshcaller Freshcaller is the call center solution from Freshworks. Freshcaller is marketed to small businesses that want to improve the efficiency of their call center with features such as efficient automation, vanity numbers, global numbers, voicemail, multi-level IVR, a call center mobile app, a dashboard, and call metrics. All of this contributes to small teams remaining relevant by providing a strong customer and user experience. This frees agents and customers to concentrate on what matters most: the situation at hand rather than the hardware in place.
Freshworks Founders
Freshdesk was founded by Girish Mathrubootham and Shan Krishnasamy in October of 2010. In 2017, it was renamed Freshworks. The company's headquarters are in San Bruno, California, and it has branches in India, the United Kingdom, Australia, and Germany.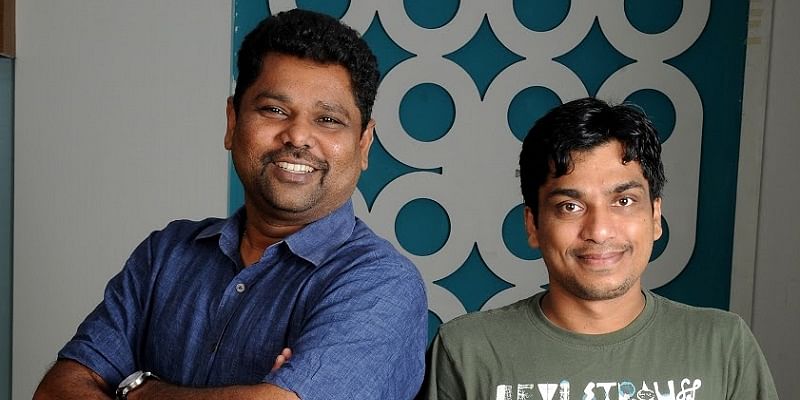 From left: Girish Mathrubootham and Co-founder & CTO Shan Krishnasamy.
Brand and Logo
Brand Name The company realized right away that if they were to reconsider the name, it had to capture the essence of freshness which made them think, a beach stroll at sunrise.
Logo There's a smidgeon of a morning wind blowing through the grass, a cup of cocoa to go with the raindrops on the window glass. Waterfalls are a beautiful sight. Bread loaves that is still warm. That is how they came up with the design of the logo.
Investors
FreshWorks was able to manage to get funding and investors from various companies -
Accel
Tiger Global Management
CapitalG
Sequoia Capital India
Freshworks Funding
In November 2011, Freshworks received $1 million in Series A funding from Accel Partners.
Tiger Global and Accel Partners invested $5 million in a Series B round in April 2012.
Accel Partners invested $7 million in a Series C round in November 2013.
Freshworks raised $31 million in Series D funding from Tiger Global Management, Accel Partners, and Google Capital in June 2014
The company raised $55 million in a Series F round from Sequoia Capital India and Accel Partners in November 2016.
Freshworks raised $100 million in a Series G round in July 2018, led by Sequoia Capital and Accel Partners, with participation from CapitalG.
Freshworks Major Challenges
Lack of Sync between Vendor & Company Companies that use field teams must identify the complexity of their current issue to the software provider, as well as their expectations for the software's implementation. Companies must consider the cost, time, and quality aspects of implementation and prepare to accommodate any implementation issues.
Not Being Prepared When a program implementation is carried out in an organization, the organization must be pragmatic and recognize that change management is also involved. Process changes, employee productivity, training methodology, and so on should all be factored into the organization's time and money budget. When a company moves from on-premises to cloud computing, for example, questions about internet connectivity, data redundancy, and downtime must be handled by the company based on the software vendor's advice. Before the launch, employees must be educated, and their input is taken into account.
Lack of Process Mapping Utilize the capacity of any field service applications without a thorough understanding of their underlying business processes. If field service tools are closely integrated with the underlying business processes, they can help you automate processes, function on SLAs, and provide a better return on KPIs. During implementation, better automation rules can be set in the program. It's a good idea to start with a business process analysis and process mapping. After this phase is completed, the tool will delete any unnecessary processes.
Conclusion
So, this was all about Freshworks startup story. The company has done a brilliant job with its services & been in the market for a decade. They managed to thrive despite all the challenges. The company's ultimate solution is to let firms concentrate on what matters most: the situation at hand rather than the hardware in place.