This New Startup Controls Software Company Spending: Quolum
SaaS (Software as a service) is gaining momentum during these technological times. It is a business model in which software access is provided on a subscription basis. This means that the program is not installed on your computer but accessed through the browser via your username and password.
But often, it becomes difficult for businesses to manage and monitor their SaaS costs. Therefore an efficient technology for the same was the need of the hour. This is precisely what Quolum startup tries to solve through its SaaS card.
This article will look at the story and other details of this unique startup.
Quolum - Introduction
Quolum Inc. is a great startup that focuses on expense management tools for SaaS subscriptions. It helps companies in setting up, automating, and managing their SaaS subscriptions. Through the help of this startup, companies will control their technology costs and specialize in bills managing, invoicing, and payments.
Quolum Service Example
Let's understand the functioning of Quolum with the example of an electricity bill. When you get an electricity bill, you get a breakdown of costs on power generation, transmission, distribution, subsidy, municipality charges, etc. This helps you to understand what you are paying for. Similarly, in a SaaS subscription, it is vital to assess the value to calculate the cost better.
Quolum Startup- Key points
Founded in: 2019
Founder: Indus Khaitan
Legal name: Quolum Inc.
Headquarters: San Fransisco, Bay Area, West Coast, USA.
Company type: An application for better management of SaaS product
Quolum - Founders
Indus Khaitan established Quolum startup in 2019. Khaitan, who originally belongs to Dhanbad, Jharkhand, is a former Birla Institute of Technology student. He has worked with popular established companies like Oracle and Chargebee as Senior Director in Product Management. He had also been an advisor to Sequoia Capital.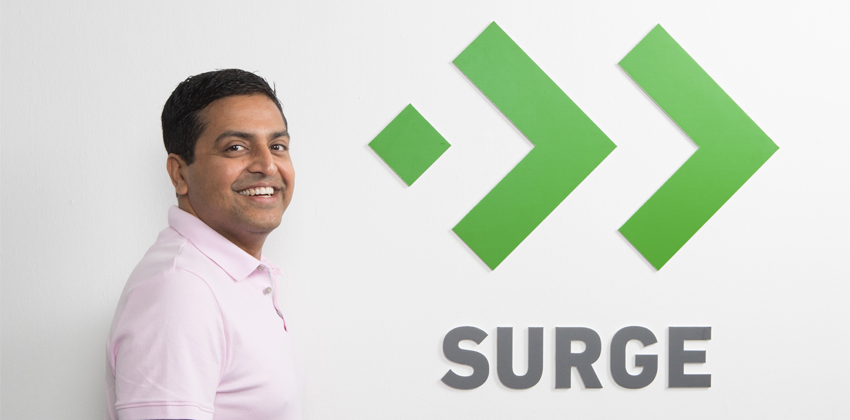 Indus Khaitan established Quolum startup in 2019
Quolum: Idea & Problem
Talking about the establishment of Quolum, Khaitan says that the sole purpose behind the startup was to solve the considerable problems in a company's software. He looked at the popularity of SaaS in the 20s, but he was depressed to see that only front-office businesses like Marketing, customer support, etc., have been the focus. He was shocked to see that back-office aspects of an enterprise are neglected.
He noticed that employees subscribed to softwares, but there were no decision-makers and the SaaS vendor. This led to security risks and long-term problems for buyers and sellers. So to gap the bridge between seller and buyer and spendings and utilization, he came up with this startup in 2019.
Quolum- Brand Name and Logo
Brand name Quolum name is inspired by the word Kolam which refers to an artistic design system depicting folklore, culture, mythology, and science.
Logo The logo of Quolum is a depiction of statistical analysis aggregation. It shows a detailed analysis of raw data, and on the top left, there is a pie chart.
It also contains a few dots that represent an atomic signal. It shows emission, tapping, and analysis of SaaS applications.
Quolum Card: Working
Quolum SaaS card is a password-free application. It helps businesses to analyze the effectiveness of every SaaS application that employees use. It is easy to sign up for this card. The card first collects information about the company's owner and employees. The company also needs to connect a bank account to check the fund's sufficiency. Then Quolum will aggregate all the SaaS transactions and sends a joint SaaS bill for the company.
This card also allows the company to set specific limits on SaaS subscriptions by the employees, limits on spending, and application blacklist for particular departments.
Features
Quolum has launched a Quolum card to help the companies control the spendings, monitor the SaaS consumption, process the invoice, and much more.
This card is freemium for now, which means that you don't have to pay for this card, but it offers only a limited number of features.
The startup allows you to go deep into the number of software units consumed by your company. This will help you to monitor the output from every dollar that you have spent.
Quolum card is a product that helps you to get more clarity on the spendings on Saas Subscriptions. Thus assisting the financial department of the company is looking into the utility of SaaS tools.
Funding
Recently Quolum startup received 2.75 million Dollar (Rs. 20.85 Crore) funding in a seed funding led by Sequoia Surge and Nexus Venture Partners.
Besides this, it also received Series C funding of around 150 million Dollars from Postman Inc., an Application Programming Interface.
Automation startup Giffy also contributed Dollar 18 million to this startup through Series A funding.
Quolum Competitors
Some of the major competitors of Quolum working in the same field are:
Future Goals
The company plans to launch paid Quolum cards for big companies that have annual revenue of $100-150Mn. But the founders have clarified that for those companies with an average rate of return ranging 8-10 million Dollars, the freemium product will continue.
Since the company's strong presence is limited to the US and Canada, the company is planning to venture into Indian and European markets shortly.
The founder, Khaitan, is also looking at partnership options for getting access to Indian markets that require approval from several regulatory bodies for these card transactions.
The startup also plans to release a private beta in the coming months for selected companies.
The company, which is presently a six-person development team based in Bangalore and the USA, plans to hire some marketing, sales, and engineering employees after earning some revenue. The founder, Khaitan, clarified that they would employ people worldwide to create a diversified workforce.
Learnings from the startup
There are many things that we can learn from the story of Quolum.
Gain Experience Every kind of experience adds to your value and broadens your understanding. The vast exposure that Indus Khaitan gained by working with different companies helped Khaitan to establish his startup. This shows the importance of experience in life.
Understand Market Need The second learning from the startup is that it is vital to understand the gaps in the market for the success of your product. The founder identified the gap between the front and back-office aspects in SaaS subscriptions and decided to develop a technology for the same.
Final Call
Quolum began with a freemium model, which is again an excellent strategy for attracting users. The founders clarified that they would follow a freemium model for small startups, but they will switch to paid plans for established businesses. This is also an excellent example of utilizing the freemium business model for the success of your business.
In a short span of 2 years, the startup managed to get a stronghold in the US and Canadian markets, which is an outstanding achievement. Overall the startup inspires us to think out of the box by understanding the market gaps and work hard to achieve success.