Success Story of Haptik: Leading Conversational AI Enterprise
Haptik is one of the world's largest, India-based enterprise Conversational AI companies. It was taken over by Reliance Industries Limited in 2019. It develops technology to allow companies to generate conversational AI systems that enable the users to talk in accessible language and free-format using text or speech with electronic devices and applications.
Highlights of Haptik
Legal Name: Jio Haptik Technologies Ltd.
Founded: 1 August 2013
Founders: Aakrit Vaish, Swapan Rajdev
Developer: Jio Platforms
Type of Company: Privately Held Company
Headquarters: Mumbai, Maharashtra, India
Number of Employees: 196
Type of Industry: Enterprise Software
Key People: Aakrit Vaish (Co-Founder & CEO), Swapan Rajdev (Co-Founder & CTO), Kartik Poddar (CBO), Saunil Shah (Vice President, Engineering), Prateek Gupte (Vice President, product), Ajay Lulla (Vice President, Finance & People) and Krupal Modi (ML Head)
Platform: Android, iOS, Web Browder
Available In: English
Total Funding Amount: $12.2 M
Latest Funding Type: Series B
Company Type: For Profit
Website: www.haptik.ai.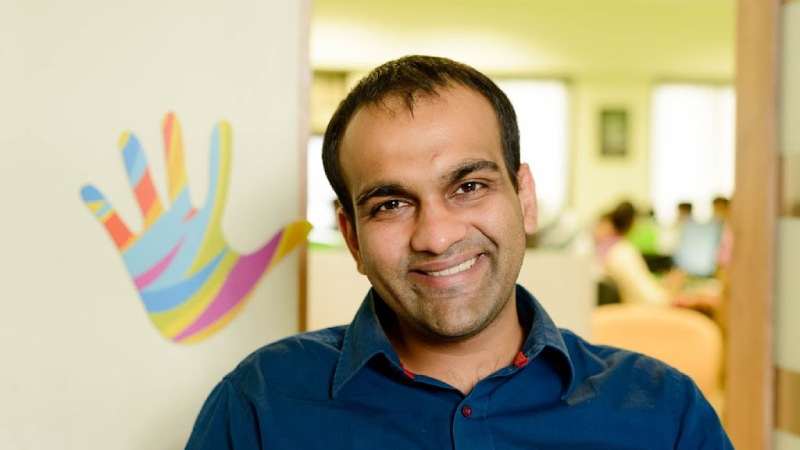 Haptik - Aakrit Vaish (Co-Founder & CEO)
Fun Fact: Haptik has reached more than 100 million devices and processed more than 3 billion conversations.
Haptik Story: Top Features
The Haptik app enables the users to book cab or flight tickets, do a web check-in, pay utility bills, recharge phones, set reminders, search places in their surroundings.
It uses artificial intelligence (AI), machine learning to produce exact and quick results.
It has been capable of creating alliances between humans and technology.
It helps them train their bots utilizing the expertise of human resources in customer service.
Haptik: Notable Work Timeline
Haptik was founded by two University of Illinois engineering alumni, Aakrit Vaish and Swapan Rajdev, in August 2013. Here's a short work timeline:
March 2014- The Haptik Assistant App, the company's first product, was launched. It is a chat-based personal assistant that helps users to make their work easier on their iOS and Android phones.
2015- Another student from the University of Illinois, Dan Roth, joined the board of advisors of Haptik to turn its basic NLP technology layer better. Also, the company became the official personal assistant of the Mumbai City FC in that very year and offered a customer support chatbot to Swipe Telecom.
May 2016- Haptik was increasing at 20 per cent month-on-month in user addition, volume chat, and downloads.
October 2017- The Times of India app integrated a virtual personal assistant service developed by Haptik with Sprite as the brand partner.
November 2017- Haptik had introduced a total business level bot management platform comprising a data dashboard.
March 2018- Haptik joined hands with Amazon Web Services (AWS) to offer Al-enabled conversational solutions to the users in India.
2019- Haptik built a new voice bot for KFC in 2019 in India, enabling the users to put orders, search for the nearest KFC restaurant and provides product availability news with the help of Alexa.
March 2019-The, Government of Maharashtra became partners with Haptik for its Aaple Sarkar platform. The company built a chatbot that offers conversational access to information concerning the state government-managed 1,400 services.
April 2019- Reliance Jio acquired Haptik at an 87% share in a $100 million deal.
July 2019- Haptik bought Convrg, a startup in Los Angeles to extend in North America.
December 2019- Haptik built 'Prof. Simply Simple', a chatbot for Tata Mutual Fund that copies the available content on their website and clears up the repeated questions, routine, and free customer support team to resolve difficult questions.
March 2020- Haptik developed MyGov Corona Helpdesk, a WhatsApp chatbot for The Government of India. It was created to spread create awareness.
Haptik Startup: Growth Numbers
Haptik is considered to have processed above two billion conversations for several platforms and companies.
Also, it has reported a 1,000 per cent year-on-year increment and has worked with famous brands such as Tata, Coca-Cola and Samsung in the recent past.
The company has come a long way with rating India's highest-rated mobile application and more than one million downloads in Play Store.
It intends to expand their services globally and is quite confident about receiving positive and successful results, just like it did in India.
Partners of Haptik
The biggest alliance of Haptik was partnering with the Indian government to develop the MyGov Corona Helpdesk and the Government of Maharashtra to make its Aaple Sarkar platform.
Also, it partnered with big companies such as Kotak Life, HDFC Life, Uber, Ola Cabs, Amazon Pay, Flipkart, Coca-Cola, GoIbibo, ClearTrip, Zomato, DineOut, UrbanClap, Mumbai City FC, Times Internet, Via.com and Ziman.
The company joined hands strategically with Leena AI, backed by Y Combinator to offer different bot solutions to all companies.
Also, Haptik developed chatbots for Indian companies like KFC, Club Mahindra, Future Group, Samsung, Ziman, Tokio, Edelweiss, Dream11, ShareKhan, TOI, IIFL, and Akancha against Harassment.
Investment Source Funding of Haptik
In September 2014, Haptik had raised $1 million in funding from Kalaari Capital.
Times Internet bought a large share in the company and invested $11.2 million in Haptik in April.
Also, in April 2016, in the Series B investment round, the company raised more than $11.2M from Times Internet.
In April 2019, Reliance Industries Limited bought a significant share in the company in a $100 million deal and highly benefitted from it.
Achievements of Haptik
Haptik has won several awards and recognitions such as
Recently, it was recognized as a Category Leader in G2 Spring Report 2021
Winner of the Aatmanirbhar AI challenge in the category of NLP.
Received the Global Business Excellence Award,
NASSCOM's Al Game Changer Award,
Global- CogX Innovation
People's Choice COVID-19 Award,
Pace ACX 2020 award,
"StartUp of the Year" award,
Best Customer/Vendor Partnership Award
Frost & Sullivan Award
Haptik Thought: Launching Local
Haptik will be establishing local languages in the system so that the rest of the people can access them. Also, more upgrades in the technological field will be brought up, which will provide them with more success.
Currently, many companies are bringing chatbots into their system and the demand is growing up relatively. This will help them to reach their goals and establish better opportunities.