Mobile Premier League Gaming Startup – Changing the Indian Trend
In India, the Smartphone market is expanding, as is the mobile game sector. As the adaptability of each Smartphone brand grows, more industries are recognizing opportunities in the gaming sector. People are enthralled by the thought of gaming devices that may be carried in one's pocket.
MPL has established up a strong position in the Indian market and is steadily expanding internationally. It's working on exciting new features for gamers as well as more user-friendly interfaces.
Mobile Premier League Startup – Indian Gaming Platform
MPL (Mobile Premier League) is an Indian online gaming platform founded by Sai Srinivas and Shubham Malhotra and situated in Bangalore, Karnataka. Fantasy Sports, Chess, Quiz, 8 Ball 3D Pool, Carrom, Free Fire, Rummy, Ludo, and other games are available on MPL to play. Those who win these online games are given real cash prizes by the corporation. Mobile gaming enthusiasts are drawn to MPL because of the different deals available on the platform and the MPL team's 24/7 support. MPL features over 40 online games that may be accessible through its mobile app.
Note : Mobile Premier League also allows players to interact with friends and rewards them for referring others to the game.
Mobile Premier League Startup - Founders
Sai Srinivas, CEO Sai Srinivas received his B.Tech in aeronautical engineering from IIT Kanpur. In 2009, Sai co-founded Base9 & CREO with Shubham, a firm that organized and promoted live events throughout India. Before launching CREO, he worked for Zynga, a social media firm, and for a short time with Hike Messenger.
Shubham Malhotra, Cofounder Shubham has done his Bachelors in electronics & instrumentation from BITS, Pilani, and has worked with Capillary Technologies. He co-founded CREO with Sai and worked with Hike after the startup was acquired.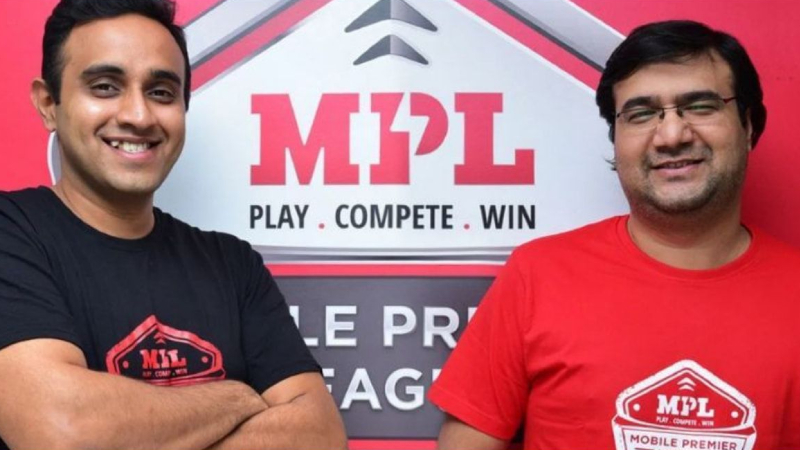 Mobile Premier League (MPL) Startup - Founders
Fun Fact : MPL Startup won the Best Fantasy Sports Operator Award in 2019
MPL Startup - Parent Company
Galactus Funware Technology Private Limited owns mobile Premier League. The company was established on May 22, 2018, as a private corporation & is registered with the Registrar of Companies in Bangalore as a "Subsidiary of a Foreign Firm." Galactus Funware Technology provides a variety of game apps, tournaments, cash prizes, and other services.
Fun Fact: Virat Kohli was named MPL's brand ambassador in March 2019.
Mobile Premier League – Brand Name & Tagline
Name: The term "Mobile Premier League" refers to the best selection of games available on mobile phones.
Tagline: MPL's original tagline was "Play.Compete.Win", but the new tagline is 'Game Khelo Hero Bano.'
MPL - Investors and Funding
MPL Startup was started in 2018 and has received a total funding of $225.5 million from different investors over five rounds. MPL is currently valued at over $950 million.
| | | | |
| --- | --- | --- | --- |
| Date | Lead Investors | Stage | Amount |
| November 2018 | Sequoia Capital | Seed Round | $5 million |
| April 2019 | Sequoia Capital India, BEENEXT, RTP Global, Venture Highway, Times Internet | Series A | $35.5 million |
| September 2020 | SIG | Series B | $50 - $60 Million |
| September 2020 | SIG, RTP Global, MDI Ventures, Pegasus Tech Ventures | Series C | $90 million |
| February 2021 | Composite Capital and Moore Strategic Ventures, RTP Global, SIG, Go-Ventures, Telstra Ventures, Founders circle and Play Ventures | Series D | $95 million |
Mobile Premier League Startup – Revenue Model
MPL generates revenue in various ways, and the success of MPL can be attributed to its business model. Following the revenue sources of MPL:
It charges participants an admission fee anytime they want to join in a game.
When the company runs tournaments, it deducts a hosting charge of 20% of the total money raised from the participants.
Advertisements and in-app purchases are used to monetize MPL's gaming apps.
Founders' Fact : Sai and Shubham co-founded CREO (a technology business) in 2014 before starting MPL. In 2017, Hike Messenger purchased CREO.
Mobile Premier League Startup – Growth Numbers
MPL has over four crore users and more than 40 games.
The startup is a member of IAMAI (Internet and Mobile Association of India), FICCI, AIGF (All India Gaming Federation), and TRF (The Rummy Federation).
MPL's income for FY 2019 was INR 2.87 crores, while its expenses were INR 89.46 crores.
MPL Startup is the official sponsor of Kolkata Knight Riders (KKR) and Royal Challengers Bangalore (RCB).
Mobile Premier League Startup - Competitors
MPL has established well its place in the Indian market, and the latest Funding is the evidence. However, it still faces stiff competition from many firms, including:
Dream11
My Team11
CricWin
Gaming Monk
Fan Fight
NODWIN Gaming
LXG
Winzo
Mobile Premier League Startup – Future Plans
So, this was all about the online gaming platform MPL. The startup's long-term goals include adding more games and expanding its user base. In addition, the organization intends to grow its commercial and technology relationships. Apart from this, the company has also entered the USA market this year and is growing exponentially.