How UpGrad is Building an Online Learning Empire with Universities?
UpGrad is India's leading online education platform that facilitates higher education and specialization studies for students. UpGrad has partnered with many colleges, including MICA, BITS Pilani, IITs, and Cambridge Business School to provide distance learning & the startup is currently valued at over $850 Millions. Digital Marketing, Data Analytics, Digital Technology Management, Data-Driven Management, and Product Management are some of their most popular courses.
UpGrad Startup – Key Highlights
| | |
| --- | --- |
| Startup Name | UpGrad |
| Headquarters | Mumbai |
| Founders | Phalgun Kompalli, Ronnie Screwvala, Mayank Kumar, and Ravijot Chugh |
| Sector | EdTech |
| Founded | 2015 |
| Valuation | $850 Million Valuation (April 2021) |
| Revenue | $ 22.4 Million (FY20) |
| Parent Organization | UpGrad Education Pvt. Ltd |
| Website | www.UpGrad.com |
UpGrad Startup - Founders
Ronnie Screwvala, Chairman Ronnie Screwvala is a well-known figure in the Indian television business. He is the producer of the UTV Group (formerly known as Walt Disney India), the Swades Foundation, Unilazer Ventures, AIESEC India's Board of Advisors, and RSVP Movies. Ronnie has secured many influential places in top magazines, including:

"Jack Warner of India" - Newsweek
"Asia's Most Powerful People" - Fortune Magazine
"75 Most Influential People of the 21st Century" – Esquire
"100 Most Influential People in the World" - Time Magazine's 2009

Mayank Kumar, Co-founder & MD Kumar is in charge of the company's general operations. He graduated from IIT Delhi with a bachelor's degree and an MBA from the Indian School of Business. BW (Business World) awarded him the prestigious BWDISRUPT 40-under-40 Achiever of the Year Award'17.
Ravijot Chugh, Product Development Ravijot Chugh graduated from IIT-Delhi with a Bachelor's degree in Computer Science and was named to Forbes Asia's 30 Under 30 list in 2018. In San Francisco, he also co-founded www.36hrs.in, a social travel business.
Phalgun Kompalli, Sales & Marketing Phalgun is an IIT Delhi graduate with a bachelor's degree in technology. Phalgun was a Principal with The Parthenon Group, an education strategy consulting business before UpGrad and has worked in higher education and technology-enabled learning in India, the United States, Brazil, Africa, and Southeast Asia.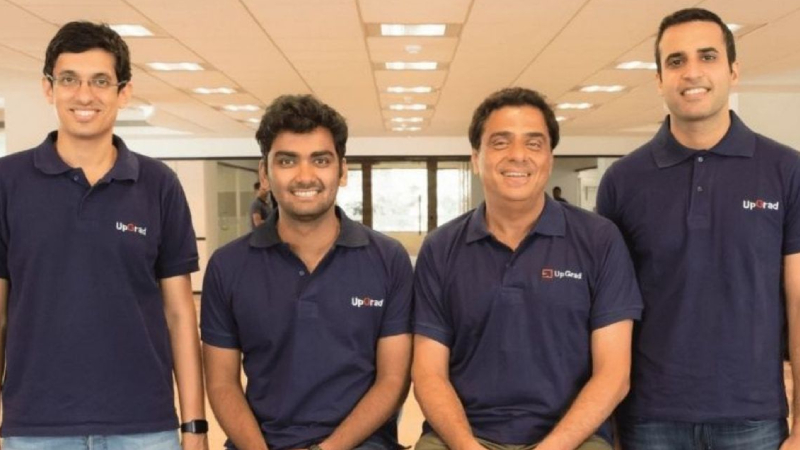 UpGrad Startup - Founders
UpGrad Startup – Brand Name & Tagline
Name: The startup's name includes two terms – "Up" & "Graduate", where "Up" means having a creative edge over others and "Graduate" has a lovely ring to the name, thus the name - UpGrad.
Tagline - "Building the Careers of Tomorrow"
UpGrad offers graduation and post-graduate programs to help people improve their lives and professions.
UpGrad Startup – Business Model
UpGrad is primarily a direct B2C firm in which the customer enrols in the program and pays for it (in advance). The program cost at UpGrad reflects the company's commitment to placing students. Only 50% of the program fees are recovered from the student if they are placed after completing the program. This is India's first pricing plan of its sort.
Note : Companies also pay UpGrad for educating their staff as part of their enterprise business.
UpGrad Startup Challenge – Building Trust
The main challenge for the startup was persuading recruiters that online education could be just as demanding as traditional schooling. One of the negative perceptions of online education is a widespread belief that online education is a waste of time. Unfortunately, it was difficult for UpGrad to show the contrary through its product, customer experience, and success stories to users & companies.
UpGrad Startup – Top Competitors
Several characteristics put UpGrad apart from the competition. Some competitors include:
Udacity
Unacademy
Coursera
Byjus
Vedantu,
Udemy
Wifi Study
Simpli Learn
UpGrad USP : The hand-holding mentorship offered to each student is one of the key USPs of UpGrad.
UpGrad Startup – Acquisitions & Mergers
UpGrad Startup has made a few acquisitions, including:
| | |
| --- | --- |
| DATE | ACQUIRED |
| Oct 2016 | Pyoopil Education Technologies Pvt Ltd |
| Oct 2018 | AcadView |
| July 2019 | CohortPlus |
| Nov 2020 | The Gate Academy |
| Dec 2020 | Rekrut India |
| May 2021 | Impartus |
UpGrad Startup – Future Plans
UpGrad aims to work on four central pillars in the future to grow the number of learners and revenue:
In the subsequent years, the startup plans to offer 35 new diversified online programs.
UpGrad is planning to keep up with the increased demand & would begin offering discounts & coupons every month rather than every quarter as previously.
It would be the first university in India to provide university-approved degrees via blended, online degree programs.
It will target the 40 million-strong South Asian migrant community throughout the world to expand its global reach.
UpGrad Startup – Awards & Recognition
UpGrad has won several awards & recognitions for revolutionizing the ed-tech market in India from top bodies, some of which are:
"Startup India", an initiative by the Government of India, has appointed UpGrad as its official partner.
In 2017, Mayank Kumar, Cofounder UpGrad, was named Achiever of the Year by Business World
UpGrad won the "Top 10 Most Innovative Companies Award" by Fast Company in 2017
In 2018, it was featured on LinkedIn's Top 25 Startups List.
Best Tech for Education Award in 2019 by IAMAI
Phalgon Kompalli and Ravijot Chugh (UpGrad's Cofounders) were featured on the 2018 Forbes 30 under 30 List.
Best Education Brand Award by Economic Times
UpGrad's "PG Diploma in Machine Learning & AI" with IIIT Bangalore is the #1 course on AI in India.
UpGrad Startup – Funding & Investments
UpGrad was founded in 2015, and all the founders did the initial funding. The company is currently valued at $850 Million and aims for $2 billion in revenue by 2026. It has received funding from the following investors:
| | | |
| --- | --- | --- |
| Date | Investors | Amount |
| April 2021 | Temasek | $120 Million |
| April 2021 | World Bank's IFC | $40 Million |
| August 2020 | IIFL Income Opportunities Fund | $6.8 Million |
UpGrad Startup – Partnerships
UpGrad has collaborated with many top institutes to educate its users through the best experience, including:
BITS Pilani
International Institute of Information Technology (IIIT-B).
MICA.
Cambridge Judge Business School.
HDFC Life for insurance-related courses.
Duke Corporate Education (Duke CE).
Institute of Management Technology (IMT Ghaziabad).
IIT Madras, for certification course on Machine Learning and Cloud.
UpGrad Startup – Work Culture
The following are the significant attributes of UpGrad's work culture:
Leadership - The leadership team is very personable, the organizational structure is flat, and staff is encouraged to take on new projects.
Employee Education - UpGrad encourages its employees to take advantage of cheap courses to keep updated with changing times because it is a firm that promotes upskilling.
Innovation - UpGrad, as an ed-tech firm, believes that technology is the way of the future. As a result, the staff is continually encouraged to embark on new projects in various departments.
UpGrad Startup – Marketing Strategy for First 100 Clients
UpGrad conducted many offline events to market its project to the first 100 clients. In addition, the founders individually addressed the students. Before registering, students had to upload their video biographies and SOPs (Statement of Purpose). They were then provided free access to learning materials for two weeks. The purchase option was made accessible to them only after they had experienced the free material.