American Trek Camera Giant GoPro and Its Way to the Success
GoPro is an American tech company that deals with the production of its action cameras. It also creates its editing software as well as mobile apps. GoPro cameras are used in extreme action video photography by different exceptional adventurers and athletes, including the commoners.
Today, we'll discuss the success story of this innovative US startup, GoPro, in detail.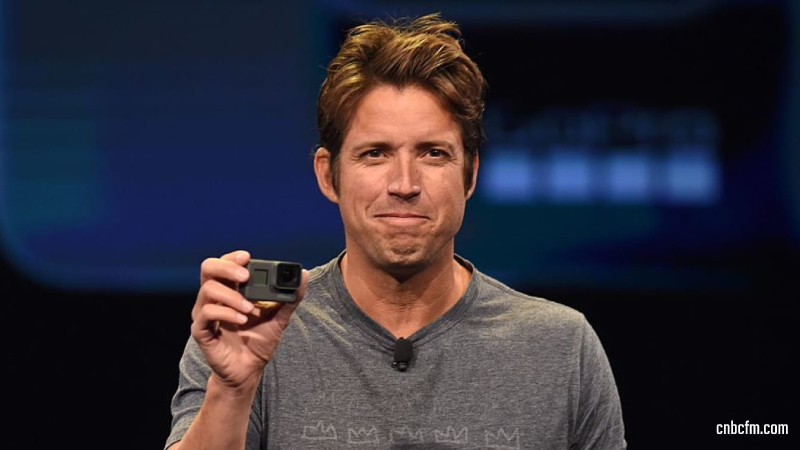 GoPro - Founder Nick Woodman
Key Highlights of GoPro
Legal Name: GoPro, Inc
Founded: January 1, 2002
Founder: Nick Woodman
Headquarters: San Mateo, California, United States
Also Known: Woodman Labs Inc.
Number of Employees: 970
Areas Served: Europe, Africa, America, Asia-Pacific, Middle East
Type of Industry: Electronics (B2C)
Investors: 7
Total Funding Amount: $288.2 million
Number of Funding Rounds: 3
Last Funding Type: Private Equity
Share Price: $11.04
Company Type: For Profit
Stock Exchange: NASDAQ: GPRO
Ownership Status: Publicly Held
Financing Status: Formerly VC-backed
Website: www.gopro.com
Go Pro Startup: Beginning
GoPro was designed by Nick Woodman, the CEO of GoPro, who used it as a compact to click photos and videos of him while he used to surf. Now, it's been 15 years since its inception, and it still maintains the same dignity.
Go Pro Startup Timeline
2002

In 2002, Nick Woodman, the founder of GoPro, went on a trip to Australia, and he expected to click great photos while surfing. Unluckily, he was unable to do so due to the lack of appropriate photography equipment.
After getting inspired to make good quality cameras and offering them affordable rates, he then launched his own company, GoPro, in the same year.

2004

After the company's initiation, Nick was working on a camera which was his first and finally, he launched it. It was the GoPro 35mm HERO that could be wrapped around the wrist of the user. It was presented at San Diego's Action Sports Retailer trade show in September 2004.
Though the idea of Nick started from Australia, it had expanded in California and Pennsylvania as well when Nick had put forward his basic model and plan for the home-shopping network QVC at a 2004 Inventor Search competition.

2006

Nick Woodman planned to make more modernized plans, and he planned to set his GoPro at the sway bar of a car.

2012

According to IDC reports, GoPro was accountable for increasing from a six market share in the previous year to 21.5 shipments of the digital camcorder in the first half of 2012.

2014

GoPro declared that Tony Bates, the ex-Microsoft executive, had been appointed as the President of the company on June 4, 2014.
A fixed-lens HD camcorder with a wide 170-degree lens was available, and two or more can be put into pairs to make the 360 videos as of 2014.

2015

The HERO Session is 40 lighter and 50 smaller in comparison to the other GoPro HERO4 camera models. It was launched on July 6, 2015.

2016

Karma drone, a GoPro product, was launched in 2016. It clicks clear and spectacular GoPro air footages, either body-mounted or handheld.
GoPro declared that around 200 employees would be dismissed due to the company's cost reduction in November 2016.

2018

GoPro cameras had been available in more than 100 countries in 2018.
Note: On the Apple App Store, GoPro app has ranked 50th with a 4.8 stars rating and 452k reviews in Photo & Video apps category.
Features of GoPro
GoPro has a cuboid design, and it has a processor, an ultra-wide-angle lens, an image sensor, and up to three microphones for recording audio in various circumstances.
GoPro cameras are easy and comfortable to wear. You can freely shoot and keep yourself hands-free.
Its size is quite small and light which makes it easier to pack it in your bags.
GoPro cameras are waterproof so that you can shoot underwater as well. You can easily go up to 131 feet (40 meters). You can go deeper to 197 feet (60 meters) with a dive housing camera.
It is also WiFi friendly.
It is quite tough and durable.
All the models of GoPro have 4K video capture.
Go Pro : Brand Name
The 'GoPro' name came into existence when Nick Woodman and his friends wanted to be professional surfers, and the main aim was to 'going pro'. The camera range was named 'Hero' as the ultimate goal was to click close-up action shots which would appear heroic.
Go Pro: Investment & Funding Sources
GoPro acquired CineForm on March 30, 2011.
GoPro rose total funding of $288.2M in over three investment rounds. The latest funding of GoPro was earned from a Private Equity round on December 20, 2012.
The Taiwanese company bought a share of 8.88% in GoPro, with a valuation of 2.25 billion in 2012.
It is certified under the NASDAQ: GPRO. The stock exchange opened up on July 3, 2014, IPO of $24.00.
GoPro allied with Periscope for live streaming in January 2016.
It took over Stupeflix, an online video editing application, on February 29, 2016.
It is funded by seven investors. The recent investors are Steamboat Ventures and FIH Mobile.
GoPro seized ReelSteady, a stabilization software company, in March 2020.
| | | | |
| --- | --- | --- | --- |
| Date | Funding Amount | Funding Round | Investor Details |
| Dec 20, 2012 | $200M | Series B | Foxconn Electronics |
| May 05, 2011 | $88M | Series A | Steamboat Ventures, SageView Capital, Riverwood Capital, US Venture Partners and Walden International |
| Sep 21, 2010 | $205K | Seed | |
Awards and Recognitions of GoPro
GoPro was ranked 27th in the 2013 Social Brands Top 100.
It was one of the only brands in the category of Consumer Electronics to reach the top 100 in 2013.
It also ranked 18th and was branded "The Coolest Brand" by the Centre for Brand Analysis in 2016.
GoPro: Future Plans
GoPro launched the new model of its main smartphone app, GoPro Quik, in 2021. It gets to pick the most out of your favourite photos and videos in a fast and easy manner regardless of any phone or camera you are using. Also, it creates a compilation video that is edited and can be musical synced.