Fullstory Analytics: One Stop Tool to Customer Experience & Tracking
Every company needs to maintain an online presence to grow its business. But making a robust online presence is not easy. However, if you know the right analytics about the customers, you can improve your digital presence. Fullstory can come in handy for this purpose. Fullstory provides the full story of your business's online presence and interaction. In this article, we will study the startup story of this innovative company, Fullstory.
Fullstory : Introduction
Fullstory is a unique startup that helps businesses to get answers to questions based on customer's interaction with their websites. It is a Subscription-based service that aids a company in Optimizing its customer's digital experience. This is done through a powerful analytic engine that sorts all the digital interactions of a business. Through this collected information, companies can devise policies for enhancing user experience.
Fullstory Startup : Know Your Customer's Experience
We can call it a bit similar to Google Analytics. But additionally, Fullstory gives the customer company a complete insight into the activity of their page. It includes the clicks on the website, the number of page transitions, buttons pressed and much more. It also records any bad customer experience so that the company can improve it.
Fullstory Startup : Founders
The credit of establishing Fullstory goes to Scott Voigt, Joel Webber, and Johnson. Scott Voigt is an MBA graduate from The Wharton School of the University of Pennsylvania. The three became friends while working in a startup. But the startup was later acquired by Google. Their experience at Google helped them in getting insights into a successful company's efficient management.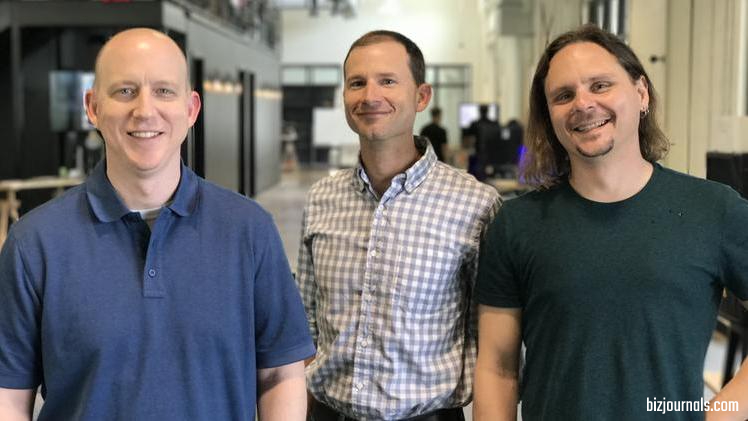 FullStory founders Bruce Johnson, Scott Voigt and Joel Webber
First Failed Company : Learnings
But In 2012, they decided to quit Google and work on a startup based on marketing collaboration. When asked about leaving Google, Scott revealed that the reason was not any particular product but the trio's desire to start a company. After quitting Google, the three friends then decided to launch a marketing collaboration company named Homebase. Although the idea was strong, they failed to get regular customers.
Full Story : Funding & Investment
Fullstory has received investments from Google Ventures, Stripes Group, and Accel.
The startup also received seed funding from Tom Noonan, a cybersecurity expert.
Fullstory has also received series A investment of 10 million Dollars from Salesforce Ventures and 15 Million Dollars in series B funding from Kleiner Perkins Caufield & Beyers.
Full Story Competitors
Fullstory faces stiff competition from:
Hotjar (founded by David Darmania).
Clicktale
Mouseflow
Quantum Metric
Turkcell Group
Sitel.
Fullstory Startup: Achievements
Fullstory has created a fan following of 3.2k Facebook fans and 4.47k Twitter followers (as in Jan 2021).
Almost 120 companies like Stack share, Travelperk, Yousign, Flexport, Superchat, etc., use Fullstory for getting complete insights about their website.
The Fullstory has integrated various popular tools like Google Analytics, Trello, New Relic, Google Tag Manager, Slack etc.
Fullstory Startup: Strengths & USP
Free demo The startup gives a free demo to its customers. This helps them get prospective customers, and when these free demo users like the services of Fullstory, they become regular customer of the startup. This technique allowed the startup a lot in getting customers.
Teamwork and commitment The three are known for an excellent bonding and a focused and highly committed approach towards their work. All these traits helped them to make Fullstory a successful startup.
Good packages to employees Fullstory offers good packages to its employees like Google. The package includes health and dental benefits, six-week parental leave, a flexible vacation policy, and much more. This motivates the employees to put in their best efforts in the startup's growth.
'Hug it out' standup meetings The makers believe in analyzing the present growth and lacunas to get long term growth. So to do the same, the company hosts a 'Hug it out' afternoon standup meeting. The employees discuss the current figures on the number of customers, quarterly goals, the progress and areas for improvement. This helps the company to streamline its goals and make improvements.
Customer feedback Fullstory gives a lot of value to customer experience and feedback. Scott had once told in an interview that user experience is of utmost importance for any business. He elucidated his point by saying that even good marketing can't overcome a bad customer experience.
Huggers' Team Fullstory employs a unique team for providing customer support called the 'Huggers team'. They answer every customer question, reply to customer comments, look into troubleshoot issues, and provide feedback to engineers to ensure a perfect customer experience. In this way, they make the brand reliable and grow their customer base.
Challenges for Fullstory
Challenges are an inseparable part of any successful business. Similarly, Fullstory also faces particular challenges that it has to overcome.
Retaining Customers With the growing number of competitors in the market offering the same product, there will be a challenge of retaining and attracting customers.
Retaining Quality The second challenge is to improve its current standards. Scott says that the main challenge is not about what they should make but what they should not make in their product. This is because any wrong feature can seriously affect their overall quality.
Retaining Good Team The third challenge is to get experienced engineers and a workforce. As they look for high standards in their workforce, it becomes challenging to get great candidates per their requirements.
Fullstory Startup: Strategic Product
Fullstory's startup story reveals that even a sudden idea can become a successful startup if you put in your efforts and hard work. The growth of Full story inspires everyone to work on minute aspects of a business. Interestingly, the company not only grows itself but helps the customer companies to grow. The company faces specific challenges but devises an excellent strategy to solve the same.
To conclude, one must learn from the unique features of Fullstory and inculcate them in their business to grow their business.