VSS Mani's Just Dial Story – Startup that Went from 50,000 to 690 Cr Revenue
Just Dial is an internet technology company that provides the service of various kinds of searches. It is available on the phone app, web, and mobile internet and one can search for any local service in your area with just one tap. The company provides information to its users and makes their life much easier. Let's get to know the story of this outstanding Indian startup.
Note: After nine years of the incorporation, Just Dial came up with the app version in 2007.
Just Dial - Key Points
Company Name - Just Dial
Founded - 1996
Founders - V.S.S Mani and V Krishnan
Headquarters - Mumbai, Maharashtra, India
Parent Company - Reliance Retail
Company Type - Public
Sector - Local Search Engine Internet
Area Served - India
Revenue - $150 million
Number of Employees - 11,000
Website - www.JustDial.com
Just Dial Startup - Founders and Team
Just Dial got founded by V.S.S Mani and V Krishnan in 1996.
V.S.S Mani - Mani is the founder and CEO of the company. He has been with the company for 25 years and, his experience and knowledge helps the company.
V Krishnan - Krishnan is the co-founder and executive manager of the company. He completed his bachelor's degree from the University of Delhi, and he holds some crucial responsibilities in the company.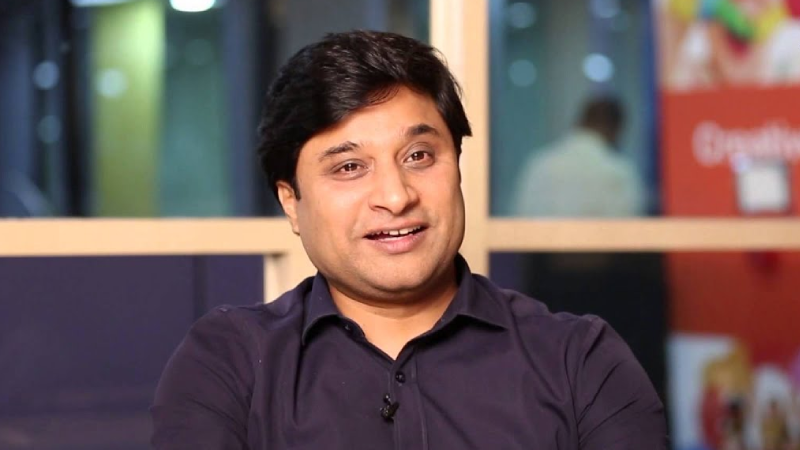 Just Dial Startup - Founders
Just Dial Story - Idea behind the team
V.S.S Mani worked for Yellow Pages in 1987. That is when he came up with the idea of this business. He started his business with a seed capital of INR 50,000 in a rented garage, rented computers, and five employees.
Mani wanted to create a local platform where people can call to receive any information they want.
Just Dial Startup - Brand Name, Logo, and Tagline
Brand Name - The brand name signifies what they do. They provide their customer with various kinds of searches in just one dial.
Logo - The logo Just Dial is nice and catchy to gather the attention of its users.
Tagline - Anything Anytime Anywhere.
Just Dial Startup - Business Model
The company has a business model of both paid and unpaid services. They work extensively on the data collection process to provide all pieces of information to their users. The company works in the same way as Google. It is the local search engine for people to search for innumerable services in India. Just Dial has listed small businesses on its platform. The company gets paid every time these businesses get any lead for services.
Just Dial Startup Story- Revenue Model
Just Dial earns its revenue from various sources such as premium subscriptions, analytical reports, data selling to users, the listing of ads, etc. The company started working as a digital phone directory-based company. But it soon shifted to the local search engine-based model. The company's revenue saw a rise of more than 25% in the last couple of years.
Just Dial Story - Funding, and Investors
Just Dial got a funding of $85 million in 3 rounds of funding. Some of the investors of the company are as follows:
$18 million - Nalanda Capital, Post-IPO Equity round, 2016
$57 million - Saphhire Ventures, Sequoia Capital India, Series E round, 2012
$10 million - Sapphire Ventures and Sequoia Capital Index, Venture Round, 2011
Just Dial Startup Story - Acquisition
Just Dial got acquired by an Indian giant company, Reliance Retail, in 2021. The company bought a stake of 66.95% for INR 3,497 crores.The founders of the company will continue to lead it.
Note: - Reliance wanted to buy 40.95% of the stake but, Just Dial made an extra offer to acquire 26% of the stake.
Just Dial Startup Story - Marketing Techniques
Some of the marketing strategies of the company are as follows:
Dealing with varied helps the company in giving information about them.
They have hired Ranveer Singh as their brand ambassador. It plays a vital role in catching the attention of the customers.
They advertise their services through print, TV, and social media. organizations
Just Dial Story - Products and Services
Some of the products and services of the company are as follows:
Just Dial Social - It is a service that combines content from various social media websites, news, TV, etc.
Search Plus Service - Just Dial provides this service to its customers, where they can handle online transactions through app and website.
Just Dial - Growth
The company saw various fluctuations in its share price after its listing in 2013. The price fell and raised a couple of times and, its highest share price was INR 1894.7 in 2015. The company earned a net profit of $5.5 million in the first quarter end of 2018. The company saw a growth of 11% and got revenue of $30.2 million in the same year. The board of directors bought back the shares of the company for $31.5 million.
Just Dial - Competitors
The company has a lot of competitors in the market. Some of its competitors are as follows:
Sulekha
Quikr
IndiaMART
Urban Company
Timesinfoline
Exchange
Asklaila
Zimmber
Exporters India
Nearby
Just Dial has the greatest number of employees working together for the organization. Due to this, the company got ranked at the top of the list amongst its competitors.
Just Dial Startup - Challenges
Some of the challenges faced by the company are as follows:
Pandemic - The prevailing pandemic has hit the business badly. Just Dial has also felt the impact of the pandemic as the whole country was in entire lockdown. Customers were not using the platform for local searches. Just Dial outgrew with that issue but, it will have to plan new strategies to fight any other pandemic.
Competitors - Just Dial is one of the leading players in the market amongst all of its competitors. They can give cut-throat competition to Just Dial. The company will have to develop new techniques to increase its customer base and win over its rivals.
Just Dial Story - Future Plans
The company went public in 2013 on NSE (National Stock Exchange). Some of the plans of the company are as follows:
The company plans to buy at least 25% of its free reserves and paid-up capital.
The estimated cost of it is $26 million. The company got successful in its planning.
To connect with more businesses and bring them on their platform.
Just Dial – India's Number One Business Search Company
Just Dial is working well in its sector and, it is ranked number one amongst all of its rival companies. Users love the services provided by them. According to the experts, Just Dial has a bright future ahead. Reliance Retail has recently acquired the company and, it is going to grow in the future.