Shiprocket Story: Building Million Dollar Startup Solving MSME Shipping Problems
During this COVID Pandemic, the E-commerce business has made great strides. But for the success of an e-commerce business, efficient shipping is crucial. This is exactly what 'Shiprocket' is trying to do; making your online business convenient by efficient shipping. With its best-in-class features, it has gained a prominent place in the shipping industry. So this article would delve into the ins and outs of this new-age eCommerce shipping site and the multiple insights that you can gain from this startup.
Shiprocket Startup: An Idea
Ship Rocket is a Delhi-based logistics aggregator, i.e., it ties with different small courier companies and helps e-commerce sites choose multiple courier partners for delivering timely orders to customers. It deals with D2C (Direct to consumer) market segment and deals with online-only brands, O2O brands, and social commerce retailers.
Shiprocket Startup: Founders
Shiprocker was founded by Saahil Goel, Gautam Kapoor, vishesh Khurana, and Akshay Gulati.
Saahil Goel Co-founder Saahil Goel had done MBA and MS from Pittsburgh University and had worked in Max Life Insurance. He is presently the CEO of Shiprocket.
Gautam Kapoor COO, Gautam Kapoor, is a BBA graduate from Western International University. He had worked with Bosch and Sick.
Vishesh Khurana Vishesh Khurana, the head of growth, had done BBA from Amity Business School. He had been the founder of Mobiz Infotech Pvt. Ltd.
Akshay Khurana Akshay is CBO in Shiprocket, is a graduate of Wharton Business School. He had worked with major tech companies like Amazon.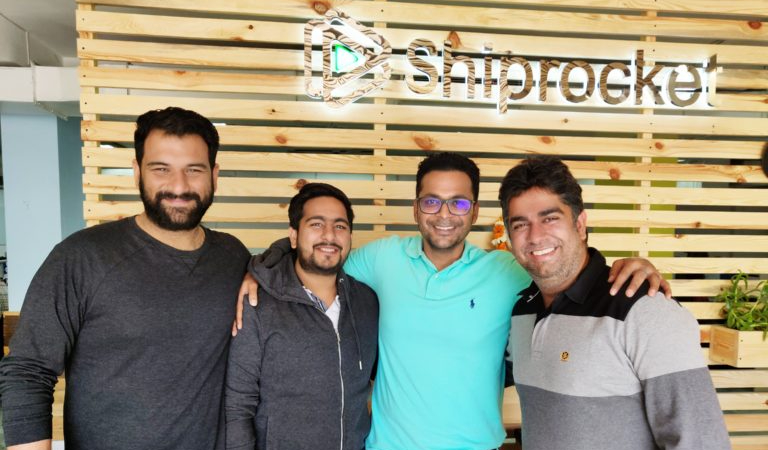 Core team of Shiprocket
Shiprocket: Early years
Shiprocket was founded in the year 2016. But the story of Shiprocket dates back to 2012 when Sahil Goel, Vishesh Khurana, and Gautam Kapoor laid the foundation stone of Kartrocket. The focus of the three partners was to help small businesses by providing shipping solutions, an ecommerce website, a marketing platform, and other multiple products for SMEs.
Although shipping was a part of KartRocket, the makers felt a need to introduce separate logistics services in 2016. They realized that maximum small sellers fail to generate demand owing to limited shipping.
So In 2017, they separately incorporated shipping services by the name of Shiprocket while other services exist under Shiprocket 360. The idea was to render a technology-driven logistics platform and a level playing field to small sellers by offering a superior shipping experience.
Shiprocket Startup Brief Points:
Founded in: 2016
Founders: Saahil Goel, Gautam Kapoor, Vishesh Khurana, Akshay Gulati.
CEO: Sahil Goel
Website: shiprocket.in
Shiprocket: Brand name
According to the founders, the name shiprocket is inspired by their endeavour to move their buyer's business upward and with high velocity, similar to a rocket.
Features of Shiprocket Startup:
Shiprocket provides end-to-end services, i.e., they take responsibility for the product packaging to last-mile delivery to consumers' houses, making them different from traditional logistics aggregators.
Shiprocket has partnered with courier services in approx. Twenty-seven thousand plus areas in India.
Shiprocket is known for its latest technology, AI-enabled tools for giving a better quality to their services. Some of the technology-driven tools used by the startup include Courier Recommendation engine, Automatic inventory sync, Hyperlocal delivery services, COD remittances, etc.
The revenue is earned on every shipment done through its network and from the subscription license fee.
Their prices are also reasonable that start from Rs. 54/kg.
Shiprocket Funding
The founders acknowledged that their earlier startup, Kartrocket helped them get fundings and clients greatly. In 2014 they received fundings from Nirvana Ventures. It also received $8 million from Bertelsmann India investments after establishing Shiprocket. In 2018 they raised $4 million from different investors.
Even during the COVID pandemic, Shiprocket managed to get sufficient fundings from Tribe Capital, Innoven Capital, and Bertelsmann India Investments. It is claimed that they have raised approx. 13 million Dollars from these investors.
Challenges:
COVID pandemic: Like many other businesses, Shiprocket also faced a challenging time due to the COVID pandemic. About 95% of shipments were down.
But as is said, where there is a will, there is a way the company managed to float through the hard times. They realized that transportation of essential services is allowed, and they judiciously utilized that opportunity.
They partnered with We fast, Dunzo, and Shadowfax under the name of Shipkaro Saral to fulfil local demand for essentials. After the situation normalized, they switched to the shipping of non-essential services.
Shiprocket Startup Competitors:
Competition is a natural accompanier of success. Similarly, Shiprocket also faces competition from local courier delivery services like:
Shyplite
Shipkaro
Shipyard
Zepo.
Pidge etc.
Shiprocket Achievements
Sprocket's shipments, revenues, and active monthly merchants grew up by nearly three times.
The startup, Shiprocket, is pretty profitable because its Gross Merchandise Value (the total monetary value of merchandise shipped in a given time) has grown to one billion dollars.
Shiprocket has succeeded in increasing its employee count from 182 in May 2019 to 300 employees presently.
Shiprocket hosts some top brands like MamaEarth, Dr Vaidya's, Bausch and Lomb, and many more.
The market value of this logistics startup was $1.35 million in 2018. Additionally, it is claimed that it will achieve a growth of 36% by 2023.
Every month, it ships around 3 million shipments that account for $1 Billion in revenue annually. Daily, it fulfils approx 19 lakh shipments. These figures echo the credibility and the stronghold of Shiprocket in the Shipping industry.
Shiprocket has won the BW Businessworld Techtors award for 'Toptech companies to watch out for' under the category of aggregators.
Shiprocket Future goals:
The founders of Shiprocket are planning to come up with warehouse facilities in four Indian cities shortly. The names of the cities are yet to be disclosed.
Shiprocket also plans to offer customer care by November month.
Venturing into the international market by 2021 will also remain a priority in the firm's future goals.
Closing words
The achievements of Shiprocket in such a short span is influencing very startup to think differently and work hard to achieve their goals. The startup reflects the need for teamwork and efficient networking. Also, reasonable prices ensure that all and not only major sections utilize services. The purpose of the level playing field is in itself a significant driver of their success. To sum up, we can say that the startup story of Shiprocket motivates all of us to look for opportunities within challenges, understand the market gaps and work hard to achieve out-of-the-box solutions for our business.