Success Story of Shuttl - India's #1 and Leading Commute Service
Shuttl is a mobile app-based shuttle service provider that was launched in 2015 by two IITians. It helps the daily journey of the passengers' commute trustworthy, secure, inexpensive, and space-efficient. It runs in more than six metropolitan cities across India & is considered to be India's largest office commute bus aggregator. You can install the app from Google Play.
Here, in this article, we'll study the success story of Shuttl, including how it began to where it is today!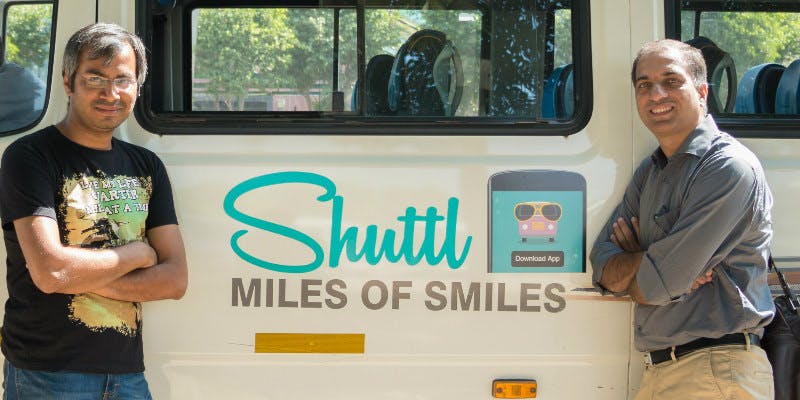 Shuttl is founded on Feb 19, 2015, by IITians Amit Singh and Deepanshu Malviya based in Haryana.
Shuttl: Key Highlights
Legal Name: Super Highway Labs Private Limited
Founded: 2015
Founders: Amit Singh and Deepanshu Malviya
Type of Company: Privately Held Company
Headquarters: Haryana, Gurgaon, India
Areas Served: Delhi-NCR, Pune, Hyderabad, and Kolkata
Number of Employees: 201-500 employees
Type of Industry: Transportation
Company Type: For Profit
Key People: Amit Singh and Deepanshu Malviya
Investors: 22
Services: Urban Mobility
Total Revenue: Rs 100 crore (2019)
Total Funding: $122.3 M
Last Funding Type: Corporate Round
Website: www.ride.shuttl.com
Shuttl: Idea Execution & Beginning
The Initial Position: Two Failures IIT-graduates Amit Singh and Deepanshu Malviya used to work for Jabong, an e-commerce company, back in 2014. They wanted to start their startup and therefore decided to leave Jabong.
They started with a mobile content platform, and then, they planned to establish inter-city cab services. None of the plans executed well and led to failure. However, both of them had kept their hopes high and went on searching for better and new opportunities.
The Final Execution: Shuttl Amit and Deepanshu observed that in Delhi-NCR, the daily office-goers faced difficulties while travelling and how they had to travel in crowded buses. So, they began with an initial small-scale project where they hired two Toyota Innova cars and introduced an app for the Shuttl service.
Soon, the service started to gain popularity, and they started receiving more demands from the daily commuters. Currently, Shuttl runs hundreds of buses in several cities.
Shuttl: Top Features
Trustworthy & Secure Shuttl App is effectively strong with safety features such as the ride details that can be shared, SOS alert and home check.
Relaxation You can reach your destination with enough ease and in a hassle-free way since the rides are air-conditioned.
Affordability By purchasing your Shuttl pass, you can save a bit more with the help of different payment apps like credit/debit cards, UPI, Paytm, Amazon pay, Razorpay, and the Internet banking.
Navigate The app will be showing you the navigations to your nearest pick-up point.
Flexibility You can reschedule or cancel your ride at any given time before your Shuttl reaches your pick-up point.
Track in real-time With the app, you can keep a check on the Shuttl bus to plan your journey.
Refer and Earn Refer the Shuttl app to your friends and colleagues and tell them to use your referral code. Even you can also win fabulous prizes by playing some exciting games.
Shuttl: Logo
The logo of Shuttle comprises a light blue color bus which shows that how it influences technology and aims at time-efficiency and convenience of travelling via buses.
Shuttl: Expansion
As of now, Shuttl provides more than 100,000 rides daily in seven cities consisting of the Delhi-NCR region, Kolkata, Mumbai, Pune, Hyderabad, and Chennai. It runs around 2000 buses and covers 350+ long routes.
To date, it has completed more than 33 million rides. It is reported that nearly 38% of Shuttl users are women.
Shuttl: Financial Numbers
Since the launch of Shuttl in 2015, it has raised more than $50 million.
According to Shuttl's reports, In March 2019, Shuttl has crossed INR 100 Crore revenue, thus, recording a 123% year-on-year growth compared to INR 44.8 Crore revenue clocked in FY18.
Shuttl: Funding & Investments
In over 13 investment rounds, the Shuttl has raised a total of $122.3 Million in Funding. The last venture round was a Corporate Round which was done on Feb 18, 2020.
The most recent VCs are SIG Global India Fund and Sojitz.
| | | | |
| --- | --- | --- | --- |
| Date | Round | Amount | Lead Investors |
| Feb 18, 2020 | Corporate Round | $3M | Sojitz |
| Feb 14, 2020 | Series C | ₹570M | SIG Global India Fund |
| Dec 17, 2019 | Series C | $2.5M | Moving Capital |
| Nov 25, 2019 | Series C | $18M | SPARX Group, Toyota Tsusho |
| Oct 29, 2019 | Series C | $42M | SMBC Trust Bank, Toyota Tsusho |
| Apr 17, 2019 | Venture Round | ₹350M | NAV.VC |
| Mar 28, 2019 | Series B | ₹499.9M | SCI investments, Times Internet Lightspeed India Partners, Sequoia Capital India |
| Jan 17, 2019 | Debt Financing | ₹100M | Trifecta Capital Advisors |
| Oct 23, 2018 | Debt Fiancing | $1M | Trifecta Capital Advisors |
| Jul 30, 2018 | Series B | $11M | Amazon Alexa Fund, Amazon, Dentsu Ventures |
Achievements of Shuttl
Shuttl had been awarded the Special Jury Award in the Road Safety Product and Solution category by FICCI in November 2017.
Shuttl was awarded the International Ashden Award in June 2018 in the category of sustainable mobility, which was held in London.
Hooray Words: Amit Singh, the Founder & CEO
"India isn't as evolved a market where a passenger would feel safe in a stranger's personal vehicle. That same person would be perfectly fine sitting next to a stranger in a public vehicle, like a bus. Commuting is the worst part of the day, and we wanted to come out with a solution to take the pain away from people of daily commuting, and buses are the most efficient and cost-effective. Shuttl was the credible alternative to these people."