Indian Olympics Boxer Vijendra Singh: The World Famous JAAT
It is impossible to think about the history of the Indian boxing career and not mention Vijendra Singh's name. He made our country proud multiple times & has won several tournaments. He is the only Indian boxer to win a medal in the Olympics. This man has set the boundaries very high. Today, in this article, we'll study his life from his early days to his sports career & personal life.
Vijendra Singh - Early Life
Vijendra Singh was born in a small village in Haryana. Being, a Jaat he always had that warm blood inside him. His mother is a homemaker and, his father is a bus driver. His father worked hard and used to do overtime for his kid's education. Vijendra Singh did his primary schooling from his village only. He later went to Bhiwani to complete his secondary education and bachelor's degree from Vaish College.
Inspired by his elder brother, Vijendra started boxing. Vijendra's brother soon got himself into the Indian Army, so he left boxing. He supported Vijendra to continue his boxing career. Soon his passion turned into a career choice.
Vijendra also used to do part-time jobs and modeling to support the financial condition of his family.
Vijendra Singh - Statistics
Full Name - Vijendra Singh Beniwal
Born - 29th October 1985 (35 years)
Birth Place - Kalwas, Haryana, India
Nickname - Singh
Nationality - Indian
Height - 6 ft
Zodiac Sign - Aries
Reach - 76 in
Weight - Super-middleweight
Stance - Orthodox
Total Fights - 13
Wins - 12
Losses - 1
Wins by KO - 8
Vijendra Singh - Marriage
In 2011, he married Archana Singh, who is an engineer and MBA by profession. Vijendra and Archana had a simple wedding in Delhi and a small reception ceremony in Bhiwani. The couple has two sons Amrik Singh and Abir Singh.
Vijendra Singh – Career
Beginning Vijendra started his career at a starting age. He used to train at a boxing club in Bhiwani. Jagdish Singh (former National champion) recognized his talent & Vijendra gradually went on to play various National Level tournaments and won many medals. He became an all-India Youth boxing champion in 2003. Since then, it was no turning back for him.
2004-2007 Vijendra lost in the 2004 Summer Olympics, Athens. But in the 2006 Common Wealth Games, he won a silver medal and a bronze in the 2006 Asian Games. He suffered a back injury in 2007 but managed to recover soon to participate in the 2008 Beijing Olympics.
2008-2009 2008 was a good year for Vijendra. He won a bronze medal in the Beijing Olympics by defeating Carlos Gongora. He received a grand welcome along with Sushil Kumar after reaching India. He was also honored with India's highest award in the sports field (Rajiv Gandhi Khel Ratna Award) in 2009. He also won a bronze medal in World Amateur Boxing Championships in the same year. He also topped the ranking list of the International Boxing Association with 2800 points.
2010-2014 Vijendra won Padma Shri in the year 2010. He won gold in the 2010 Commonwealth Boxing Championship and a silver medal in the Champions Boxing Tournament. Later, he won a bronze medal in the 2010 Commonwealth Games & gold in the 2010 Asian Games, and silver at the 2014 Commonwealth Games.
Professional Career Vijendra decided to turn professional and signed a multi-year contract with Frank Warren's Queensberry Promotions. He fought his first professional match in October 2015. Vijendra had an impressive professional boxing career and witnessed seven consecutive wins. He also won the WBO Asia Pacific title and moved up to 10th rank. After a long break in 2018, he signed a new multi-year contract with Top Rank (American).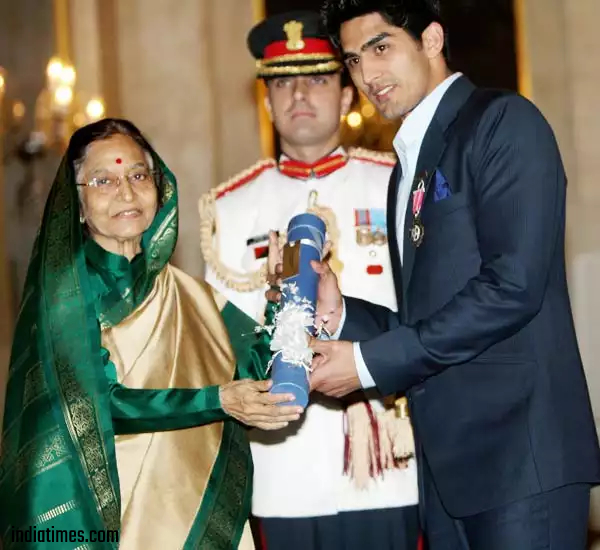 Padma Shri Award, 2010
Vijendra Singh - Awards and Achievements
Padma Shri Award, 2010
Arjuna Award, 2016
Rajiv Gandhi Khel Ratna Award, 2009
Prayukti Samman - By Dainik Prayukti, 2017
Vijendra Singh - Brand Endorsements
Vijendra Singh is a famous sportsperson and, many brands wanted to sign him as their brand ambassador. Some of the brands endorsed by Vijendra are:
Platinum Cement
Siyaram's
Ambrane
Power Vita
Vijendra Singh - Political Career
In 2019, Vijendra Singh decided to join politics before the General Elections. Indian National Congress immediately gave him a ticket & he contested from South Delhi but lost the election. Since then, he has not shown any interest in politics.
Vijendra Singh - Bollywood Career
Vijendra got quite a few projects in Bollywood due to his good looks and craze amongst the female fans. However, he left many projects to concentrate on boxing and was dropped from few projects too.
He later signed a film in 2014 under Grazing Goat Productions (owned by Akshay Kumar). The film was named Fugly and, it had Kiara Advani, Jimmy Shergill in lead roles too. The film got average reviews both from audiences and critics.
Vijendra Singh - Public Appearances
Vijendra Singh continued doing various modeling assignments and fashion shows along with boxing. Due to his good looks and perfect height, designers wanted him to do the ramp walk for their brands.
He appeared in 10 Ka Dum (game show) starring Salman Khan. Singh also participated in Nach Baliye (dance reality show) with Bipasha Basu. He also judged the 12th season of MTV reality show, Roadies.
Vijendra Singh – Social Media Followings
Vijendra has a huge female-based fan. This guy brought boxing into the limelight when no one was aware of this game.
He is not very active on his various social media handles but has a good number of followings. He has more than 250 thousand followers on Instagram and has around 4 million followers on Twitter.
Vijendra Singh – Motivation to all
Vijendra Singh's career has been a true inspiration for all the youths in the country. A guy from a small underprivileged village won medals at the International level and made his country proud. Everyone wants to become a diamond but, no one wants to get cut. This guy went through all the tough times and overcame them. He proved that with honest dedication and hard work, one could achieve anything.