Best Marketplace for Nano Influencers: TagMango Startup Story
Every day, a new wave of tech startups emerge in India and this Calcutta-based firm is making a name for itself in the Indian startup scene. The startup we're talking about is "TagMango," India's first nano-influencer marketplace that addresses some of the industry's most pressing issues by allowing brands to market their products through "Nano-influencers."
What is TagMango?
TagMango is a marketing and advertising technology that aids online promotions for influencers and brands. It specializes in marketing, digital marketing, advertisement, and influencer marketing, and it assists brands partner with individuals to run cost-effective online campaigns.
Nano-influencers are the newest entrants in the influencer marketing room, with fewer followers (500–1500) but a higher interaction rate and credibility with brand target customers.
Basic information
| | |
| --- | --- |
| Headquarters | Mumbai |
| Founders | Divyanshu Damani and Mohammad Hasan |
| Sector | Adtech |
| Founded | 2019 |
| Parent organization | TagMango Pvt Ltd |
| Website | Tagmango.com |
Founders of TagMango
Mohammad Hasan and Divyanshu Damani founded TagMango to bring a whole new dimension to the digital marketing space for brands. Hasan was already a well-established entrepreneur with offices in India, the United Kingdom, and Kosovo when TagMango launched in January 2019. Divyanshu was a well-known keynote speaker at India's leading platforms and a social media influencer himself.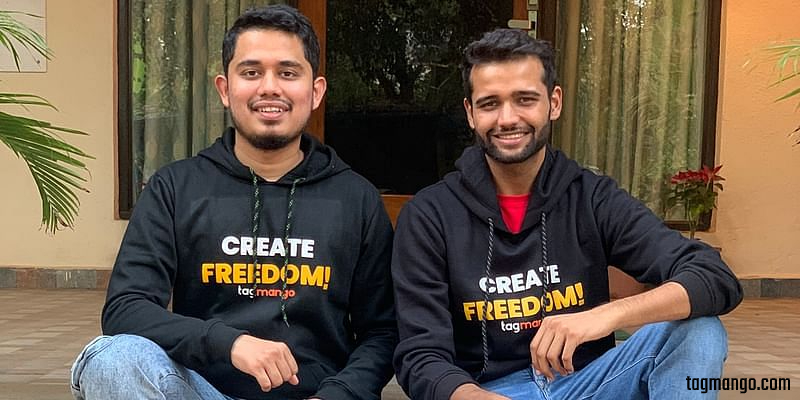 Mohammad Hasan and Divyanshu Damani founder TagMango
TagMango Initial Idea
Divyanshu began producing content at the end of 2017. He speaks on intimate, informative experiences with exceptional and fascinating people as a motivational speaker. He once decided to do a live show in Kolkata to establish his brand, for which he had to sell about 700 tickets.
He found about 100 people in Kolkata who each had about 5,000 followers on social media and offered them free tickets if they posted about his show on their accounts.
He and Hasan, who has a tech background and previously scaled a startup to three countries, then created the nano and micro-influencer network to link influencers with brands. The pair put up about Rs 30 lakh as startup capital.
Why TagMango?
Given the craze in India for celebrities/influencers, the TagMango team believes that there is a larger untapped market in India for the same. On the TagMango website, each influencer or celebrity is identified with their prices. The user will make a payment by clicking on their favourite influencer. Over the next seven days, he will receive a shoutout.
Note: TagMango charges a 25% fee.
Funding and investment
TagMango, a Mumbai-based creator monetization company, revealed not very long ago that it had raised Rs 5.5 crore ($750,000) in a seed funding round led by the following companies:
Y combinator
Kevin lin ( co-founder of Twitch)
Pioneer fund
XRM media
Angel investors from the USA and UAE.
TagMango - Revenue and Growth
TagMango partnered with over 100 brands, including Hershey's, Bounce, and Raw Pressery, as a nano-influencer marketplace. Before switching to the video shoutout format, it had partnered with over 80,000 influencers.
TagMango produced over $150,000 in gross merchandise value (GMV) and $37,000 in revenue in February 2020. To date, the startup has facilitated over 310 shoutouts since its pivot.
In the soft launch, TagMango on boarded over 3,000 organic developers. Around 50 developers have a million or more followers on social media, and 200 have over 100,000 followers on different platforms.
Lessons by the TagMango Founders
Look for a co-founder who is just as crazy as you. It is vital and also beneficial for any startup company to have a founding partner that matches the same level of enthusiasm and thought process.
Adapt and Grow You may have come across products that were initially ground-breaking but later proved to be failures due to their inability to adapt and develop. This is precisely why, in this opportunistic and ever-evolving industry, an entrepreneur must always be on his toes and constantly assess the need and viability of a product.
Failures are lessons Any entrepreneur faces a variety of obstacles throughout their startup journey. The challenges are never-ending, from finding the right team to raising funds. With challenges come failures; the best possible advice for someone who wants to start a business is to use those failures as lessons and come back stronger than ever.
Build a diverse and vast network The value of establishing a large and diverse network cannot be overstated. Regardless of our career choices, it is a habit that we can all cultivate. It gives us access to resources that we would not otherwise be able to find. Our network can provide us with insights into various fields, as well as information and suggestions about how to advance professionally.
Challenges faced by TagMango
The most difficult challenge we faced was attracting the right minds who share our passion, i.e., finding a committed and trustworthy team with a lot of enthusiasm.
TagMango Startup: Current Scene
They started in Kolkata and have since extended their user base to Mumbai, Delhi, and Bangalore.
They have also gained organic users in India's Tier 2 cities. They currently have over 20,000 nano-influencers and over 20 brands as clients for whom campaigns have been run.
Their clients include India's first unicorn, Inmobi, and India's first Facebook-funded startup, Meesho.
They have worked on ads for eccentric youth brands such as The Souled Store, Alma Mater, Aminia, Tea Junction, and other offbeat brands.
Conclusion
TagMango is a one-of-a-kind startup company, and their idea has a lot of potential. They are growing rapidly but also learning from their mistakes. It is not very difficult to assume that the company has a very bright future.