Supam Maheshwari's FirstCry Startup – India's First Kids E-commerce Giant
FirstCry is an Indian e-commerce company that mainly focuses on baby retailing products and provides a wide range of products for babies, kids, and moms. It is available on both online and offline platforms. It has more than 90,000 items from over 1200 international and Indian Brands. The company was launched in 2010 by Supam Maheshwari and Amitava Saha and is headquartered located in Pune, Maharashtra, India. It provides a wide range of products, including diapers, clothes, toys, fashion accessories, skin, health care products, etc.
Note : In May 2019, FirstCry first launched its outlets in Srinagar. Now, the number of stores increased by over 380 stores across India.
FirstCry Startup – Key points
Company Name: FirstCry
Sector: Online Baby products
Type: Private
Founded: 2010
Founder: Supam Maheshwari and Amitava Saha
Headquarters: Pune, Maharashtra, India
Parent Organization: BrainBees Solutions Pvt Ltd
Revenue: INR 987 crores
Website: www.firstcry.com
FirstCry Startup – Largest Baby Store
FirstCry is an online-based e-commerce platform. It is solely for baby and kids' products and also provides mother care products, including feeding and nursing products and health and skincare products. Supam Maheshwari always wanted to make a firm of his own as he faced many issues in finding the right product for his baby. He realized that the limited choices for baby products available in e-commerce across India, so he realized his opportunity to build such a platform for babies and kids. Thus, this idea led to the building of the conception FirstCry.
Note : FirstCry has acquired two companies, Baby Oye (At $54M) & Oi Playschool.
FirstCry Startup – Founders
Supam Maheshwari Supam Maheshwari is the Chief Executive Officer (CEO) and the co-founder of FirstCry. He had started his own company called Brainvisa, which was later sold. Besides, he also co-founded India's one of the largest logistics companies, XpressBees. He is an alumnus of IIM Ahmedabad where he pursued his post-graduation.
Amitava Saha Amitava Saha is the co-founder and Chief Operating Officer (COO) at FirstCry. He pursued his BTech from the Indian Institute of Technology, Varanasi, and a PGDM degree from IIM Lucknow. Earlier, he worked with Supam Maheshwari for the launch of XpressBees.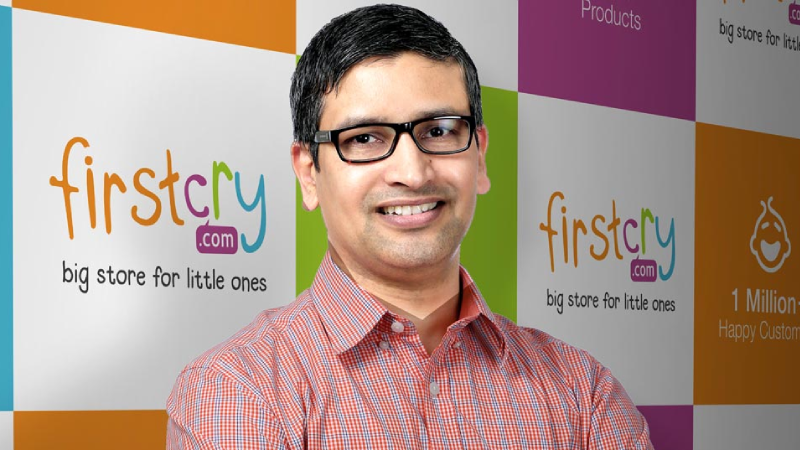 Supam Maheshwari - FirstCry Startup Founder
FirstCry Startup Story – Competitors
Mumzworld - $34 million
Hopscotch- $24 million
Daraz- $53 million
Gmarket- $150 million
HomeShop18- $81 million
Pepperfry- $18 million
Kiddies Kingdom- $16 million
FirstCry Story – Revenue
FirstCry has reported a 65.8% increase in FY20 revenue, from $73.59 million during FY 2019 to $122.07 million during FY2020. It is also reported that there has been a rise of 48.03% from $33.06 million in FY2018 and over $48.84 million in FY17. It is based on the integrated hybrid business model and has both online and offline stores. The company has over 400 stores across India.
FirstCry Startup Growth – Financial Numbers
It has built over 400 offline stores in India.
Over 13 million users engage on this platform every month.
The company had a vast growth rate. It has over 2 00,000 brands and hosts over 6000+ brands.
The first cry has been downloaded by more than 10 million people in the Play store.
The brand ambassador of FirstCry is Amitabh Bachchan.
FirstCry Story – Funding and Investors
FirstCry is funded by over 17 investors. The most recent include PremjiInvest and TPG Capital Asia. The company has fundraised over $741.4 million, which has been done in over ten rounds.
| | | | |
| --- | --- | --- | --- |
| Date | Amount | Investors | Series |
| April 26,2011 | $4 million | Elevation Capital | Series A |
| Feb 13, 2012 | $14 million | Chiratae Ventures, IDG Capital | Series B |
| Jan 21, 2014 | $15 million | Vertex Ventures | Series C |
| Feb 2, 2015 | $36 million | Valiant Capital Partners | Series D |
| Feb 6, 2016 | $26 million | Valiant Capital Partners | Series D |
| Oct 17, 2016 | $34 million | Vertex Ventures | Series D |
| Jan 22, 2019 | $149.4 million | Soft Bank Vision Fund | Series E |
| Feb 7, 2020 | $150 million | Soft Bank Vision Fund | Series E |
| March 30, 2021 | $13 million | PreemjiInvest | Venture Round |
| March 30,2021 | $300 million | Chrys Capital, PreemjiInvest, TPG Capital Asia | Secondary Market |
FirstCry Startup – Challenges
Trust: The company had to face several problems being an online platform where people refused to buy.
Inventory: During the initial stage of the company, they followed an inventory-based business model where the products were directly shipped across the country from their warehouses.
Confusion in Orders: To enable the cash on delivery payment system they automated email o phone call which was done only when a customer place an order and was only dispatched when the customer confirmed.
FirstCry Startup – Future Plans
FirstCry aims at expanding its offline market.
It is mainly focusing to improve the product and services for a better shopping experience for the customers.
It also aims at providing quality baby stores within 5 km of each city in India.
FirstCry: Best Products for Babies & Moms
The company is one of the best sellers that provide the best products and brands at reasonable prices. It is one of the most complimented companies that provide reliable and fast delivery services with great customer care. It is now regarded as Asia's one of the biggest and most trusted platforms for baby care products. It is the first baby care startup to join the unicorn club. It has also developed an app where customers can browse other products as well.