LoginRadius : How these Middle-Class Guys Built an $18M Company?
With the increasing use of data and the internet, the need to protect & manage it also comes into the picture. According to a survey, more than 70% of people mark their data security on customer-facing websites as a high priority. All this comes with opportunities for entrepreneurs, and LoginRadius took the lead earlier in 2012. The firm provides CIAM and Login solutions to manage & secure consumer data and currently provides services to more than 3000 companies, including Viacom, Avatar, CBC (Canadian Broadcasting Corporation), and Vogue.
Today, in this article, we'll read about how the idea came into the founder's mind, funding, growth, and significant factor for their success.
About LoginRadius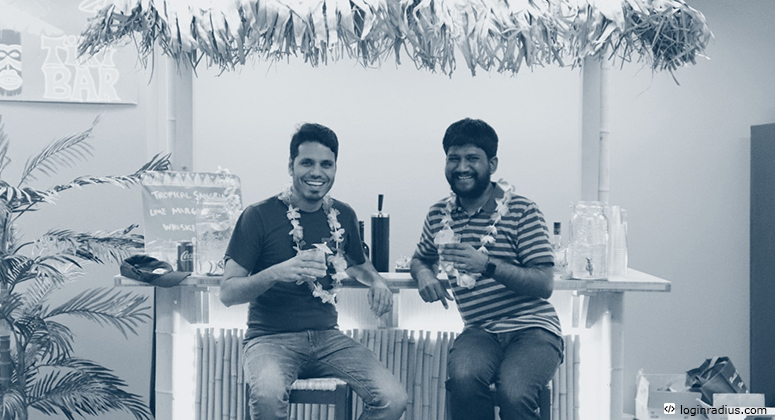 LoginRadius was started in 2012 as a simple social login provider but currently is a market leader in CIAM (Customer Identity & Access Management) services. In simple words, the company facilitates a cloud-based platform service to organizations for handling customer data, identities and provides them a unified user experience.
For example, when you use Google's different services, like maps, drives, photos, or sheets, you do not need to create separate identities and log in with the same credentials. This whole process is called CIAM and is one of the solutions by LoginRadius.
The firm works in line with privacy laws (including GDPR) and provides complete security at, user and employer end.
LoginRadius - Idea
LoginRadius Founders Rakesh Soni and Deepak Gupta are childhood school friends, and the idea initially came into Soni's mind. Both of them had a great interest in starting their ventures and were running two B2B startups before starting LoginRadius. After completing their engineering in Jaipur, India, both Soni & Gupta went on for their masters in North America. Rakesh Soni is an IITian and also has an MSc from the University of Alberta. On the other hand, the co-founder & CTO, Deepak Gupta, also has a degree in MSc in IT & Management from Illinois Institute of Technology.
They noticed the problem of privacy and security in Built-in Log-ins and went on to start LoginRadius.
Initially, finding customers for the venture was hard, and Rakesh describes the startup days as "Just an idea and couple of Guys." However, the firm soon became a full-fledged Canada-based Indian company, serving more than 3000 clients.
LoginRadius - Growth
One crucial factor for a security management company is winning consumer trust, and it was most challenging for a new startup. In the initial days, LoginRadius started making plugins for content management systems, like WordPress & Joomla. These were small-sized firms with 50-100 employees, and working for them gave the company a new in-field experience and a portfolio.
Gradually, the company was making a name among small & medium companies, having up to 500 employees. Once the company successfully handled the login system of 7000-8000 websites, they went on to approach big ones.
LoginRadius - Success Factor
Founder Rakesh Soni said that LoginRadius became a successful venture due to easy, easy, advance, yet modern UI/UX and high data security. The company uses two-factor authentication for every user login and also sends a notification to him in case any unusual activity is suspected. The user also has utter privacy protection where no one has access to individual data without consent. Also, soon after starting LoginRadius, Gupta, the other founder, realized that the server cannot handle the load and thus, did the auto-scaling to tackle the issue after identifying the load. Once a server reaches its 35% capacity, it starts taking additional storage, which doesn't let the website login break.
LoginRadius - Funding
LoginRadius has covered a long journey but is not in a mood to look back. The idea started from two men and today has employed over 150 people & raised more than $18.5M in funding. According to the sources, the company is planning to use funds in expanding its presence, customer acquisition, and boost service innovation.
The company raised the seed capital of $1.3 million from several investors, including Seed Capital & Yutang Venture Partners. In 2018, the further company crowdfunded $17 million in Series A round, with major investors like Microsoft's venture fund M12 & ForgePoint Capital.
LoginRadius - Future
LoginRadius is optimistic about the venture due to the boom in technology, data science, and IoT services. The founders feel that the industry has vast potential, and with the massive amount of data, being made every moment, the need for managing it arises.
Administrations and nations also want their data to be secured and thus, proposing several privacy laws. The company is also planning to launch an IPO in the coming times.
Currently, the company has offices in Vancouver, Toronto, Sydney, London, Jaipur, Hyderabad, and San Francisco, but plans to expand on other locations. The company is also planning to double its current workforce.
LoginRadius's Success Story - Conclusions
So, this was all about LoginRadius's success story. The company is handling more than 7.5 billion API calls per month and serving 700 million-plus identities. The firm leverages over 200 pre-built integrations & CIAM focused data security that facilitates an easy self-service experience for users. The firm became profitable in 2017, with 1.17 billion users, and is running successfully.
The story of two middle-class boys, Deepak Gupta & Rakesh Soni that took a little risk and made it is truly inspirational.