Lizzat Papad Story & Case Study: Real Women Empowerment
When I was a child, I was convinced that Lijjat is the only kind of papad available on this planet. It wasn't a brand name for me but something synonymous with the delicacy of papad itself. The question wouldn't be, "Ma, did you buy papad?" instead, it would be, "Ma, did you buy Lijjat papad?" And I'm sure that might be the case for many people who grew up in India or have Indian roots.
How did a seemingly ordinary brand become so crucial to the cultural fabric of a country? How did Lijjat papad grow from its extremely humble beginnings to the giant it is today? Let's look at this detailed case study to find out.
Lijjat Papad: History & Idea
In 1959, seven Gujarati women living in the Girgaum locality of Mumbai came together and took over a loss-making papad venture. These seven women were:
Jaswantiben Jamnadas Popat,
Parvatiben Ramdas Thodani,
Ujamben Narandas Kundalia,
Banuben. N. Tanna,
Laguben Amritlal Gokani,
Jayaben V. Vithalani,
Diwaliben Lukka.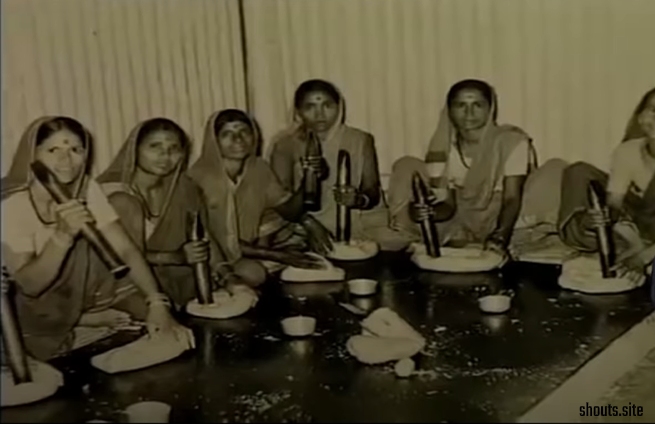 Lijjat Papad: Beginning
They had borrowed Rs 80 (their only seed capital) from renowned social worker Chhaganlal Karamsi Parekh and began production from the roof of their buildings. They started with four packets of papad and started selling them to known merchants in the locality. Through word of mouth, their business expanded and soon, they upgraded to a cooperative system. In the first year, their sales were Rs. 6196.
In 1962, the name Lijjat was chosen for the group, and in July 1966, Shri Mahila Griha Udyog Lijjat Papad was registered as a society under the Societies Registration Act of 1860.
Lijjat Papad: Core Values
The Concept of Business Their concept of business has been pretty consistent from the beginning. They had pledged to produce quality products and sell them at a reasonable price. They also swore never to accept any kind of donation or charity.
The Concept of Family They do not just see themselves as a working body but rather as a large family. Familial affection, mutual concern and respect, is encouraged among the member-sisters and the entire organization in general.
The Concept of Devotion The organization takes the concept of faith and devotion very seriously. The members, employees, and well-wishers are expected to not treat the organization as a mere workplace but as a sacred place of worship.
Lijjat Papad: Organization Structure
Lijjat Papad believes in the motto of Sarvodaya or collective ownership. All the members are referred to as "Sisters" are co-owners in the organization. But there is a core governing structure that helps run the organization.

Lijjat organisation structure
Lijjat Papad: Payment System in Shri Mahila Griha Udyog
Being a cooperative society, the organization does not have an owner neither does it open itself up for corporate investments. Every payment is done on a daily basis, and profits and losses are shared equally among the member of the branches. Every 'Sister' member has access to the financial records, and full transparency is maintained regarding money flow. Let's take a look: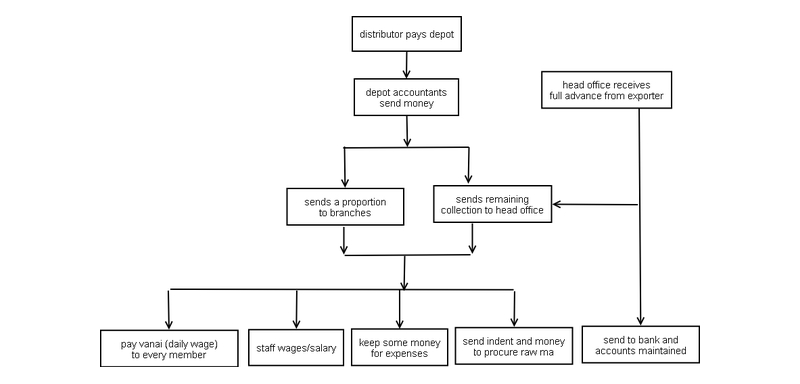 Lijjat collection flowchart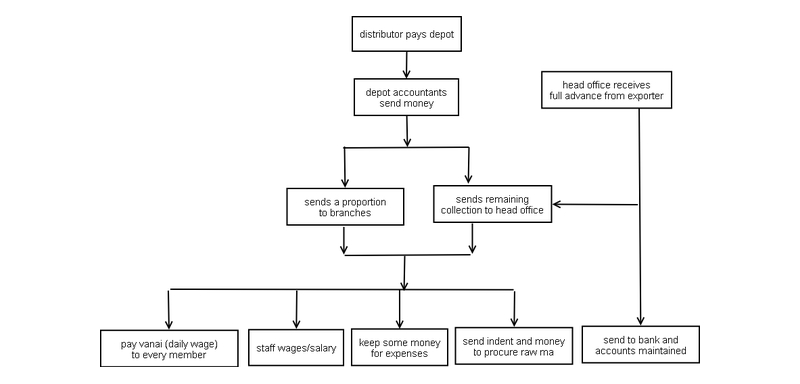 Lijjat distribution flowchart
Lijjat Papad: Current Office Bearers
President - Smt. Swati R. Paradkar
Vice-President - Smt. Pratibha E. Sawant
Secretary - Smt. Sharda D. Kubal
Secretary - Smt. Priyanka G. Redkar
Treasurer - Smt. Namita N. Sakpal
Treasurer - Smt. Sakshi S. Palav
Lijjat Papad: Expanded Ventures
A flour processing division at Vashi, Mumbai
A Masala processing division in Cottongreen, Mumbai.
A Quality Control Laboratory in Cottongreen, Mumbai.
Printing division in the same location as above
An Advertising unit at Bandra, Mumbai.
Chapati making division in Bandra, Wadala, Mulund, and Kandivali.
A Detergent Powder and Cakes (SASA Detergent) manufacturing unit at Pune.
Lijjat Patrika: In-House Magazine
Lijjat Patrika is the in-house magazine that is published and distributed among member-sisters or interested associates. The magazine is published in many languages— Hindi, English, Marathi, and Gujarati.
Lijjat Papad & Role in Women Empowerment
Lijjat has been one of the cornerstones of female empowerment in the industrial landscape of our country. Hence, they can rightfully claim that "The Institution, over the years, has paved the way for women to become self-reliant and self-confident. Lijjat has provided them with the right platform to improve their status in society." Some initiatives in the field:
On 18 June 1999, a literacy campaign through classes began in Girgaum. Later it was decided that these classes will be conducted in all branches.
In 1980, Lijjat started Chhaganbapa Smruti Scholarships for the daughters of the member-sisters of the organization.
In their Valod centre, they opened up an education and hobby centre for women. Courses such as typing, cooking, sewing, knitting and toy-making etc., were taught here.
In 1979, Lijjat teamed up with UNICEF to organize a "Child Care and Mother Welfare" seminar in Mumbai.
Following Mother Teresa's guidance, some organization members volunteered for Asha Dhan, an institute that cares for needy women.
Lijjat Papad: Awards and Achievements
For the period of 1998-1999 to 2000-2001: Khadi & Village Industries Commission's "Best Village Industry."
2002: Economic Times Award of "Businesswomen of the Year 2001-02 for Corporate Excellence."
2003: 'Best Village Industries' from the former Prime Minister Shri Atal Bihari Vajpayee at New Delhi.
2005: 'Brand Equity Award' by the former President of India, Dr A.P.J. Abdul Kalam at Vigyan Bhavan, New Delhi.
2012: 'Outstanding Service Organization Award-2012' was awarded to Smt. Swati R. Paradkart, President of Shri Mahila Griha Udyog Lijjat Papad by the National Institution for Quality and Reliability (NIQR), Chennai
2014: 'Lijjat' was honored with the National Award as 'Best Village Industries Institution for 2012-13.'
Today Lizzat Papad employs more than 45,000 women.
2021: The Government of India graced co-founder Jaswantiben Jamnadas Popat with India's fourth-highest civilian award, Padma Shri, in Trade and Industry category.
To Conclude:
Lijjat Papad had a consistent journey from its inception to its present-day position. They have remained consistent in their core values and their operational methods. They have also been meticulous in their quality control and have a brilliant result to show for it. After everything, it can be said that Lijjat Papad's success is owed to consistency, hard work, and philosophy.