Learning Beyond Nations MOOC Platform: Coursera Case Study
The pandemic, for a lot of us, has been a long stretch of attempting to get things done from home. One such task is learning. It is with the COVID pandemic that online learning sites (like Coursera) saw a massive influx of learners, and demands for it increased in leaps and bounds. But Coursera's success isn't just owed to the pandemic, but it has been one of the most sought after online learning platforms for a while.
Let's break down this journey and take a look at all the successes and influences of Coursera.
Coursera : Founders
The platform was started by former Stanford University computer science professors Andrew Ng and Daphne Koller in 2012. Coursera has evolved a lot & despite its struggles to become profitable, they have had a huge influence on the learning culture of the present generation.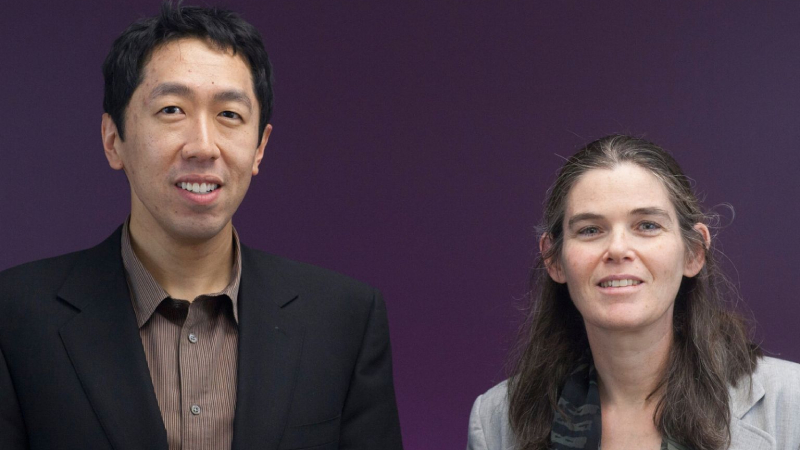 Andrew Ng and Daphne Koller - Founders Coursera
Coursera Story: Understanding Learning Structure
Coursera is an online education platform that provides online courses, also known as Massive Open Online Courses (MOOCs). Coursera claims that people from any part of the world can access these courses.
How it Works: It is pretty simple to sign up for Coursera using your email ID. And once that is done, all Coursera's catalogue is at your disposal, consisting of over 6000+ courses.
Once enrolled, classes are conducted through pre-recorded video lectures. And the students can be evaluated through quizzes, peer-graded, and review assignments. Depending upon the courses, one might also need to complete an honors assignment and sometimes a final project or exam. On finishing the course, the students are awarded a certificate.
Coursera: 6 Types of Courses
There are six different broad categories of courses provided by Coursera.
1. Learning Job Skills and Industry Tools
These are a few hours long and start at around $9.99. There are also called guided projects or guided tutorials, where students are provided with meticulous tools (through video instruction) to master a project in the span of the course.
Few examples of these kinds of courses currently provided by Coursera are
COVID Data Analysis Using Python,
Facia Expression Recognition with Keras
2. Gaining New Knowledge
These courses are slightly longer in duration, starting free of cost. These are great way to get the feel of online learning. There are some courses in this module where you have to pay for the sharable certificate.
Some Examples:
Machine Learning,
The Science of Well Being,
Psychological First Aid
3. Mastering a Specific Skill
These courses are a few months long, usually 1-3 months. They can cost you $39 and upwards per month and allows you to choose different specializations. But before investing in these courses, you can access them for a week for free, which is a great way to gauge if the course is worth your money or not.
Some Examples:
IT Fundamentals for Cybersecurity by IBM,
Human Resources Management by University of Minnesota
4. Getting Job-Ready for an In-demand Career
In this module, you can earn professional certificates but demands to commit for 1-6 months. Like the previous module, this one, too, starts at $39.
Some Examples:
Google Data Analytics Professional Certificate offered by Google,
Facebook Social Media Marketing Professional Certificate by Facebook
5. Earning a university-issued MasterTrack® Certificate
Through these courses, you have the opportunity to get credits towards a degree. The MasterTrack® courses will ensure that you have access to "a university-issued online graduate certificate, consisting made up of a thoughtfully selected portion of a top Master's degree programs from top universities." These courses are 4-7 months long, and the starting price for them is $2000.
Some Examples:
Health Informatics by Yale University,
Construction Engineering and Management by the University of Michigan
6. Earn your Bachelor's or Master's degree
Now, these courses are full-fledged degrees and demand years of commitment like regular degrees. Starting from $9000, these can be steep depending on the region you are living in.
Some examples:
MBA by the University of Illinois,
Bachelor of Applied Arts and Science by the University of North Texas
Pros and Cons of Learning through Coursera:
| | |
| --- | --- |
| Advantages | Disadvantages |
| Accessibility, one can access them from any place, without any time constraint. | Slightly difficult to access without prior computer knowledge or compatible technology. |
| Can be cost-efficient, depending upon your goals | Similarly, can be completely out of budget depending upon the region |
| No need to travel to a campus | No in-person experience. |
| Degree courses are great for busy working people. | Might be tedious for regular college students |
Coursera Story: Milestones
Coursera was launched in 2012. As a young startup, they raised initial funding of $16 million backed by Kleiner Perkins Caufield & Byers and New Enterprise Associates. So far, these are their achievement milestones:
In 2013, in their Series B funding, they raised $20 million from IFC Venture Capital Group, Learn Capital and SuRo Capital.
In 2015 they carried out their Series C round of funding and raised more than $60 million. This round was led by the New Enterprise associate and EDBI.
As of May 2015, Coursera started offering 104 on-demand courses and the guided projects.
As of 2017, Coursera started offering full master degrees.
At the beginning of 2017, Coursera launched Coursera for Governments & Nonprofits.
In 2017, Coursera raised approximately $64 million from its existing investors.
In 2019, they concluded their Series E round of funding with $103 million, led by SEEK Group.
In 2019, Coursera reached a valuation of $1 billion.
In December 2019, their total numbers of partner reached more than 200 in over 29 countries.
As of July 2020, they conducted their Series F round of venture funding and raised $130 million from New Enterprise Associates.
In 2020, their valuation was updated to $2.5 billion.
In 2020, Coursera spent a whopping $107 million just on marketing.
Growth in COVID
Courses As stated in the beginning, the pandemic saw a growing demand for MOOCs and online learning in general. Coursera, to an extent, had managed to utilize this surge in demand and grow. In response to the COVID-19 crisis, the company launched a course by the Jameel Institute at Imperial College London called "Science Matters: Let's Talk About COVID-19". It turned out to be the most popular course of 2020.
Revenue Compared to 2019, their revenue increased by more than $100 million. The company grew from $184 million in 2019 to $294 million in 2020. On the other hand, they also spent $107 million on marketing and advertising. Hence, despite the revenue growth, they could not manage to make a profit. Instead, they suffered a loss of $66 million.
IPO In March 2021, they filed for an Initial Public Offering (IPO) and brought in $293 million in revenue. With the pandemic still keeping most regions in its clutches, it is yet to be seen how 2021 pans out for Coursera.
In Conclusion:
In many ways, the MOOC market is still developing, attracting many skeptics and supporters alike. Coursera, despite the upcoming and existing competition, manages to stand out in this young market due to its innovation and adaptability. But the trend of loss seen so far from the company speaks of an inefficacy when it comes to operations. Will Coursera be able to overcome it or eventually succumb to it and fizzle out?