Case Study of Hyderabad based $9B Ed-tech Startup: Practically
Education has always been a beneficial sector, especially in India. There are several coaching institutes and tuition sectors that promise to deliver quality education to the students. Along with imparting knowledge and wisdom to their kids, they have also started making huge profits. In return, it generates a lot of employment, especially for the teachers.
To make education a little less hassle-free, people have now come with several innovative ideas. Several apps have made this process easier for the students as well as for the parents. Practically is one of those brilliant self-learning apps which have made it possible.
About Practically
With the rise in Covid-19 and the whole pandemic situation, this face-to-face class has been impossible for the kids. Therefore, it is better to stay at home and learn. This pandemic has also helped to increase the demand for Edtech products.
According to a report, the education sector is worth 100 billion dollars in India, and digital learning acquires a vital part of this. The shift towards digital learning is much more than the conventional form. The reason for this deviation is pretty evident.
Practically is an intelligent app for students from 6-12. They focus on STEM learning and focus on developing skills like creativity, problem-solving, teamwork, critical analysis, etc.
They also apply techniques like test-prep, gamification, immersive learning, etc., in one cross-platform app.
Practically - Key Points
Company Type - Edtech (Startup)
Founding Year - 2018
Headquarters - Hyderabad, Telangana
Founder and CEO - Subbarao Siddabattula
Co-Founders - Ilangovel Thulasimani (CTO) and Charu Noheria (COO)
Website – www.practically.com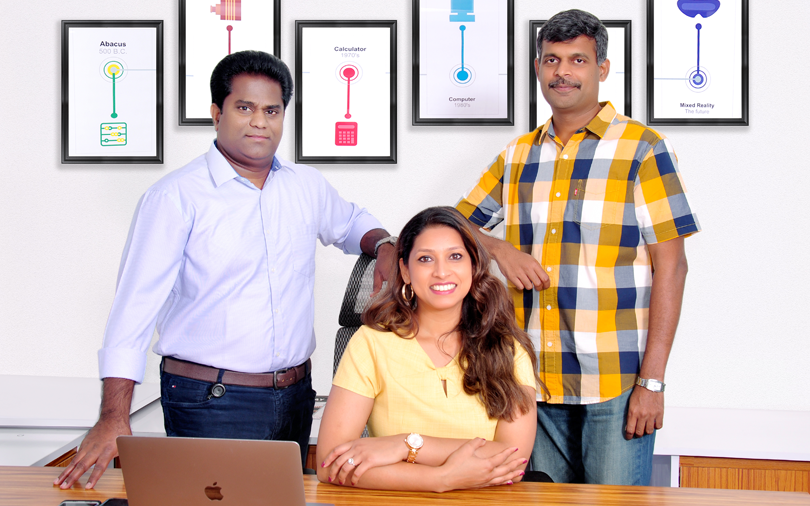 (L-R: Subbarao Siddabattula (Founder & CEO ), Charu Noheria (Co- Founder & CBO ) and Ilangovel Thulasimani (Co- Founder & CTO))
Practically - Brand Name and Logo
The brand name came from the vision that this company has. They wanted an app that focuses on the practical way of learning. They wanted it to be simple yet impactful that also serves the need of the hour. So, they named the app Practically because it revolutionizes education in a practical form of learning.

The brand's logo is vibrant red and yellow colour & signifies warmth, familiarity, learning, joy, and passion. All these things are deeply rooted in the DNA of this company.
Practically Story - Investors and Funding
To date, Practically has been successful in receiving a fund of 9 billion dollars. They have just received a massive investment of 4 Million Dollars in stage ''Pre-Series B''. The funding was from Siana Capital and YourNest VC (Venture Capital).
In 2019, they raised 5 million dollars in stage ''Series A'', and the investors were Exfinity Ventures, YourNest VC, and IDFC.
The company has used the funding in its expansion and growth in various areas. They launch several video classes, live classes, catered 300 thousand plus students, etc.
Practically Story - Competitors
There is competition in every sector, no matter where you go. But when it comes to the education sector, the competition here is cut-throat. Several other apps have already made a strong base in the Indian market. Some of those apps are.
BYJU's
Vedantu
Unacademy
UpGrad
Practically Story - Achievements
Awarded with 'Most Innovative STEM solution' at World Education Summit in 2021
The Best Learning App of the year by INSPIRE Education Awards in 2020
CharuNoheria (COO) got featured in the ORF-GP report on women in Technology in 2020
Founders were also a part of ''Entrepreneur 35 under 35'' in 2021
Awarded with Best Edtech Startup of the Year in 2021 by Franchise India and Entrepreneur India Magazine
Practically Story - Future Plans
Telangana being its prime market, the company has just stepped into the west and south markets too. However, they have a small team to work in these areas, but they're planning soon to cover PAN India by the end of 2021.
They have also decided to employ over 2000 more people to work for them by the end of this year. They will also expand their reach to cater to 5th-grade students all well.
With the current funding, the company expects to cover the entire India as soon as possible. They will be partnering with several schools and are also planning to enter the international market as well.
The app currently deals in the English language only. But in the future, the company is also planning to cater to many regional languages too.
Practically Story - Challenges
Challenges and hurdles have come hand in hand with the startup journey. If you are an entrepreneur, then you have to be ready for all those challenges beforehand. Some of the hurdles that Practically has to face are:
Covid-19: As much as Covid-19 has been a boon for all the digital learning platforms, it has also brought several challenges. However, we agree that the current situation has made it impossible for the students to attend physical classes and schools. So, it has brought this Edtech into the limelight, and people love the shift. But it has also brought new challenges for the company as they have to employ more people in the short term to cater to the students. They have to offer various learning experiences to the students or, they will start losing them.
Late Entrant: Practically entered the market in April 2020. They received an impressive acceptance and received more than 3,00,000 downloads in just a few months. The foremost issue is that they already have strong competitors in the market. The company is a very new entrant in this field and, they need to pace up their game to face their competitors. The brand's theme is 'Bring Learning Alive'; they have kick-started the campaign too. They campaigned in TV, print media, digital media, etc., mainly targeted for the Telangana market. Their TVC received more than 32 million views on YouTube and, it was a great response.
Capital: Capital is the main challenge for all startups. Practically has been lucky enough to raise a good amount of fund in the last year. But they will have to buckle up and work even harder to find more investors. They have some powerful competitors and if they want to expand, having a good amount of assets is compulsory.
Closure
Practically is an example of a successful startup. It shows that with passion and hard work, you can achieve anything you want. Though they still have a long way to go, its journey is an inspiration for everyone.